Okay! we are finished. All the sugar filled highs for kids are done, the Hallowe'en costumes are put away for another year and I think, it is time to move on to a recipe where adults get the treat. Something dark, creamy, crunchy, delicious, not 100% sugar and the alcohol doesn't hurt either. So, if you are looking for a decadent ending to a Thanksgiving dinner (in the U.S.), just KNOW that you deserve a reward for a week well lived or are desperate for a chocolate fix…, actually if you are a chocaholic these will take too long, make a different choice,… Triple Sec Pumpkin Truffles it is.
I have told this story before but for those that missed it, the traditional coating for truffles is cocoa as it makes the balls of ganache look more like the fungi they are named after, once they are pulled from the ground. For this recipe, I am using chopped pecans instead as pumpkin and pecans are so much a part of the season.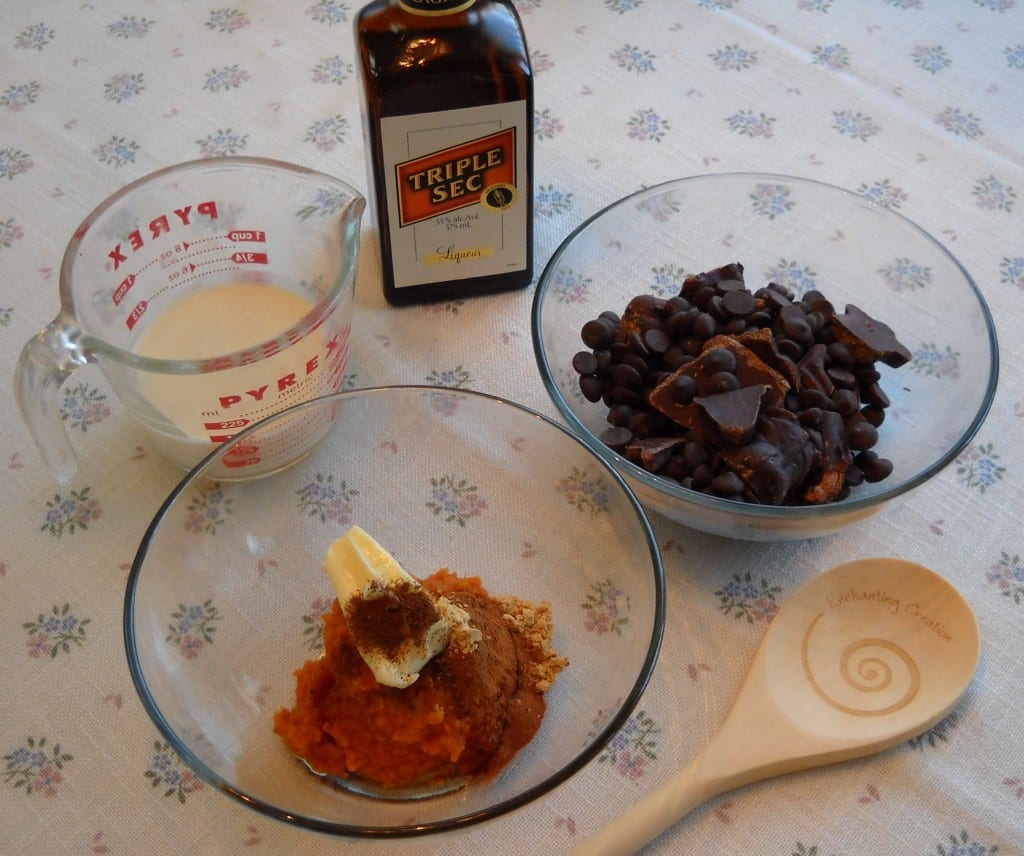 You will need:
1/2 pound good quality dark chocolate
1/2 cup pumpkin puree, not pumpkin pie filling
2 Tbsp. brown sugar
1 tsp. cinnamon
1 tsp. ginger
a dash of cloves
1 Tbsp. butter
1/2 cup whipping cream, scalded
3 Tbsp. Triple Sec
Finishing options:
Dark chocolate, melted
Cocoa
Pecans, roasted and chopped
Start by clearing a little time and space in the kitchen and gather your ingredients together. Appreciate the systems that bring the ingredients to the store for your convenience and the bounty from which you purchased everything needed for this treat.
Scott Cunningham on nmrjournal.com wrote:
Cocoa itself, derived from the cacao bean, is a dark, bitter substance. It is a projective herb, ruled by the Sun and the element Fire and, in its natural state, is nearly indigestible. However, by adding sugar (ruled by Venus and Water), butter or milk (ruled by the Moon and Water) and perhaps a bit of vanilla (again, Venus and Water), plain cocoa powder is transformed—through genuine magic—into a delicious substance. This is all symbolism, of course, but it points to the magical uses of chocolate.
Chocolate, then, is a food of prosperity and luxury. This combination of cocoa and sugar produces a blend of projective energies (those which are aggressive, outward) as well as receptive energies (those which are passive, inward). This, in addition to its prosperous nature, creates a balanced tool useful for attracting money.
To tap the magical energies of chocolate, place your hands on either side of the dessert—whatever form it might be. Visualize yourself with as much money as you need. See the money coming into your life. Sense your programmed, personal power leaving your palms and streaming into the food, awakening its own energies, shifting and aligning them to your need—money.
A few points to consider as you infuse your truffles with your intentions. Take a deep breath in and bring your thoughts to the present moment. Welcome the compassionate spirits of your hearth and home and begin.
Mix the pumpkin puree, brown sugar, butter and spices in a pot and allow to warm, drying out any extra moisture.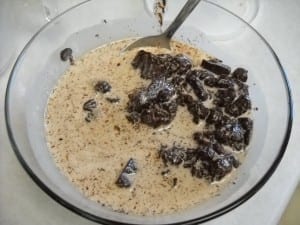 Chop chocolate into small chunks or if using chips, just measure and set aside.
Scald the whipping cream. To scald is to bring the cream to just below the simmer point. Do not allow the cream to boil. Add chocolate pieces to scalded whipping cream. Let the chocolate sit for a few minutes to soften and then stir until all the chocolate is melted. It is possible to put the mixture back over heat for a short time if the chocolate has not fully melted.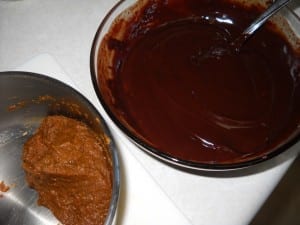 Mix in pumpkin mixture and mix thoroughly, add Triple Sec. In truth if you have Cointreau or Grand Marnier or another orange flavoured liqueur, they will work as well.
Cool for several hours.
Once cooled roll into small balls ( 3/4 of the size of a walnut ). The heat from your hands will soften the mixture so work as quickly as possible.
Finish by either:
rolling in melted dark chocolate and then finely chopped pecans.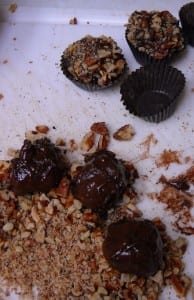 When using the second finish, a second set of hands is helpful. One set to roll balls in chocolate and one to roll coated balls in nuts. If you are by yourself, do these in batches of 4 or 5 at a time.
Roll in chocolate and drop on nuts, clean hands and roll in nuts to finish.
Going back and forth will only get complicated as your hands get covered with a little bit of everything. The chocolate will dry and not pick up the nuts if too many are dropped on the chopped nuts but not rolled in a timely manner.
The chocolate does not need to be tempered as the truffles are being rolled in nuts to finish so when they are being eaten your fingers will be touching the nuts not the chocolate.
If you choose to leave the nuts off then I would definitely temper your chocolate or they will melt in your hands while eating.
A quick note about the nuts. Roasted pecans will keep their crunchiness longer than raw ones, especially if you plan on making these ahead of time and storing them for awhile.
Makes about 3 dozen truffles and will last for 3 weeks in the fridge.
Rich, creamy, crunchy and well worth the cooling time.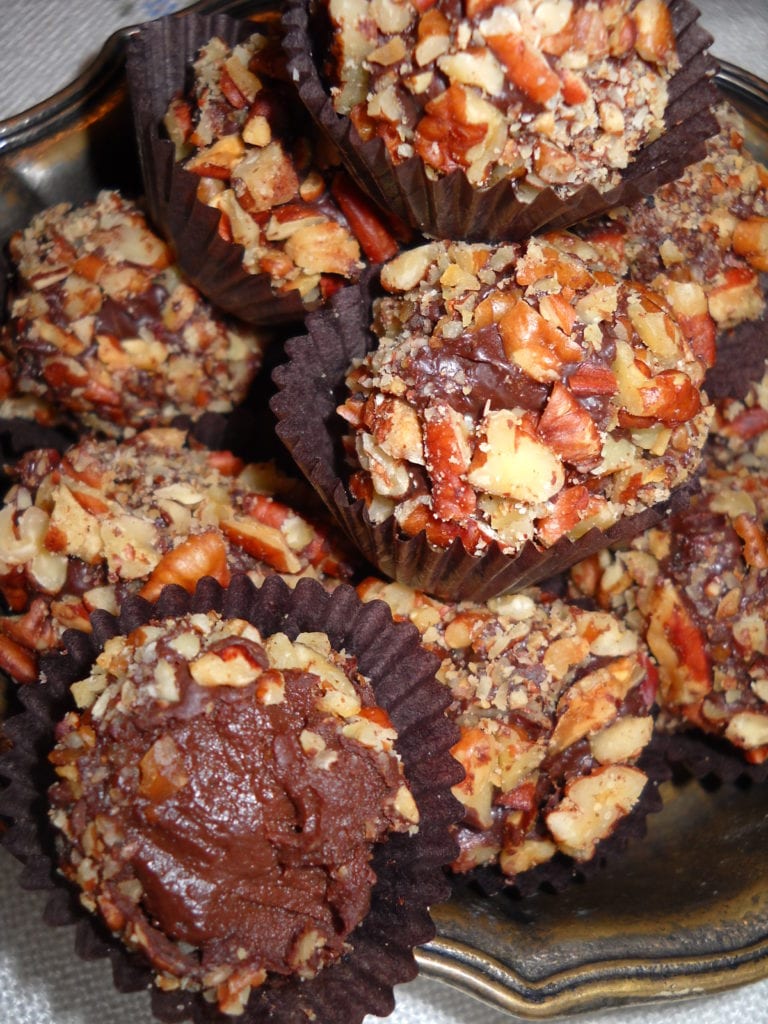 Triple Sec Pumpkin Truffles from My Kitchen Wand