With all the lovely berry jams that can be made at this time of the year, it is a nice idea to have a batch of these stored away as something to put the jam on. They work just as well for a summer high tea or afternoon coffee clatch. They, in truth, are a great year round option for any time something quick needs to be offered.
You will need:
2 1/2 cups white flour
2 Tbsp. sugar
2 1/2 tsp. baking powder
1/2 tsp. baking soda
1 Tbsp. lemon zest
1/2 cup butter, at room temperature
1 cup buttermilk
1 egg
coarse sugar for sprinkling
Take a deep breath, hold …and release. Relaxation happens on the out breath. The more air that is released, the deeper the next incoming breath can be. Bring your focus into the present moment and invite the compassionate spirits to join in.  " In my kitchen, filled with are, I welcome, fire, earth, water, air." Begin.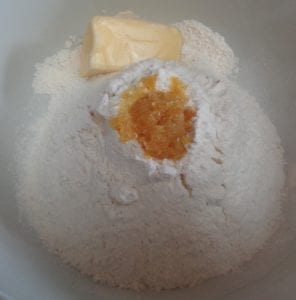 Preheat oven to 400 degrees F. Place a sheet or parchment paper on a cookie rack and set aside.
In large bowl, place the flour, sugar, baking powder, baking soda and lemon zest. Add the butter to the dry ingredients. In school I learned that it was always about cold butter and using a pastry blender or 2 knives to cut the butter into the flour until crumbly.I used that method on my first job and got laughed at. The cook had a logging camp background and said he would never get everything done if he waited for the ingredients to be cold.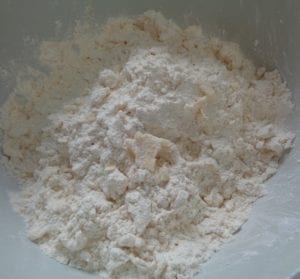 So after I was finished doing it my way, he showed me his and I have not looked back when it comes to pastry, biscuits and scones.
The skill that needs practice is to not overwork the butter. The point, using your hands, is to crumble the butter into small pea size pieces that are covered in flour.
With the butter at room temperature this will happen quickly as it will break down easily. Too much working and the flakiness will disappear and the scones will not rise nicely.
Choose the method that works best for you but I would encourage you to try working quickly and gently with room temperature butter.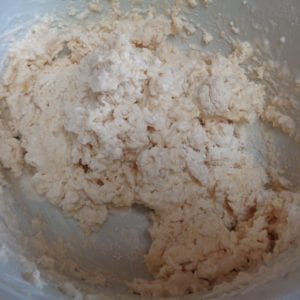 Combine the buttermilk and egg then pour over the flour mixture.
Stir until just moistened. It will looked ragged and that is alright. It will also be very loose and soft.
Flour your hands and the counter, then turn out the dough and press it together into a patty.
Gently knead the dough 8 – 10 times, keeping all surfaces floured so that nothing sticks and the dough stays together.
Pat into a square about one inch thick and then into nine smaller square.
Cut each square diagonally into a triangle. You will have 18 scones.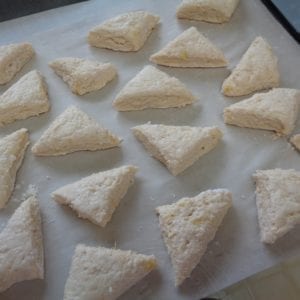 Sprinkle with a coarse/raw sugar and bake 14 to 17 minutes.
It is also possible to make larger scones that will need 3 – 4 more minutes to bake. In this house though there are not a lot of big appetites anymore.
Transfer to a cooling rack once golden and let cool.
Another option would be to simply scoop the batter from the bowl and neatly place it on the prepared cookie sheet.
That is how the lemon poppy seed scones were made in the picture below.
One and a half tablespoons of poppy seed and 2 teaspoons of fresh lemon juice were added to the dough.
These scones will freeze nicely. When individually wrapped they can go directly into a lunch bag and be good to go by morning coffee break.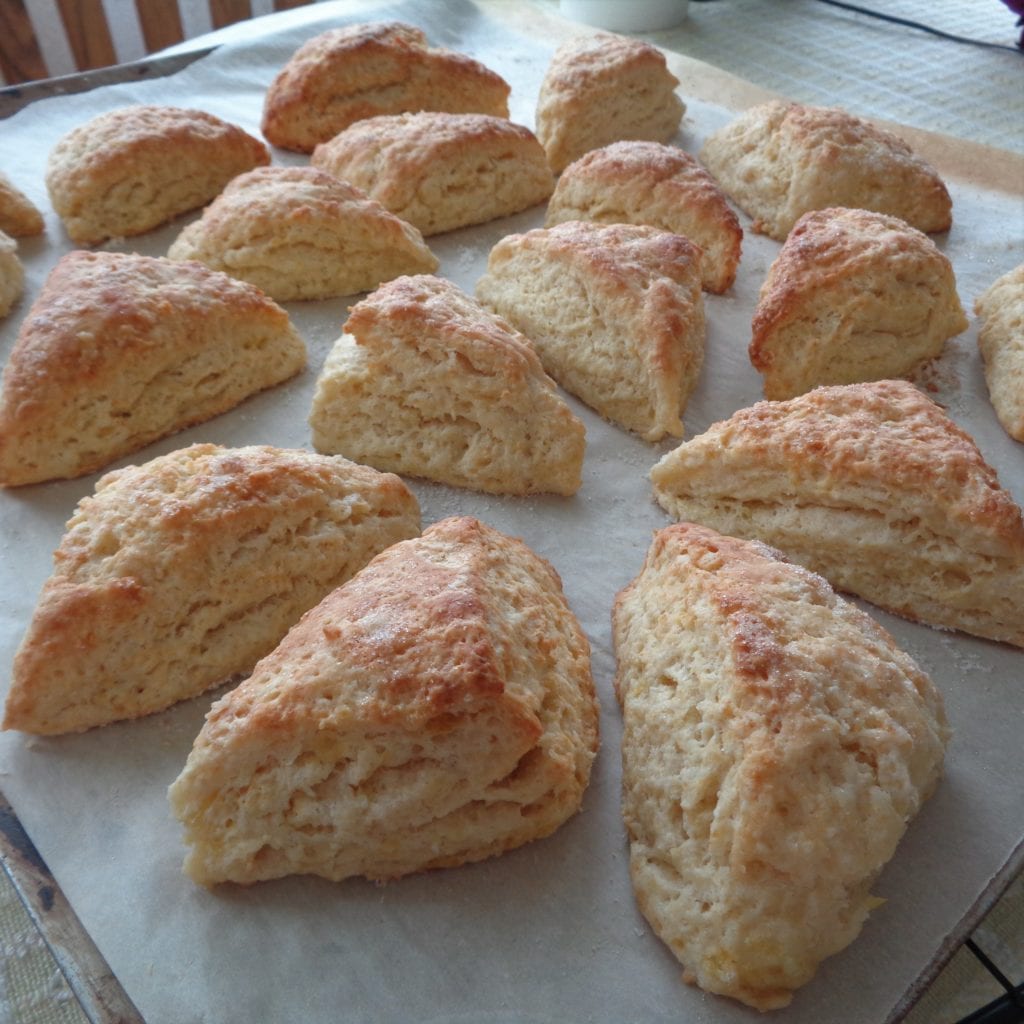 More traditional scone shape above and scooped option below.
Lemon Buttermilk Scones from My Kitchen Wand