This past Mother's Day I was trying something different for my step-mom while working on using up the last of the mini marshmallows from class before they dry out. I also wanted them to disappear not just be extra lumps of sugar. Ruth likes mocha, a combination of hot coffee and chocolate with whipped cream on top that I sometimes pick up at a drive through for her when the weather is cold. This time though I turned the flavour combination into a cold pie for a warm day. I am pretty sure this would go over just as well on Father's Day.
1/2 cup sugar
Dash of salt
5 Tbsp. flour
1/2 of a 100gr chocolate bar 70%(melted)
½ cup heavy cream
1 cup double strength coffee
2 egg yolks, slightly beaten
2 cups miniature marshmallows
¼ cup butter
1 9-inch chocolate wafer pie crust, baked
Sweetened whipped cream
Sometimes holding intention can be easier when preparing kitchen gifts for special occasions. It is no longer general cooking but the feeling you have for the person you are cooking for. If that is a complicated relationship, holding the focus of your intention is another option. Take a deep breath and hold for at least 5 seconds, notice the relaxing of your body as you exhale. Repeat and this time let go of as many little niggles as you can. Bring your focus into the present moment and invite into the kitchen the compassion spirits. Begin.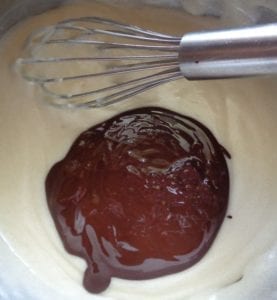 Combine sugar, salt, and flour in the top of a double boiler or in a bowl over simmering the mixture water.
Using a whisk stir in 1/4 cup whipping cream, coffee and egg yolks. Stir well and cook over low heat until the mixture starts to thicken.
While the pudding is cooking melt the chocolate with 1/4 cup whipping cream. This can be done in the microwave or over a small pot of simmering water. It can also be done first and put aside.
It is important though that the melted chocolate mixture not cool down too much or mixing will be more difficult.
Add the chocolate/cream mixture and stir to combine. Once the pudding is thick, remove it from the heat and mix in the mini marshmallows and butter. Stir until well combined and the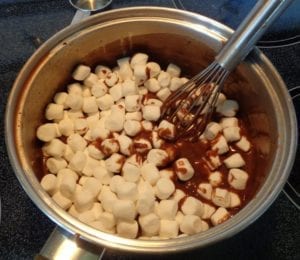 marshmallows have all melted.
Allow the pudding to cool and then pour into a chocolate wafer crust.
Once set top with sweetened whipped cream as decorated if desired. Shaved chocolate, chopped nuts, chocolate chips or syrup are options.
I opted for chocolate covered expresso beans this time but was wondering about a salted rum & caramel sauce topping for some time in the future.
If you need a basic chocolate wafer recipe:
1 1/3 cups chocolate wafer crumbs
¼ cup of butter or margarine,
1 – 4 Tbsp. granulated sugar, (optional)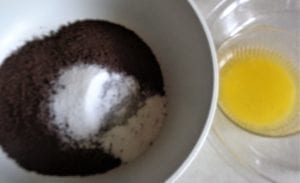 Melt butter. In a small bowl, combine all three ingredients and stir with a fork until crumbly. The amount of sugar is entirely up to you. I put in 2 tablespoons.
Transfer the mixture to a pie plate and with the back of a spoon or the bottom of a glass, firmly press the mixture into the bottom and sides of an 8-9 inch pie plate, forming a small rim at the top.
Pie plates have various depths. If there is too much mixture leave out 1/4 cup and use it to sprinkle on top as decoration.
The one place where it is easy to get too much crust is where the bottom meets the edge, making cutting a challenge when the crust is cold.
Bake at 375 degrees F. 8 min. Cool; fill as desired.
Store cold until ready for serving then allow 15-25 minutes or so out of the fridge before cutting. This will allow the wafer bottom to soften before cutting. On a warm day the 25 minutes will probably not be good for the whipped cream.