In a very short time there will be millions of people gathered around their televisions with the enthusiasm of Superbowl fanatics to watch the last episode of the last season of Game of Thrones. And just like there is Superbowl food, there are also Game of Thrones treats.
The easiest way to make these is with a raven/crow shaped cookie cutter, so get on the phone/internet to see if one can be located in time for the finale. This is the cutter shape I like the best so far but the legs concern me. Wilton also has one that is part of a pack of three cutters.
Option two is to make your own and that was the path I took as I envisioned making these for special occasions and I didn't want to be storing another cutter that only came out every couple of years.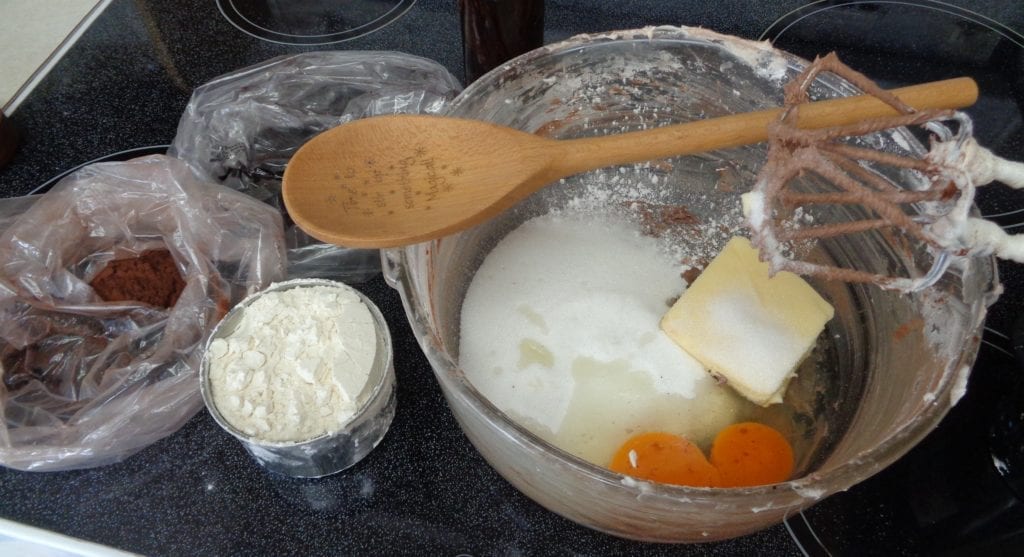 You will need:
1 1/4 cups all purpose flour
3/8 cup cocoa ( dutch process will give a darker finished cookie)
1/4 tsp. salt
1/2 tsp. baking powder
1/2 cup butter
2/3 cup sugar
1 egg
1 tsp. vanilla or rum extract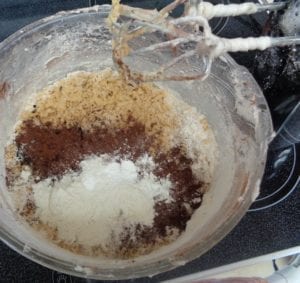 Gather the dry ingredients into a small bowl and stir together. A sifter is also an option just be prepared to ensure all the cocoa is cleaned out afterwards.
In a medium bowl beat the butter together with the sugar, egg and extract until light and fluffy.
If the picture doesn't seem to match, that is because I made these cookies at the end of a morning making chocolate cupcakes. Since all the ingredients were the same I just carried on to get the dough ready for the fridge and save myself a little time.
When the wet ingredients are well mixed, add the dry ingredients and mix until well combined. I would suggest doing it in two or three sections as putting the dry ingredients in at once will create a lovely cloud when the hand mixer is turned on.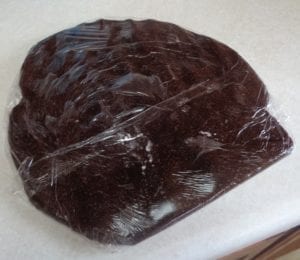 Gather the dough together, wrap and keep in the fridge for at least 60 minutes. Overnight is just fine as well.
Before moving forward, let's talk about the shape. I did a Google search for images. The first one I found was a pretty typical crow shape. I cut out the pieces, baked them and then did a little decorating; icing, cookie crumbs, candy for the eyes, etc.
A picture of the shapes are below ( First try on the right and second on the left). I can't say I was particularly pleased with the first outcomes. I think I was looking for something a little more menacing. I don't know why, I had not seen a full episode of Game of Thrones or a three eyed raven but it just seemed to me the first birds were missing a sense of gravitas.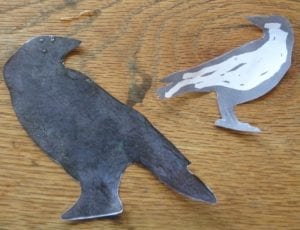 When you find the image that works for you, print it, cut out the shape and use as a pattern to cut around the cookie dough and create the cookies.
If a cookie cutter is available near you or something online can be delivered in a timely manner, those are definitely also options.
I just found it easier and more immediate to print and cut. It also allowed me to pinch and adjust the dough to suit what I was looking for.
When it is time to bake, preheat the oven to 350 degrees. Line a cookie sheet with parchment and roll out 1/4 of the dough.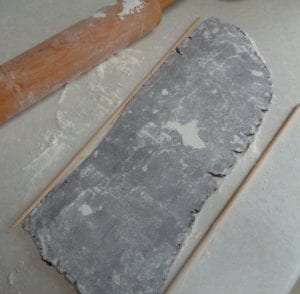 Use sides if they are handy as a guide to keep the depth of the dough even, making for more even baking. I used balsam round  1/4 inch deep.
Sprinkling the counter with a light layer of flour while rolling the dough should bake into the cookies. It it also possible to use cocoa instead of flour. It will avoid the white dusting and add extra flavour to what might already be a pretty intense cookie for children.
Keep the dough cool. Roll and cut no more than twice depending on how much dough is being used. Return the dough to the fridge as needed. If the dough gets too warm the cookies will spread and loose their intended shape.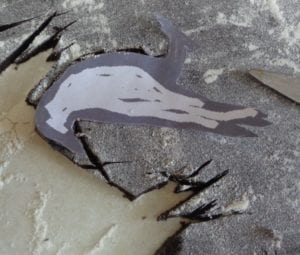 Work through the dough and bake each tray as it is filled for 8 – 12 minutes.
8 minutes for the smaller ravens and 12 for the larger ones worked well. Watch the pointy parts to make sure nothing burns.
Allow the cookies to sit for about 5 minutes before transferring to a cooling rack.
Repeat until the dough is all baked. It was time consuming to cut each cookie out but balanced against, getting in a car and running around to possibly find the right shape, it was still a better choice for me. Additionally, I wanted to get this posted while there was still time to order a cookie cutter, if that is your choice.
Decorating can take on a number of options.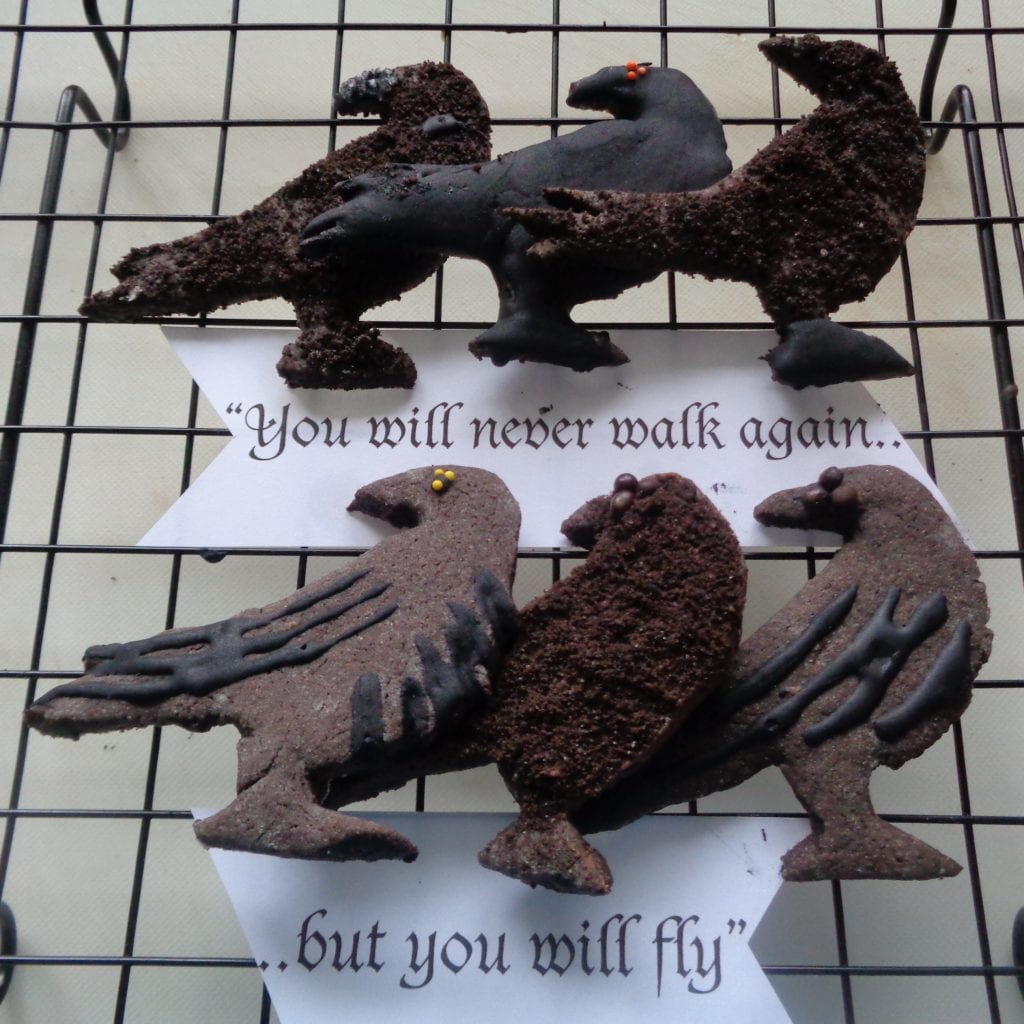 Black icing, dark chocolate cookie crumbs, small candies are all options.
Some of the cookies were baked with the cookie crumbs pressed on top. Other were cooled and iced before adding the crumbs.
Ultimately, I can't say I was a fan of the decorating. I much preferred the larger cookies plain with black eyes. I also have a bit of an issue with showing all three eye ( I know I am a fuss pot ). It just seemed to me that in order to see all three eyes the face would need to be looking directly at you and that wasn't the perspective of the cutouts.
I also cut out a triangle at the bottom so that the cookie looks less bulky and more like the raven is perched. That makes another pointy place to pay attention to while baking.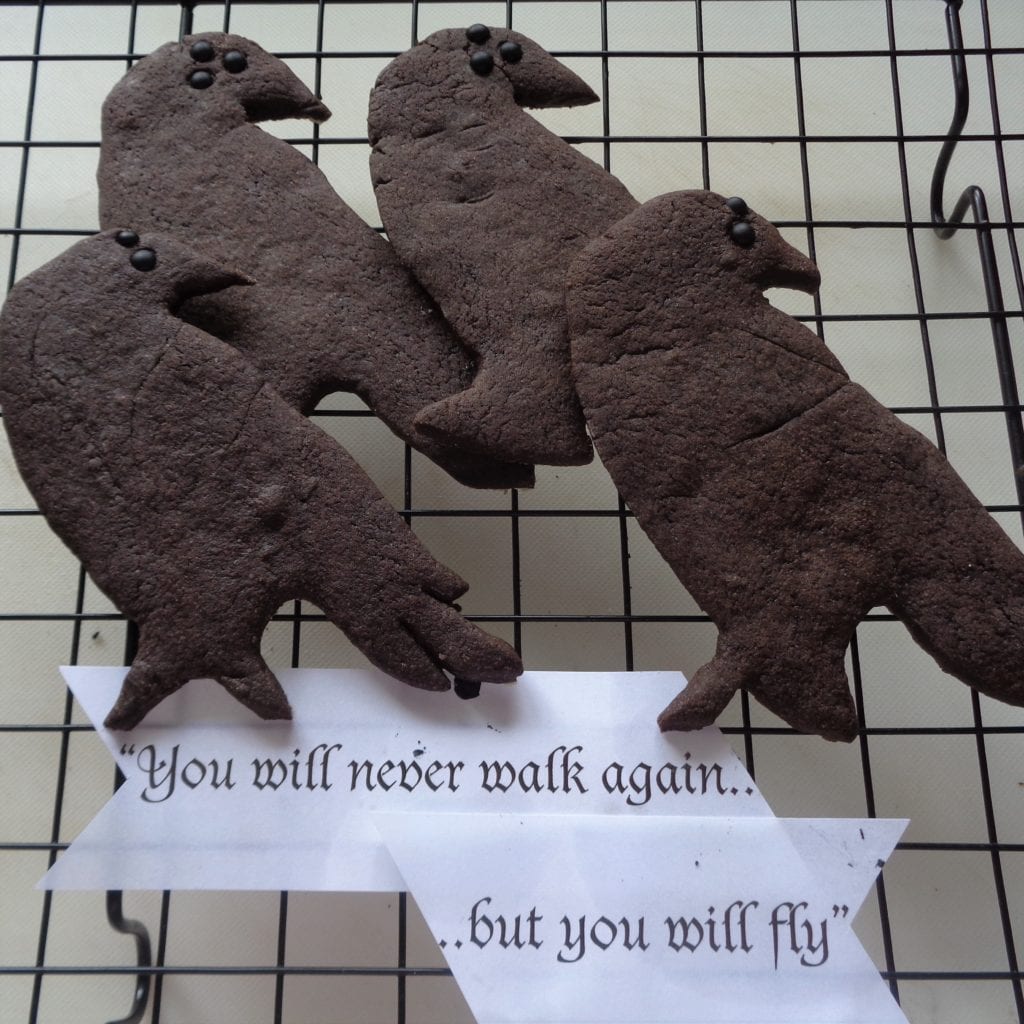 Ultimately, these were the ones I was happiest with. Adhering to the K.I.S.S. ( keep it simple stupid) method left them flavourful but not overly sweet and since considerable time is spent cutting them out by hand, not spending the extra time icing was a bonus.
So now I will bake up the rest of the dough and share them with someone glued to the tv waiting to see who will sit upon the Iron Throne or maybe just freeze the dough until Hallowe'en!?!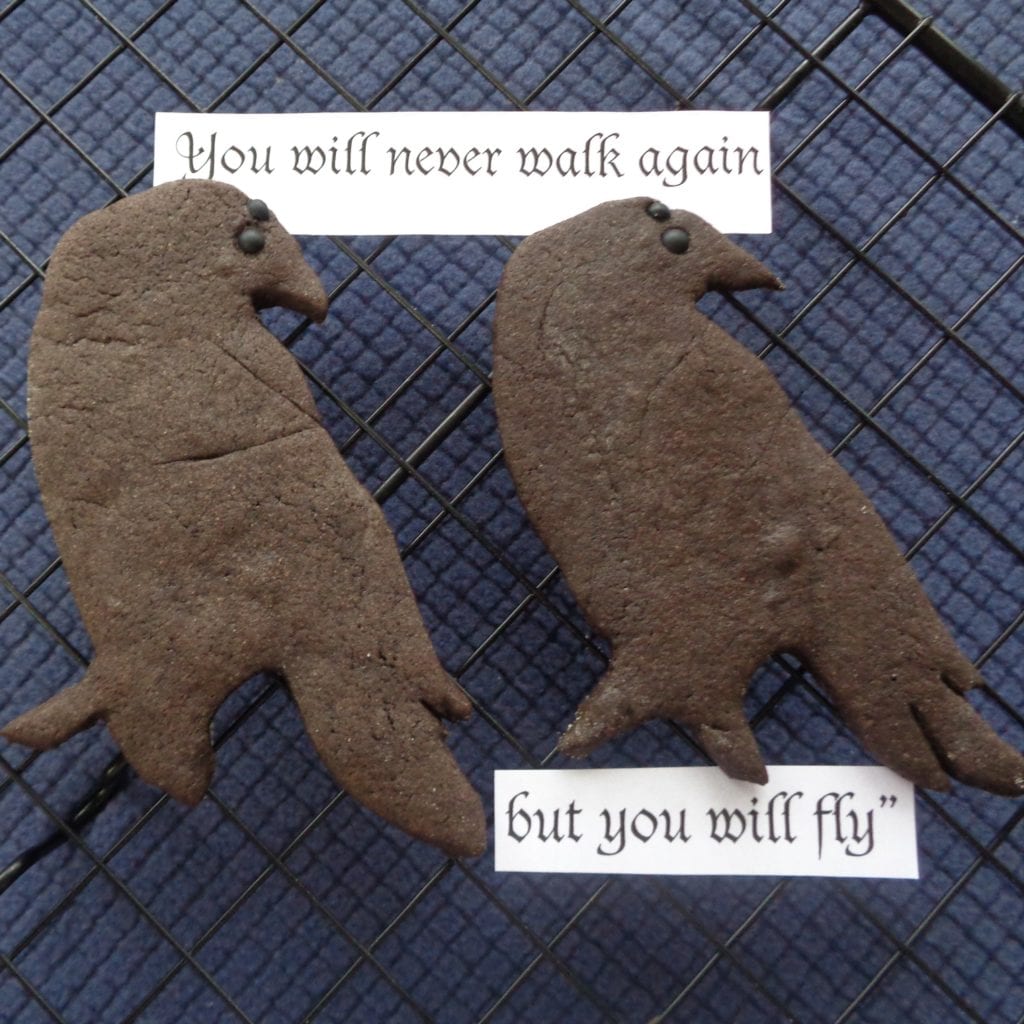 Three Eyed Raven Cookies from My Kitchen Wand