A galette is a simple free form pastry that can be filled with either sweet or savoury deliciousness. This one is made with a processor puff pastry but regular pastry is also an option.
Try whipping up a few batches of pastry and popping them away in the freezer so that when inspiration strikes all that is needed is a tasty filling and dinner is halfway done.
If you are part of a small family, use half a recipe of pastry and avoid leftovers for six.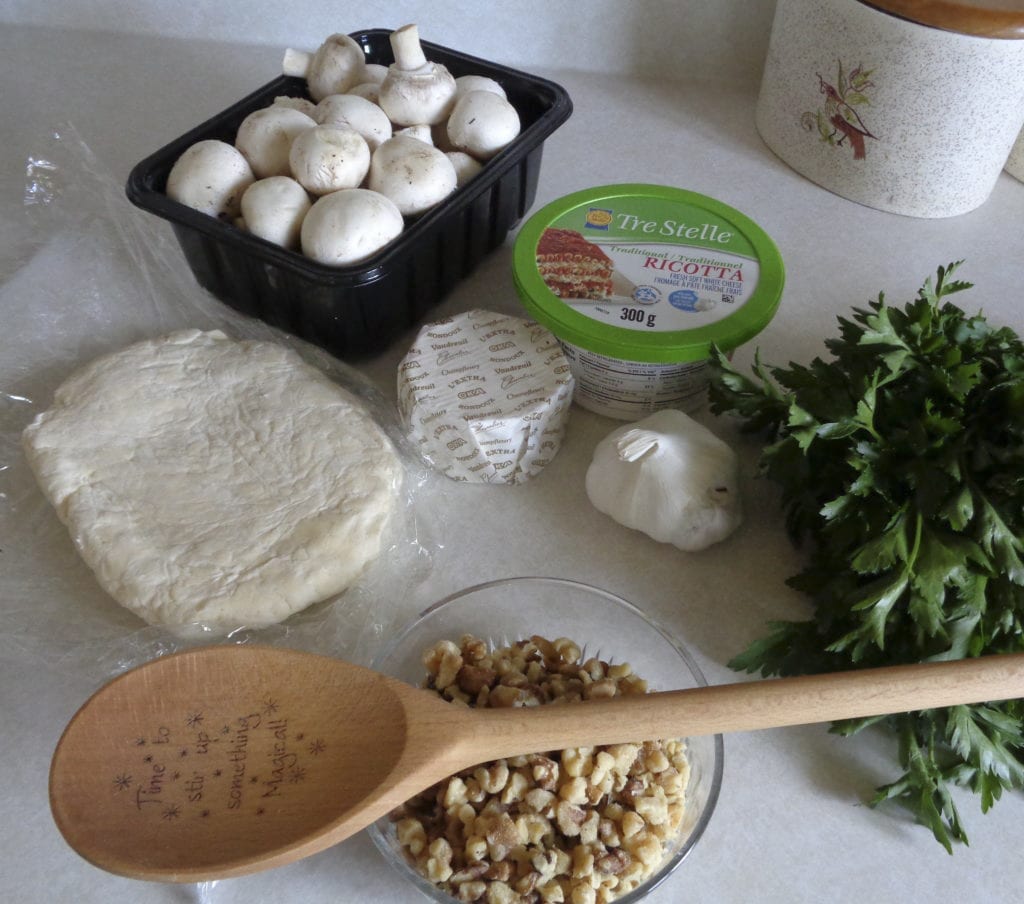 You will need:
1 recipe of food processor puff pastry 
Filling One:
2 1/2 cups sliced mushrooms
1 clove garlic, finely chopped
1/2 cup chopped parsley
1/2 cup ricotta
1/4 cup brie
2 Tbsp. walnut, finely chopped
1 tsp. nutmeg
salt & pepper to taste
or Filling Two:
2 1/2 cups sliced mushrooms
1 small onion sliced in slivers
1/4 cup chopped parsley
1/2 cup ricotta
1/4 cup brie
2 Tbsp. walnut, finely chopped
4 slices crisp bacon, crumbled
1 tsp. nutmeg
salt & pepper to taste
Take a deep breath and hold for a few moments before releasing. Let go of the things that are keeping you from being in the present moment. Open to inspiration and invite the compassionate spirits to join you as you begin…..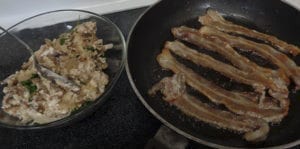 There are two versions of the filling above, enough for a full recipe of puff pastry. One with bacon and one without. One half recipe of puff pastry will be enough for one filling.
When using the bacon option start by getting 4 slices crisp and crumbled before continuing with the recipe.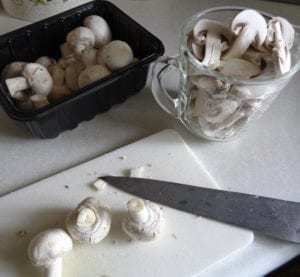 I made two options as some of the family do not like garlic and I don't have the enzymes for digesting blood meats. It is absolutely possible to create a mixture with both garlic and bacon by combining both versions.
The recipe makes two galettes and each one will serve two or three people, depending on age and appetite, when combined with veggies and/or a salad. It is also possible to make one large galette and it will be shaped more like a thick pizza.
Slice mushrooms and saute in a pan with 1 – 2 tablespoons of butter or oil. Finely chop the garlic or onion and add to pan. Saute until tender.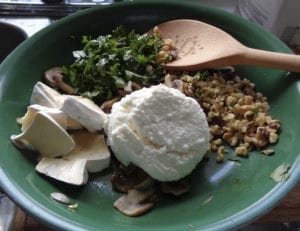 In the frying pan add the other filling ingredients, including spices. Stir to combine.
Pre heat oven to 375 degrees.
Roll out the puff pastry dough into a circle. (At this point it is possible to put the dough in the fridge until needed. It is better for the pastry to be filled just before baking, not to fill and then place the galette in the fridge for possibly several hours.)
Transfer to a parchment lined cookie tray and place the filling in the middle of the circle. Put a little water in a container and starting at the twelve o'clock position bring the edge of the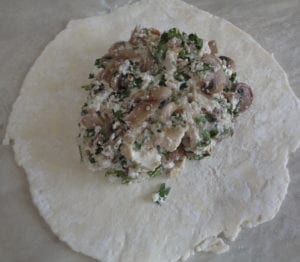 circle up and around (not entirely over) the filling.
Move to about the 1:30 position and pull the next section up and add a little water where the pastry meets. It will act as glue. Press down and move to the next section, repeating and pressing around the filling.
It can sometimes be easier to turn the cookie sheet as you work. This is the vegetarian version and below is the bacon added option.
Once back at the beginning, lift the first section and tuck the last piece underneath.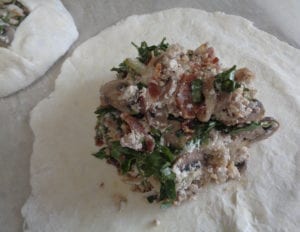 This is a rustic pie but if there are any bits of pastry on top that bother you, trimming with a pair of scissors is always possible.
Place in the center of the oven and bake for 35 minutes before checking.
Add 5 minute increments until the pastry is nicely browned. Every oven is different and  timing will vary but 45 minutes should be enough.
Top with an extra sprig of any remaining parsley and serve warm with additional vegetables.
It is possible to switch out the parsley for spinach or cilantro and possibly even bok  choi or rapini if you feel so inclined.
Crisp and flaky outside with a hot, richly filling center. Mushroom, ricotta and brie, With BACON Oh my!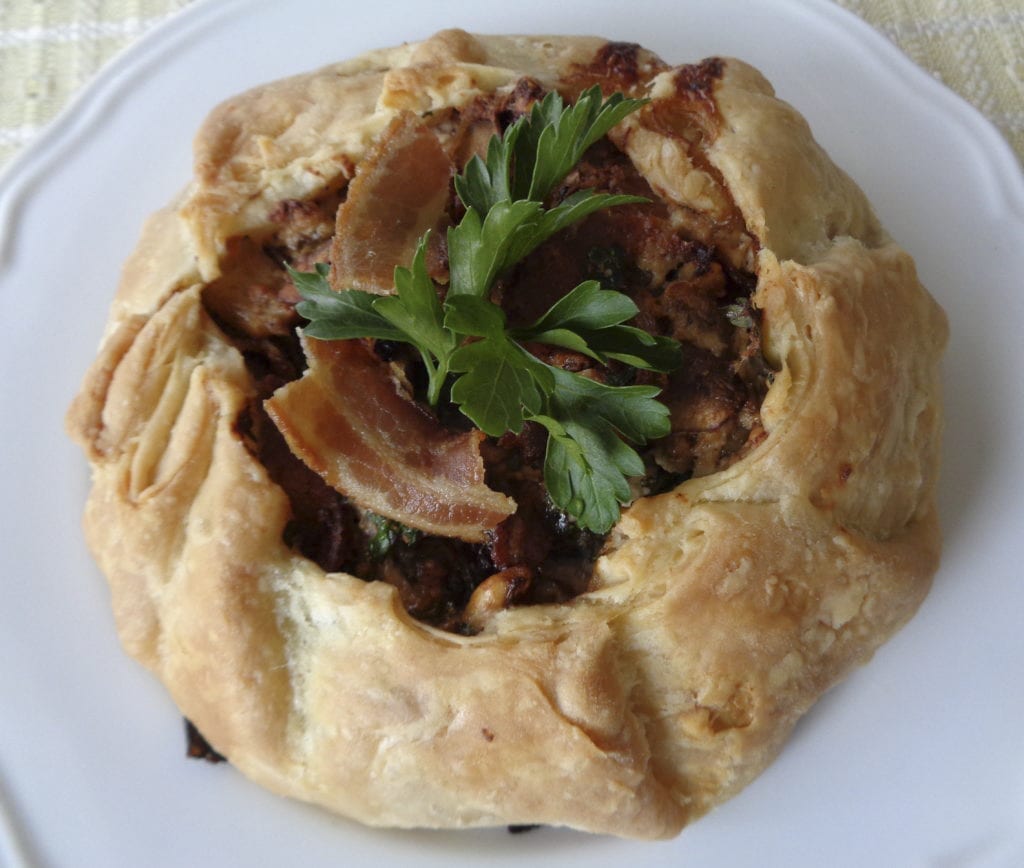 The veggie option below has sides of buttered carrots and pickled golden beets but there are so many other options. The galette is rich so my suggestion would be to keep your choices light.
A simple year round option that can be ready quickly if the filling is mixed earlier in the day and the pastry is rolled while the oven is heating.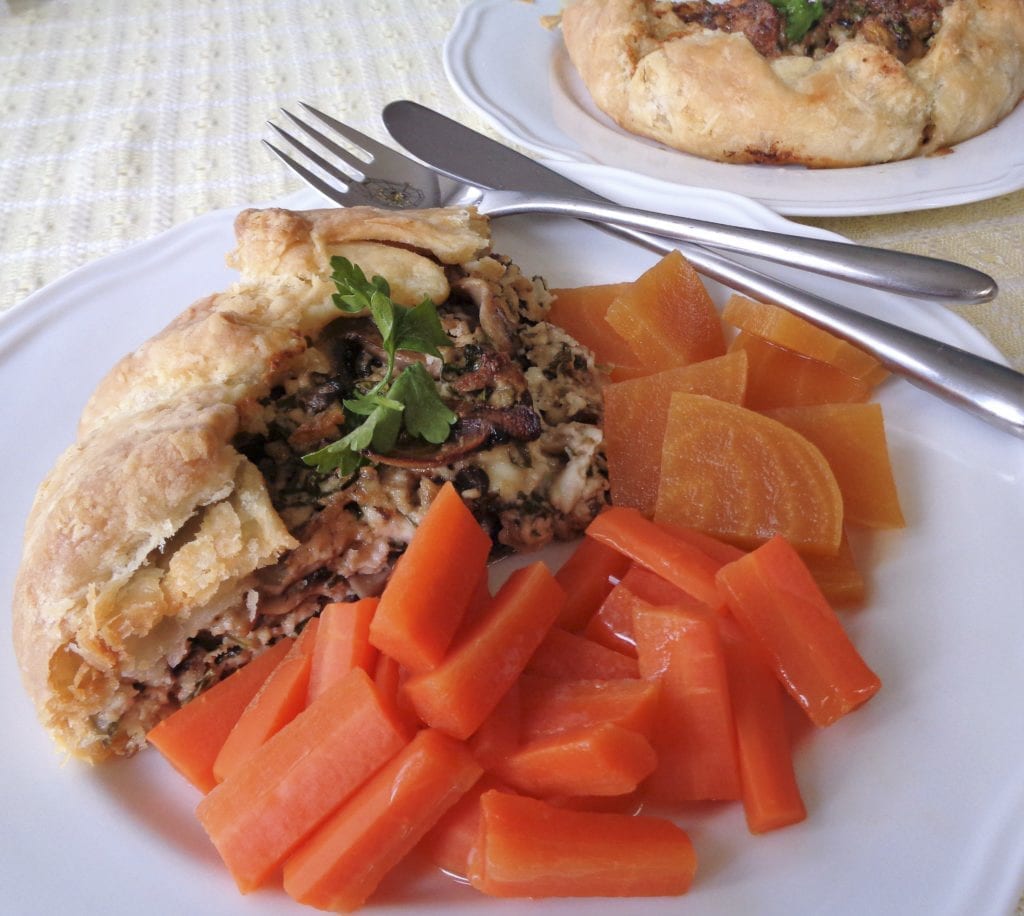 Mushroom, Brie, Ricotta Galette from My Kitchen Wand