Mincemeat has an interesting history, a bit of which we will get to in a moment. I thought though that I would start with the pears as this mincemeat has no meat in the recipe. I first came across a pear mincemeat recipe in a Ball recipe book at least two decades ago. It was something that helped use up the last pears of the late summer season. These days, after decades of research we can have fresh local pears available through to February if stored properly. It has been long known that cold storage can extend their shelf life. Lowering the oxygen levels and raising the carbon dioxide in the storage unit has been found to reduce fruit respiration, extending the storage season even more and making it so much easier to be thinking pear mincemeat in November and December.
Mince Pies and Christmas Puddings were originally dishes containing meat and spices, often lamb, and not the dried fruits we know today. The original oval shape was intended to represent a manger. The top crust were swaddling clothes, which is why mince tarts often have a small circle of pastry on top and not a full crust. Some pies were also topped with a baby Jesus made from pastry.
Mince pies were a Christmas status symbol in England during the Victorian period and the pies were often made in a variety of decorative shapes, some could even fit together like a jigsaw puzzle. Having pies like this meant you could afford to employ the absolute best pastry cooks and was a way to show off. During this time the meat was also dropped from the recipe and it became more like what we know as mincemeat today. The extravagance of mince pies is said to have drawn the ire of the Puritanical government of Oliver Cromwell which thought of Christmas as a solemn occasion, not something supporting overindulgences and feasting. Mince pies were banned until the government fell and then were quickly reinstated.
A Middle Ages custom suggests that eating a mince pie a day from Christmas to Twelfth Night, the evening of the 5th January, will bring you happiness during the coming year. Remember that is every day.
In England, children often leave mince pies rather than cookies for Father Christmas along with a carrot for the reindeer.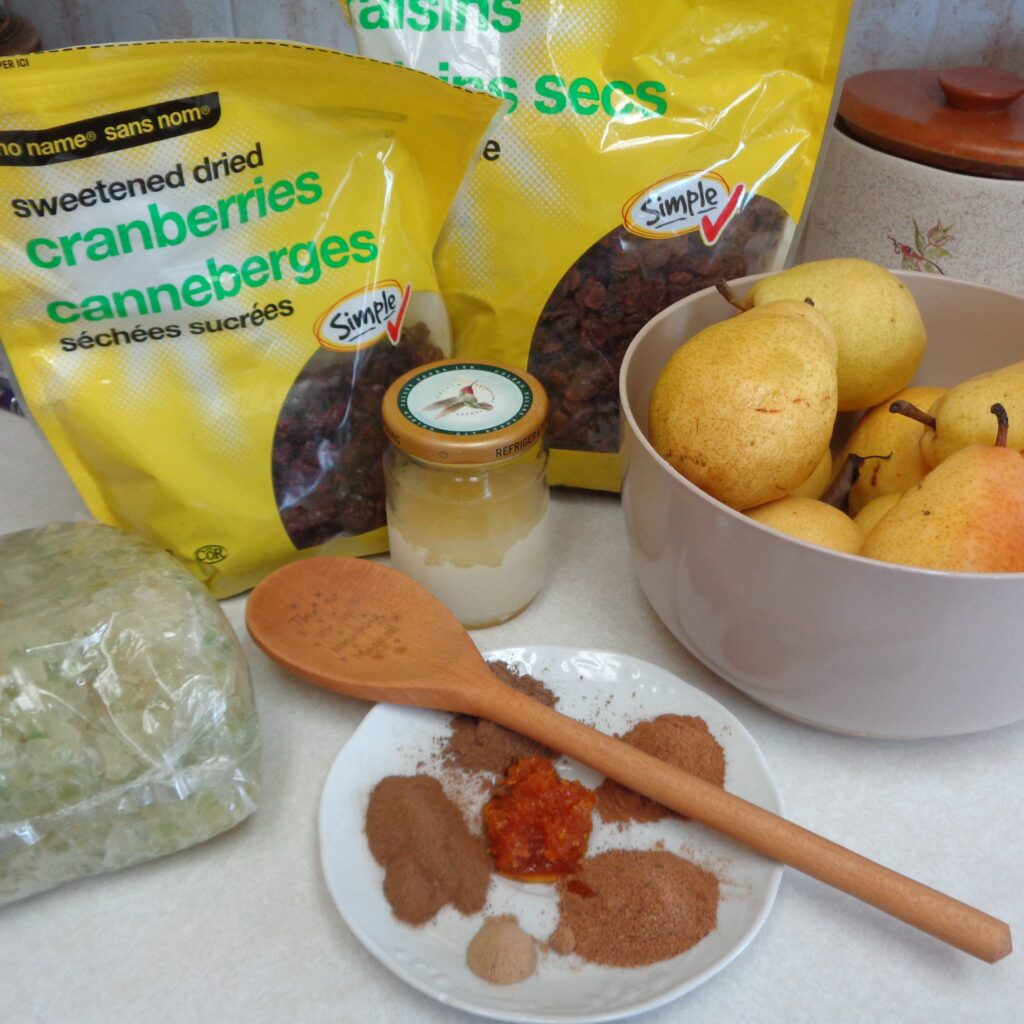 You will need:
3.5 pounds Bartlett pears
1 Tbsp. orange zest
2 Tbsp. lemon juice
1 pound raisins, cranberries, citron or a combination thereof
3-3/8 cups white sugar
1/2 Tbsp. each: ground cloves, cinnamon, nutmeg, allspice
1/2 tsp.  ground ginger
1/2 cup vinegar
splash of rum or brandy (optional)
Stop for a moment before starting. Put on a apron, wash your hands, take a deep breath. Shift your focus into the present moment and let go of where you were, just a moment ago. Take another deep breath and hold, remembering that work is love in action. Begin.
Wash the pears and dry. The skins can be left on or peeled. I peeled these but it is not a must. Cut the pears into quarters, remove the core and dice.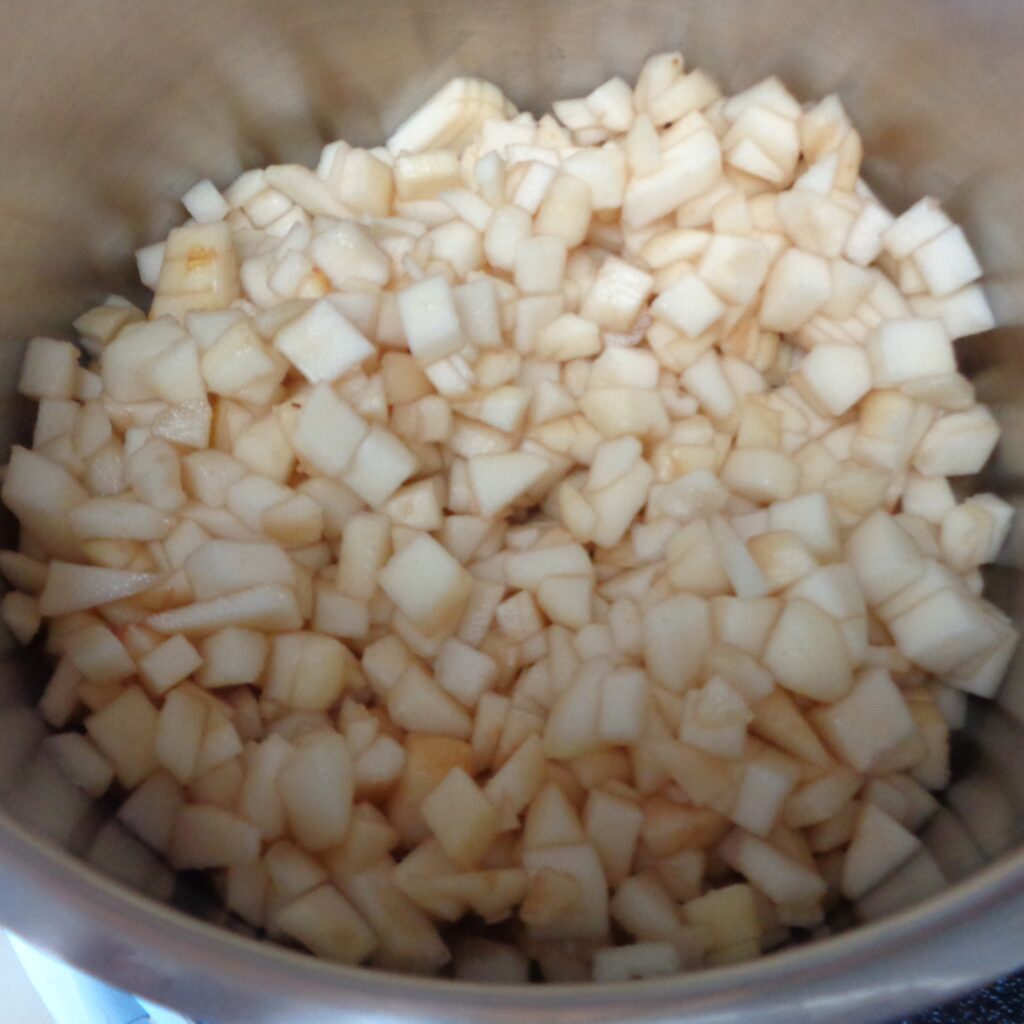 Combine pears, lemon juice, zest, dried fruits, sugar, spices and vinegar.
Citron was one of the dried fruits used in older recipes and since I had some in the pantry, it made up about 1/3 of the mixture. The cubes will be soft once the cooking is complete but firmer than the raisins and cranberries.
Bring the mixture to a boil over medium heat. Reduce heat to low and simmer 30 minutes. Stir every so often to make sure nothing is sticking to the bottom.
At about 30 minutes you will notice that the mixture is getting thicker.
As this is not a jam there is no need to reach a set point.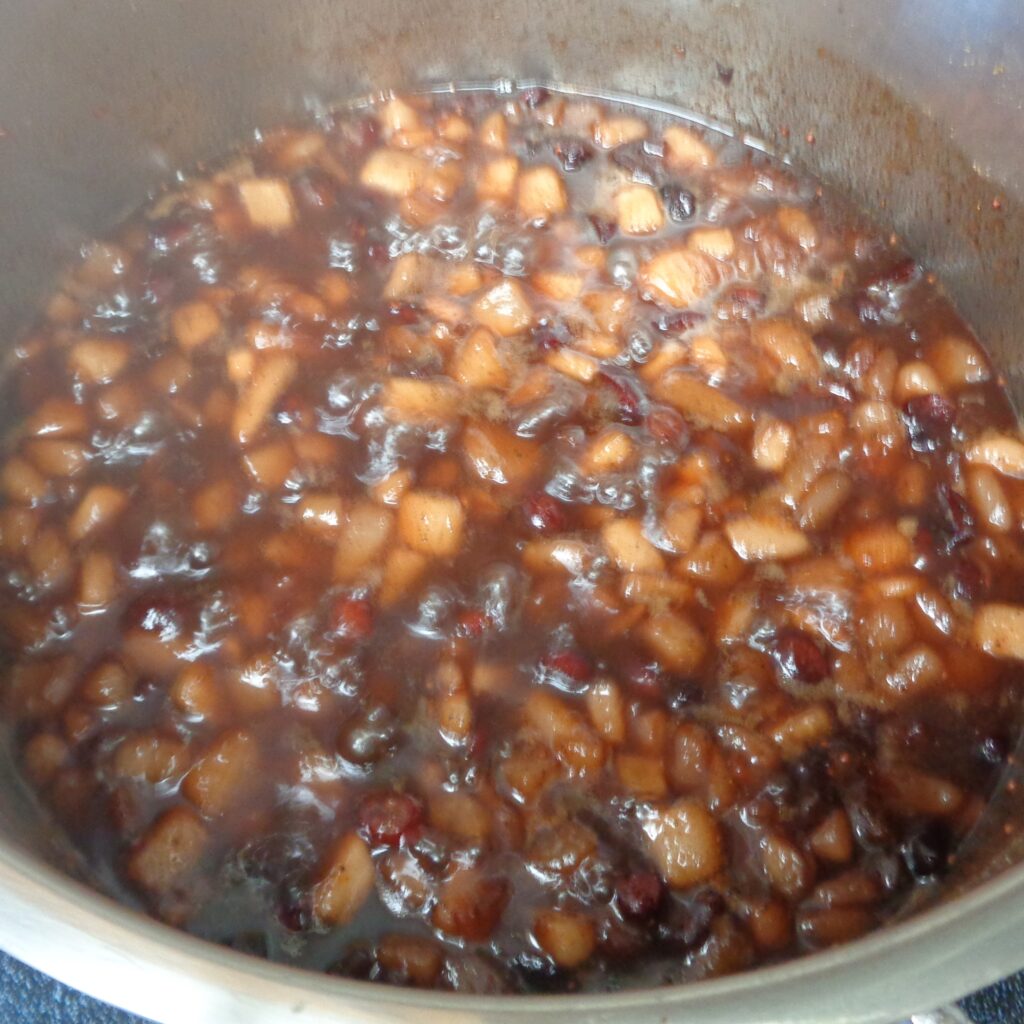 If you are adding the alcohol, stir and cook an extra five minutes to reduce the liquid content a touch more before adding the alcohol. Take of the heat and add a splash of rum or brandy. Stir to combine.
Bottle and process. Cool, label and store jars in a cool, dark place. If you are lucky, one bottle will not seal and you will be able to nibble. For best quality, use home canned foods within one year.
A rich pie filling on its own, this pear mincemeat can also be used as a topping for cheesecake. Try mixing a cup into your next apple crumble or topping plain yoghurt or ice cream with a couple of warm spoonfuls.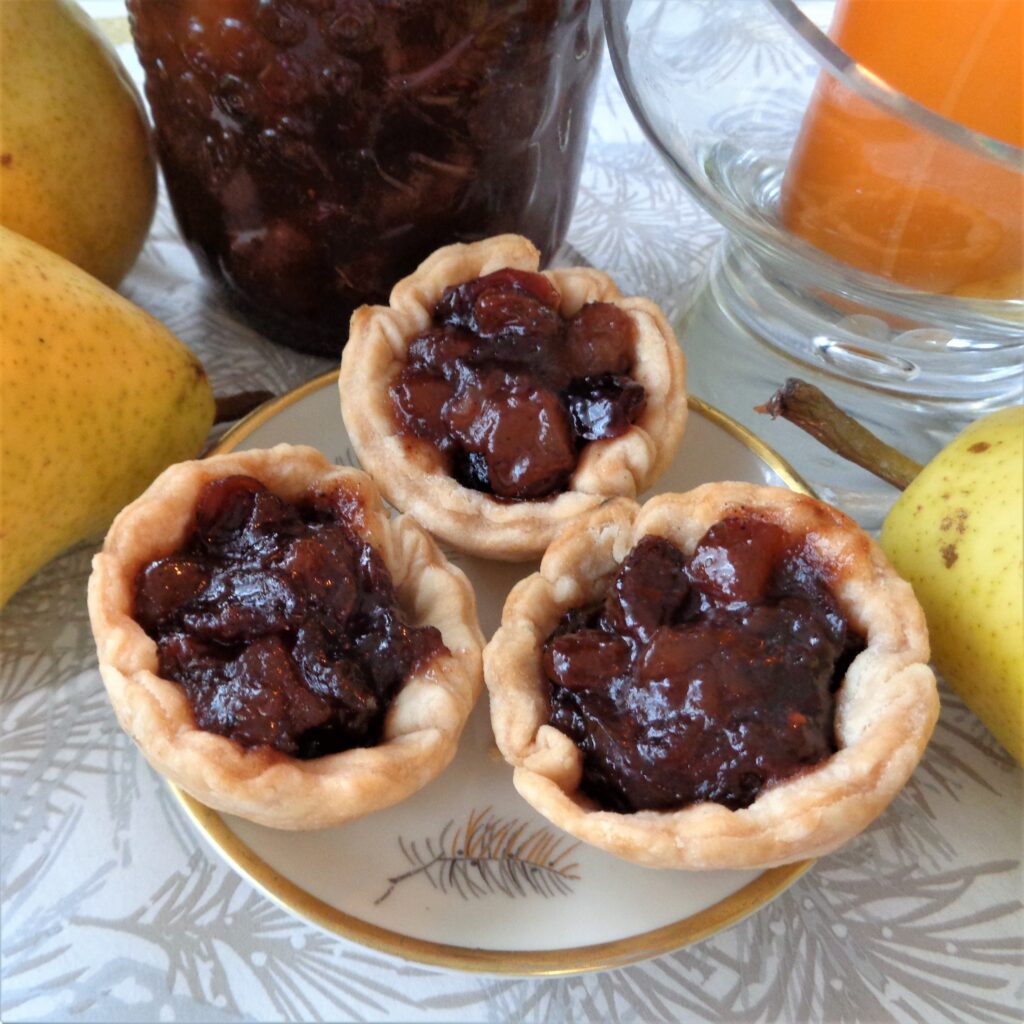 Pear Mincemeat from My Kitchen Wand