Ghouls and goblins, zombies and mummies! It is that time of  year and what better flavour to take to the chocolate dish than pumpkin and cheesecake, together? These little morsels can be finished off as a Thankgiving treat or made to look like all the crypts in the Valley of the Kings have been opened.
Most kids will happily get their fingers covered in chocolate so let them dip and drizzle if this becomes family time in the kitchen. A little extra time in the fridge so the filling is firmer will make it easier for smaller hands. Extra cool centers will also mean a thicker outer coat of chocolate as it will harden more quickly. Some might call that an all round win!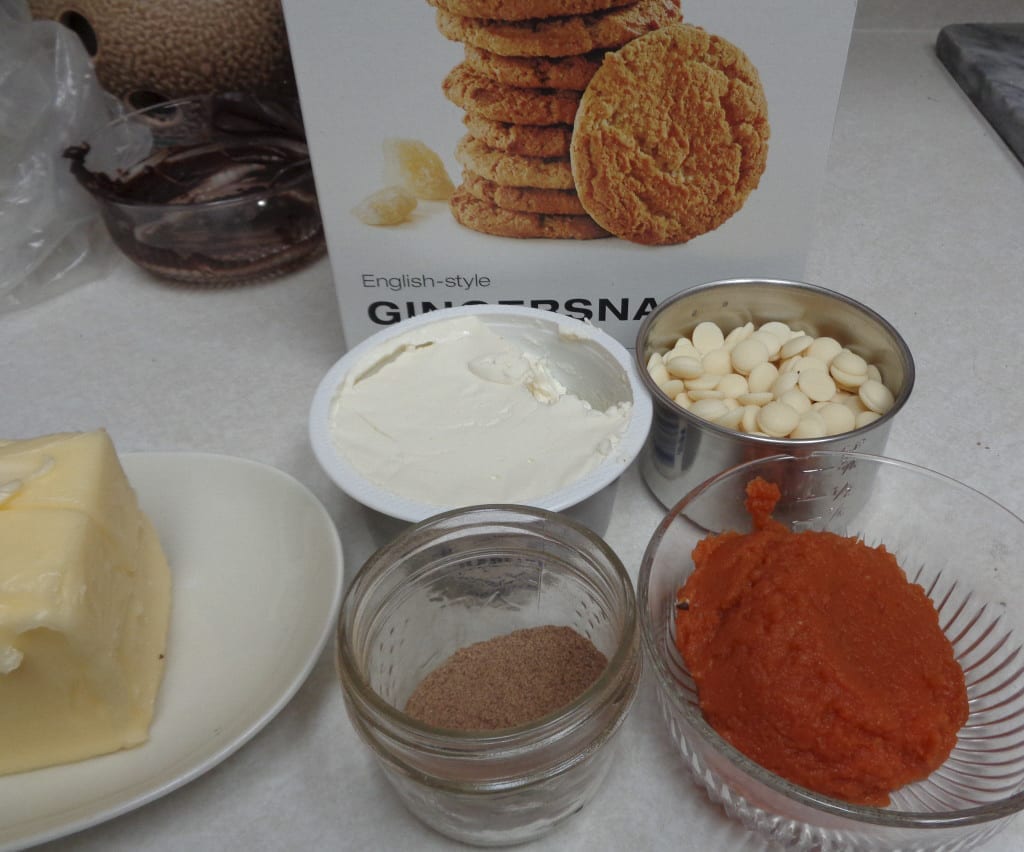 You will need:
4 oz. cream cheese, plain ( 1/2 of a small (8 oz/226gr) Philidephia cream cheese container or similar amount)
1/2 cup pumpkin puree
7/8 cup crumbs, gingersnap, graham cracker or a mixture of both
1 – 1 1/2 tsp. pumpkin pie spice
3/4 cup white chocolate chips
extra white chocolate for dipping
tiny red candy pieces
This is a time of the year when dieing is honoured. Plants and animals give up their life energy so that we may eat and live over winter. Those who have passed on are remembered with bright colours, sugar skulls and cemetary picnics. We pause to remember the many lost to us through the consequences of war. Yes, we are making funny little mummy heads that lighten the concepts of death and afterlife but it is also an opportunity to share the wisdom of the cycle of life within fun time in the kitchen. As hands get washed and clothes are protected, share special memories of people who are no longer here. This may be the perfect time to connect past and future generations through stories or to simply have a moment yourself with memories that quietly bubble up as you work, open to inspiration and your inner voice.
Let's start with the crumbs. If you like ginger then using all gingersnaps will tickle your tongue. If ginger is not your thing then a mixture of half and half will tone down the kick of the gingersnaps. It is also possible to just use graham crackers and rely on the pumpkin pie spice to add the flavour intensity preferred. Sometimes if I know that there will be children nibbling I will whip up a batch that is not as strong as what I would put together for adults. As always, you know who you are creating for and what will go over best.
Place the crackers in a blender and pulverize. It may be necessary to stop and shake a couple of times to get the bigger pieces in the right place before continuing to make powder.
Melt the white chocolate in a bowl and then add the other ingredients and mix together well.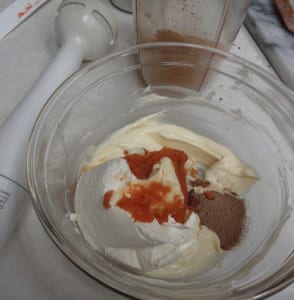 Add the crushed crackers and combine.
The mixture should be smooth and will be sticky. Cover and store in  fridge for about an hour or until the mixture firms up enough to roll into individual balls about the size of a small walnut.
There should be enough filling to make between 30 – 36 balls.
Place the individual balls on parchment paper on a cookie tray and return to the fridge while the coating is prepared.
There are several options for the outside coating, not all of which involve white chocolate and red eyes.
If your tastebuds move towards dark chocolate or milk chocolate with a dusting of chopped roasted pecans, those are perfectly tasty options.
If you prefer to use melt, stir and dip chocolate that does not need tempering, go for it. If you would like to know how to temper couverture chocolate ( The kind with cocoa butter and not palm oil ) here is a link.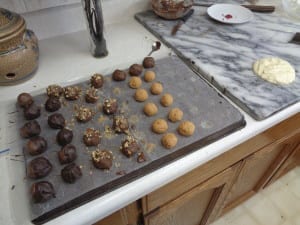 Something to know about white tempered chocolate, which I used here; it is creamier in colour than confectionary coating which is a more pristine white. Now I figure mummies have gotten pretty dirty over the centuries since Egypt so a slightly off white chocolate coating was not an issue to me.
A tip if you are tempering white chocolate. Do it first! Before moving on to milk or dark chocolate. Otherwise the marble will need another cleaning before tempering the white (unless you want really dirty mummies then let the darker chocolate left on the marble work its way into the white).
Once the coating of choice is ready, dip the balls and then let any excess drip off. A little shake helps. Return the chocolate to the parchment starting at the far end so that there are no drips over finished chocolates as you continue. Try if possible to place the dipped chocolates in the  clean space between where the fillings were sitting before being dipped.
Tip two: Check to make sure the filling if fully covered. If there are thin places and/or places not covered, redip. The pressure from the filling inside can break through thin places and it will look like the brains are seeping out. not a bad look for Halloween but it could get messy.
Place two red or purple or green eyes on the chocolate. These candy coated chocolate bits are available in the bulk section of my local grocer. They come in mixed colours. You may find something similar in your part of the world and if all else fails try cutting up a Twizzler. Place the eyes into the chocolate before it hardens so that they stick properly. Drizzle with extra white chocolate to create the strips of cotton used to wrap the mummies. Allow to harden.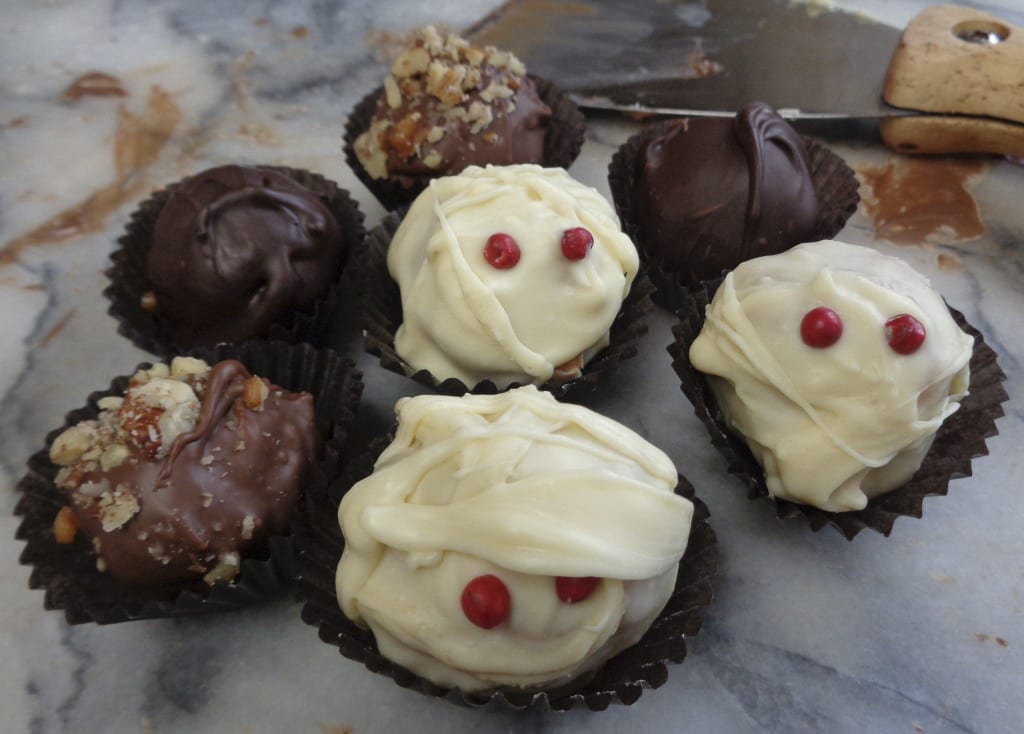 Pumpkin Cheesecake Mummies or Not from My KItchen Wand