My Nana's brown sugar shortbread seemed an ideal starting point for an idea that popped into my head the other day while sorting through some cake pans. Most pumpkin pies already contain brown sugar and although I generally make a thinner cookie with this recipe, the original way to shape shortbread is into slightly thicker wedges, the direction I was heading anyway. Homemade pumpkin puree and pumpkin pie spice from the beginning of the month were used and store bought will work too.
I also had a good example of connecting to the ethers by the time I was finished and writing the recipe up for you. I discovered I was not the first person to put these ingredients together into something similar. Not at all surprising, creative ideas are everywhere, just waiting to be heard. Are you listening?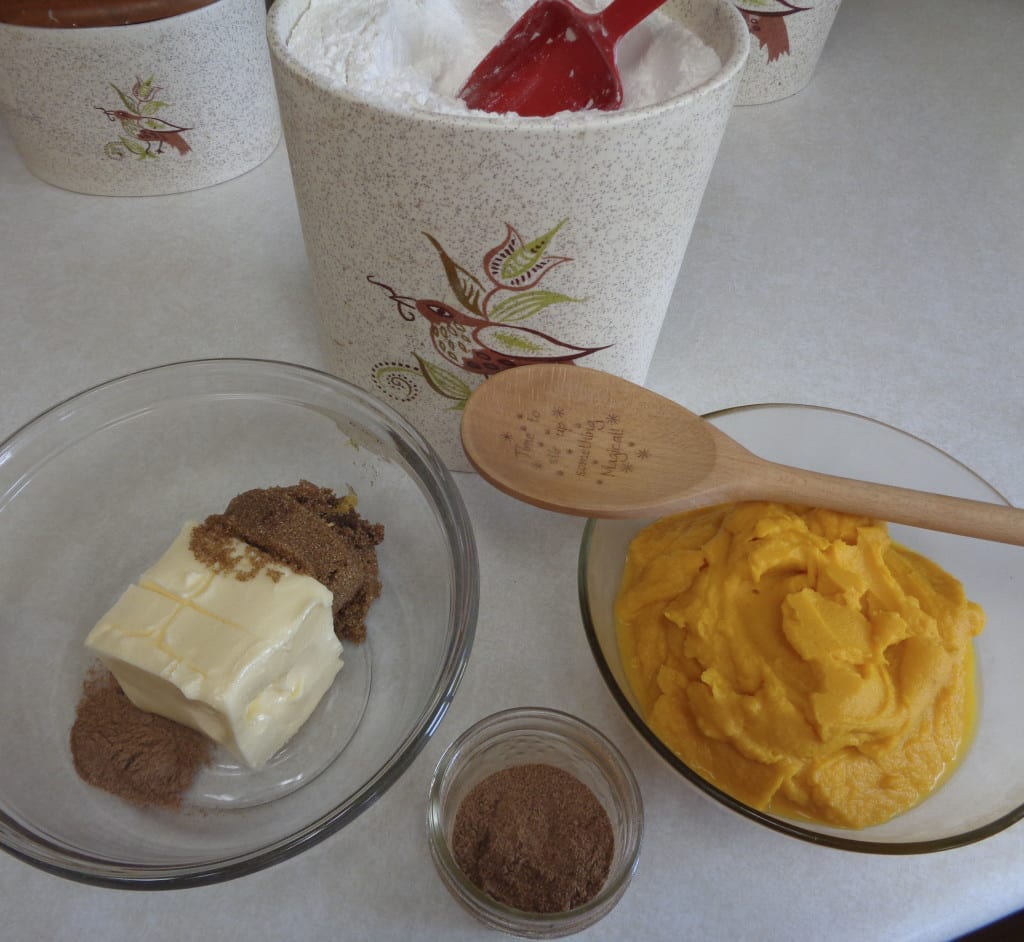 You will need:
1/3 cup finely chopped pecans
2 Tbsp. white sugar
1 tsp. pumpkin pie spice
2 1/4 – 2 1/2 cups all-purpose flour
2 tsp. pumpkin pie spice
1 cup butter, softened
1/2 cup brown sugar
½ cup pumpkin puree
pinch of soda
1/2 cup butter icing
Take a deep breath, hold and release. Repeat a couple of times as hands are washed and an apron comes out. Bring your focus into the kitchen. What is the plan? What is your intention? Who are you making this recipe for? What are your feelings about this project? Are you excited to trying something new? Or resentful that the todo list is so long today, again? Take another deep breath and let go of anything that breaks the connection between you and your best intentions. In your mind's eye, place all your nigglies in a basket by the door, preferably one with balloons that will take them all away but if you need to hold on then know they will be waiting for you if you need to pick them up again. For now, be in the present moment and begin.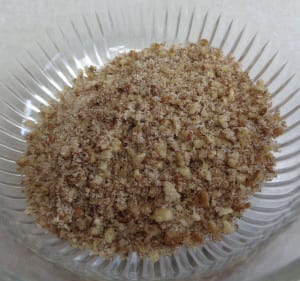 Mix together the chopped pecans, white sugar, one teaspoon pumpkin pie spice and set aside.
Beat the butter, brown sugar and two teaspoons pumpkin pie spice together until light and fluffy and add in the pumpkin puree. Mix well.
Sift the flour and baking soda over the mixture and work into the batter until everything comes together and a homogeneous dough has been formed.
On a clean surface sprinkle some additional flour and roll out the cookie dough.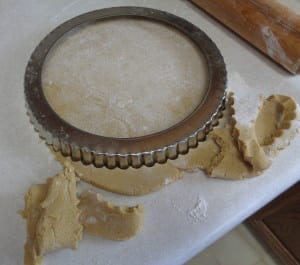 This is a more traditional style of shortbread, where you make a circle and then cut it into wedges before baking and not the roll out the dough and cut individual cookies style more common in North America.  The dough can be a little thicker than usual, 1/3 inch will be fine.
Once the dough is rolled, take apart a scalloped edged flan/tart with removable bottom and use it as a giant cookie cutter.
It is also possible to cut by hand but this way is much quicker with no requirement to cut individual scallops.
Shift the giant cookie to a cookie sheet lined with parchment paper.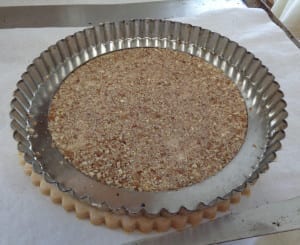 Next, turn the pan right side up and place on top of the giant cookie.
Using the open center section as a guide, sprinkle with the pecan/sugar/spice mixture.
Once complete, remove the tin and roll gently over the mixture with a rolling pin, just enough to help the nuts stick to the cookie, not change the shape of the cookie.
Place the cookie in the fridge for an hour or at least long enough to firm up the dough and allow it to be easily cut and separated.
Preheat the oven to 325 – 350 degrees.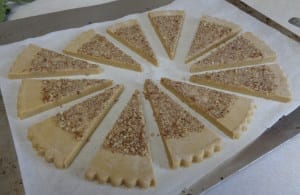 Remove the cookie from the fridge and cut into sections. I got a dozen cookies from the circle with each section ending up with about 5 scallops of "pie crust".
Separate the slices so they can bake easily.
Place in the oven and bake for about 20 minutes. As mentioned this is a thicker cookie so the lower temperature helps the cookie stay lighter in colour as a longer bake time is needed due to the added moisture from the pumpkin. Check the bottoms for doneness. They should have more colour than the tops.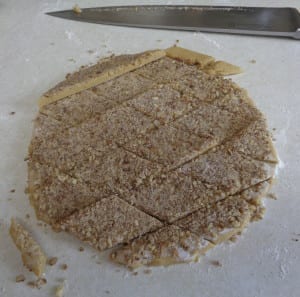 There will be left over cookie dough. I didn't want to make these cookies any thicker, so I took the leftovers and rolled them out again. Then covered the dough with remaining  nuts and sugar and cut it into diamonds.
Another option would be to make the cookies thinner and try for two circles. Going for option two means reducing the baking time by about 5 minutes, so check on them a little earlier.
Once the cookies are baked allow them to cool on a rack and decorate as you would a slice of pumpkin pie and to your taste.
The added pumpkin puree reduces the sandiness of a typical Scottish shortbread and the extra thickness means these will need a little extra umph to break by hand.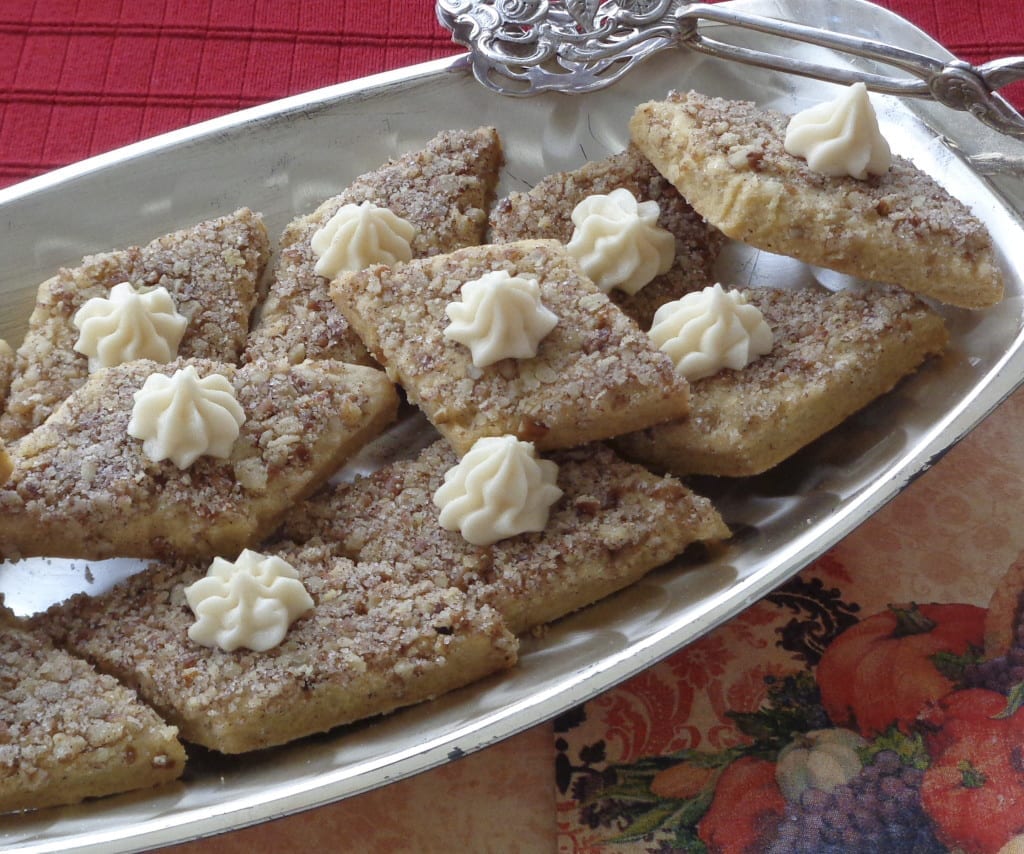 So if you have an addiction to all things orange and squashy at this time of the year, here is one more example of how to get your fix.
I still think these look like a gathering of Star Wars star destroyers.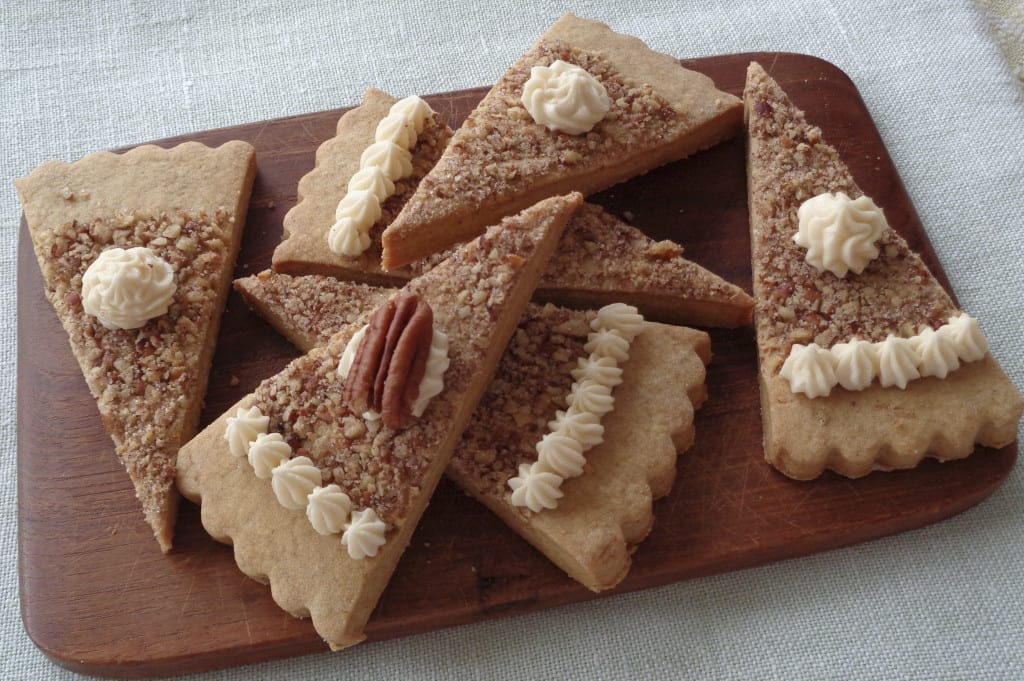 Pumpkin Pie Shortbread Cookies from My Kitchen Wand