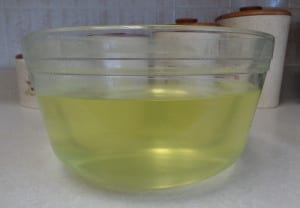 When making cheese or yoghurt there is always lovely whey left over and a question pops up. Is there something I can do with it?
Some people see whey as a byproduct that fits nicely down the sink but there are many health benefits to incorporating whey into other things you will be doing anyway.
Whey contains calcium, thiamin, vitamin B12, vitamin B5, magnesium, phosphorus, potassium, riboflavin, selenium and zinc! and it would be so much more beneficial down your pipes than the sinks.
Since Thanksgiving is still on it's way for those of you below the 49th parallel, let's start with something pumpkiny as the chances of having little bits of pumpkin puree sitting around are pretty high as well.
If there is no whey handy, do not pass this recipe by as water or milk of some variety can be easily substituted.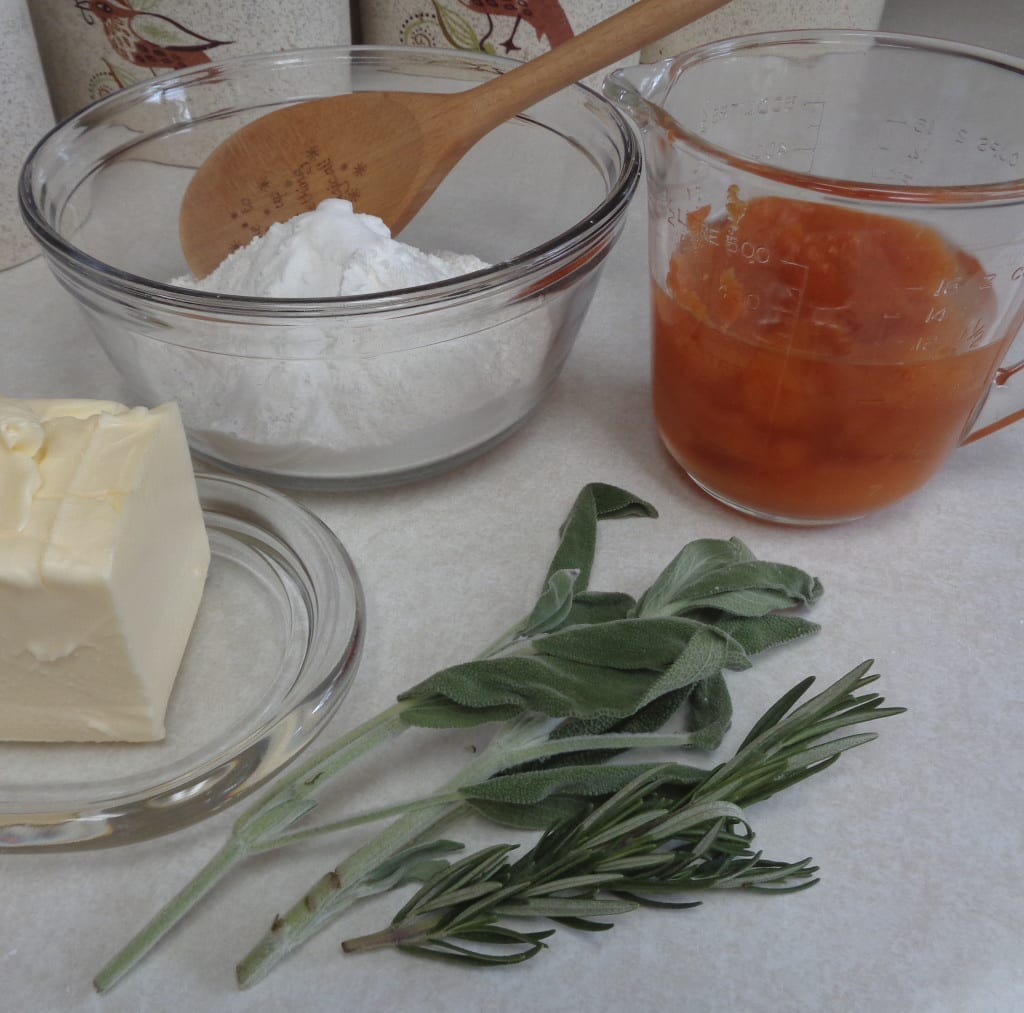 You will need:
2 cups all purpose flour
1 Tbsp. baking powder
1/2 tsp. soda
6 Tbsp. butter
10 Tbsp. whey or water or milk
1/2 cup pumpkin puree
3  Tbsp. greek yoghurt
1 1/2 Tbsp. fresh sage finely chopped
Preheat oven to 450 degrees F. while you wash hands and gather up the ingredients. Close your eyes while taking a slow deep breath in and out as a way of shifting from all the things that are on your mind to a place of focus in the present moment. Remember that work is love in action and you will be happier with the end results when your intention and presence of mind are in the same place. Welcome the compassionate spirits and begin.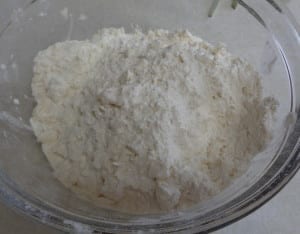 Combine the dry ingredients; flour, baking soda and baking powder together.
The next step is to cut in the butter. While I was learning in high school I was always told to make sure the butter was hard and for years I followed that advice until one morning in the kitchen of a restaurant I was laughed at by a camp cook, someone who needs to get lots of meals out to lots of hungry workers each day and wants to get things done as quickly as possible.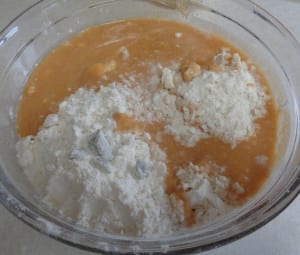 He uses room temperature fats for his biscuits and pastry. The trick is a light touch. Too much working and the fluffiness will disappear. You want to break the fat down into little bits covered in flour so that when the biscuits are in oven, the butter will melt leaving light and fluffy biscuits behind.
So I will leave it up to you as I know it takes a little practice. Either cut in the cold butter with a pastry blender or a couple of forks or use your fingers and room temperature butter to create a mixture where the flour crumbles are about the size of small peas.
A compromise would be to mix up the dry ingredients and butter and then return the bowl to the fridge while the butter hardens again before adding the liquids.
Leaving several leaves to slice for decorating the tops, finely chop the sage and toss with flour. I used only sage for these biscuits but if you have rosemary handy a mixture will work too.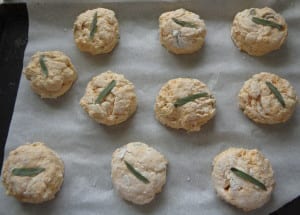 Stir the whey, pumpkin puree and greek yoghurt together and pour into the flour. Stir as little as possible. Get the dough just mixed and turn out onto a floured space. Pat down to about an inch thick. The dough will be moist.
Using a glass or cookie cutter, cut into 12 biscuits, with as little added squeezing as possible. Depending on the size of your biscuits, you should get about a dozen. I made these a little bigger and got 11 as some were intended for turkey sandwiches at lunch.
Place on a parchment lined cookie sheet and top with a sliver of sage leaf. Press down to make sure it attaches. Bake for 14 – 18 minutes. The moisture lengthens the baking time a bit and all ovens are different so check at about 12 minutes and then adjust as needed.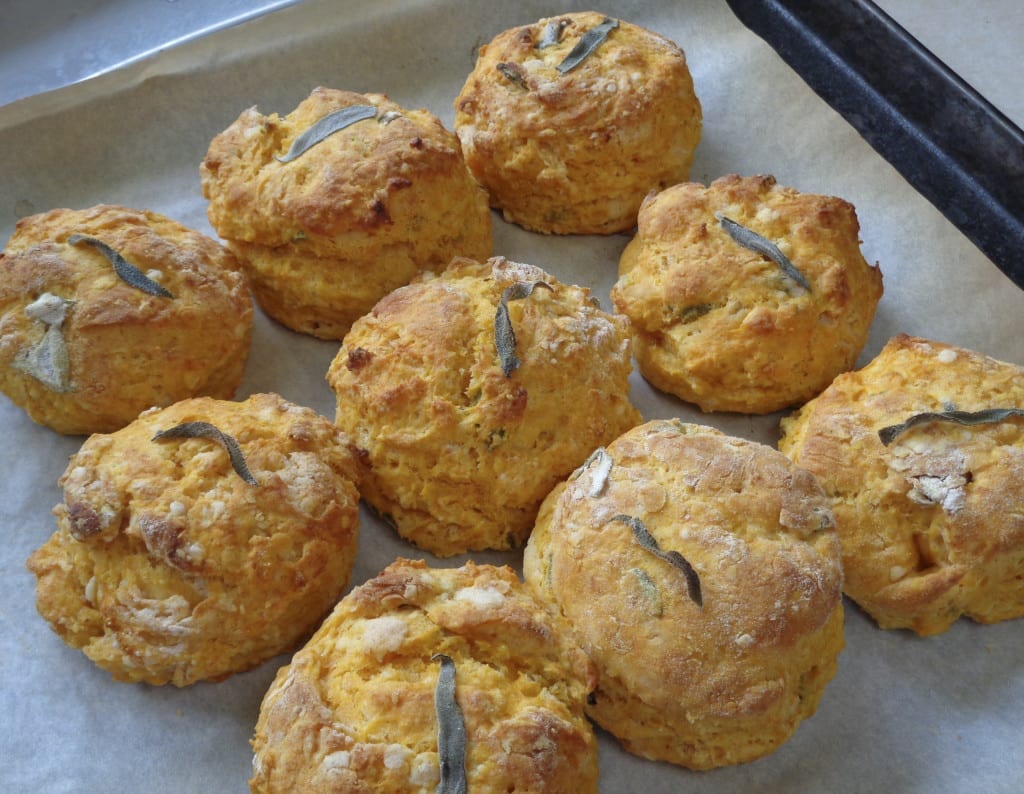 They puffed up nicely and were exactly what I was looking for, light, fluffy and yummy. ( Yes, I repositioned the finished biscuits for this picture ). If the biscuits are placed closer together the edges will touch and create softer sides. The preference in this house is crunchy edges so I placed them further apart so the biscuits could bake independent of each other.
In the end they were gobbled up with steaming mushroom soup and the turkey sandwiches were never made. Ah well…..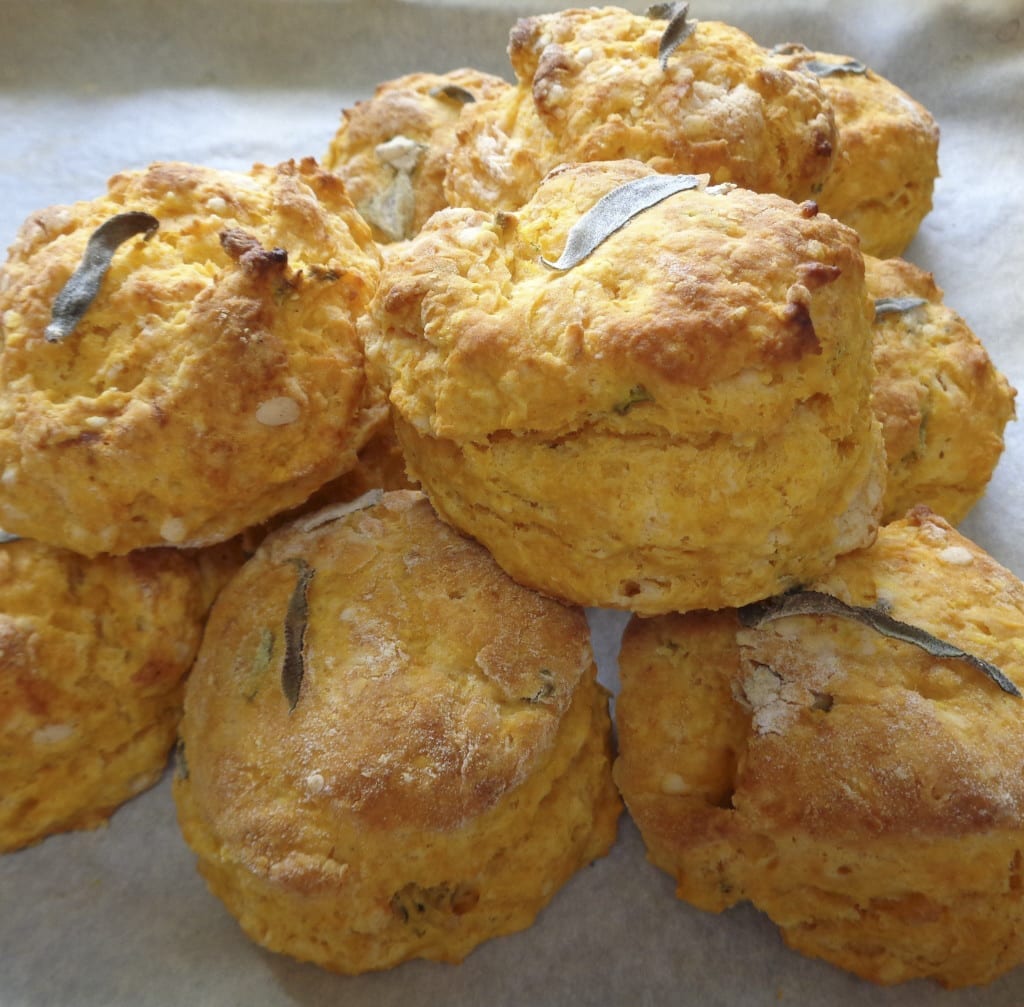 Sage Pumpkin Biscuits from My Kitchen Wand