What can I say, it is rhubarb time again; a symbol that spring is truly here and something I ( or my black cat ) will happily do a little jig about.
The items used to celebrate festival days come mostly from what is happening and available around us in nature. The first of the eggs for Ostara/Easter; evergreens for Yule/Christmas; spiders at All Hallows and others. ( Please know I am not saying the actual celebrations are the same, only that they happen at the same time of the year, use similar symbols and that those symbols are connected to nature. )
Next week is the festival of Beltane and rhubard is a natural choice for Cakes and Ale as it is in season and easily available in many places with similar weather systems to Northern Europe. Technically a vegetable, rhubarb contains lycopene and anthocyanins, antioxidants that fight off disease. Your heart gets benefits as it can help lower cholesterol and rhubarb contains Vitamins C & K as well as calcium, potassium and magnesium.
Spring fruits would not have been available yet so other options would need to be chosen.  This quick and easy recipe combines rhubarb with nuts, something that would have been stored from last years harvest.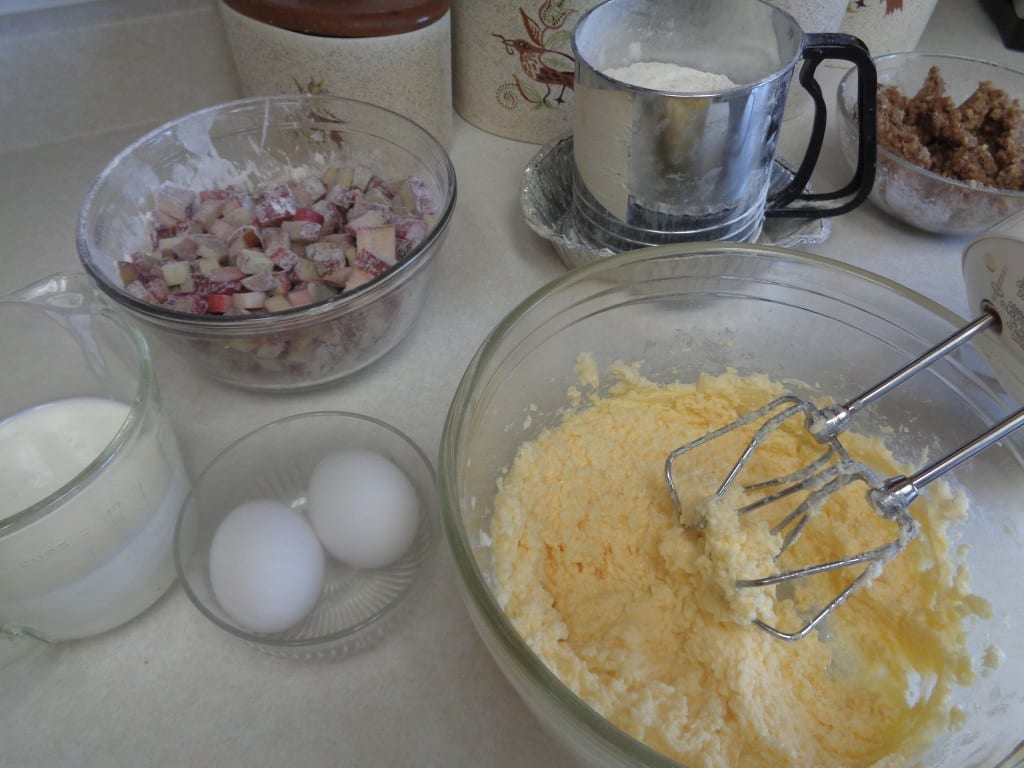 You will need:
2/3 cup soft butter
1/2 cup flour
3/4 cup ground or very finely chopped almonds
1 cup brown sugar
2 tsp. cinnamon
3 cups washed and chopped fresh rhubarb
6 Tbsp. sugar or flour
1 1/3 cup soft butter
1 cup sugar, white or golden
1 tsp. almond extract
3 cups flour
1 tsp. salt
2 tsp. baking powder
1/4 tsp. baking soda
1 cup buttermilk
Start by washing your hands, a good idea for three reasons; general hygiene, you will be using your hands for this recipe and letting the warm water run over and off, taking away tension and stress is always a great way to begin any project. Breath deeply a couple of times, remembering that the more you exhale, the fuller the next breath can be. Welcome the compassionate spirits to your kitchen and begin.
Measure and mix together the first five ingredients on the list. The quickest way is to put them in a bowl and with clean hands, squeeze the ingredients together. Put aside until later.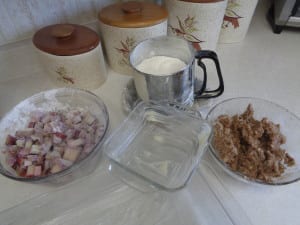 Grease and flour a 9 x 13 inch lasagna style pan. I have mentioned on occasion that taking a little batter out of a recipe and making a small extra cake for a neighbour down the way makes a nice gift. That is the additional  4 x 4 inch pan you can see in the picture to the left. Set aside.
Wash and chop 3 cups of fresh rhubarb. Toss in 6 Tbsp of either flour or sugar. I use flour but I know some mothers with children compromise with a sweetener if the rhubarb is too sour for their young ones.  Dicing the stalks into smaller pieces also helps to stop getting a mouthful of "puckeriness". The general rule of thumb around here is that the redder the stalk, the sweeter it will be once cooked. Put the rhubarb aside.
Preheat oven to 350 degrees. Measure flour, salt, baking powder and baking soda into a sifter and set aside.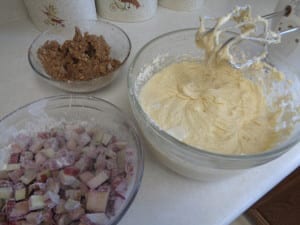 Cream the butter until light and fluffy and add the sugar ( your choice of variety), continuing to mix. Add the almond extract, stir and sift in half the flour. Stir only until just mixed. Add the buttermilk and again stir until just mixed. Sift in the final half of the dry ingredients and mix.
Once the batter in mixed add the rhubarb pieces and any dry ingredients left in the rhubarb bowl.
Fold the stalks into that batter and transfer the batter to the baking dishes. Smooth out the batter and if you are taking pictures (as I was), keep the lens of the camera clean (as I didn't). Otherwise you will also get smudges on your pictures (as I did).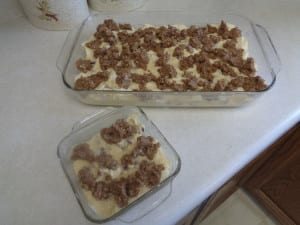 Top the cake with the prepared crumble and bake until the edges come away from the sides, a knitting needle comes out clean and the top is golden brown, about 40 minutes. The 4 x 4 will be done sooner.
I know many people use toothpicks for checking but if you have an extra knitting needle sitting around, they are longer, give you a better angle for checking and after easy cleaning, are reusable.
Serve warm or at room temperature. A dollop of sweetened whipped cream complements the tang of the rhubarb and helps to smooth out the overall experience (to the point that people in my house who "don't like rhubarb" have been willing to eat a piece of this cake every day until it was gone.)
Put on the kettle once your turn around the May Pole is complete and recover from your May Day celebrations. Just as tasty if you plan on being up all night to greet the first day of summer on the Celtic Calendar.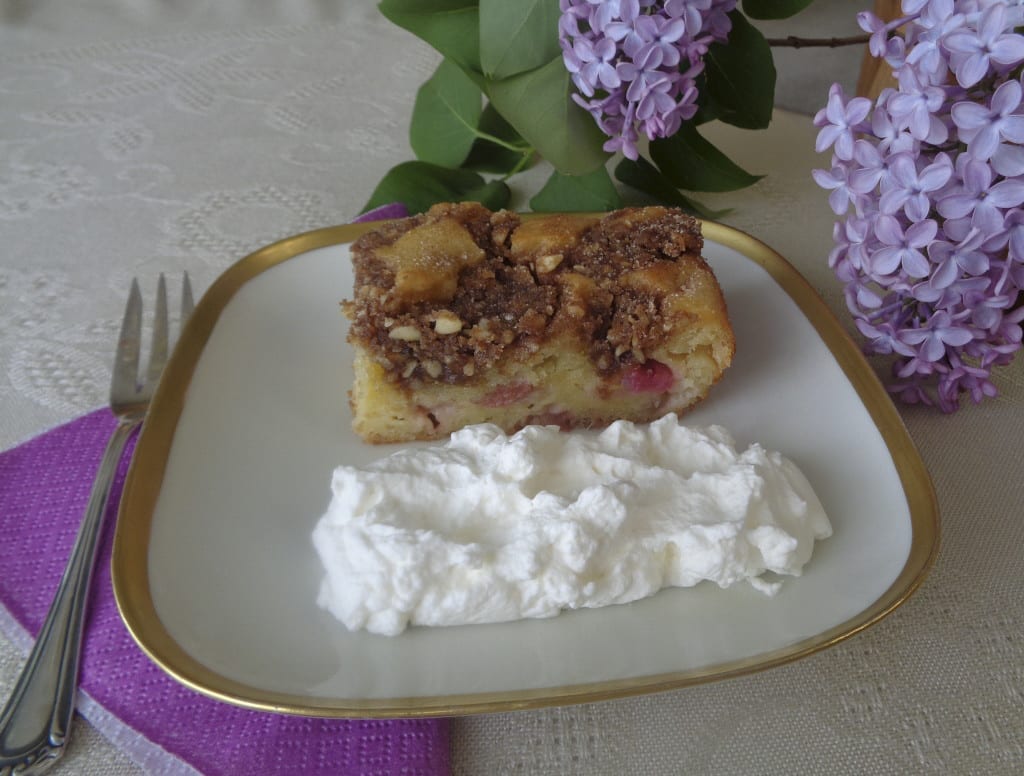 Rhubarb Nut Buttermilk Cake from My Kitchen Wand