Summer desserts… fresh fruits, iced creams and all things light and refreshing. A fool is a quick and easy end to a summer dinner, usually made from the slightly tangy fruits readily available in England, rhubarb, fresh currants or gooseberries.
I love rhubarb and was thrilled when Marks & Sparks ( sorry Spencer ) ventured into the Canadian market and brought their house brand of rhubarb yoghurt along. Unfortunately it was one of the first things to go before they took their toes entirely out of the retail business pond in North America. Then Activa included a strawberry rhubarb blend in their mixed flavour options and finally they brought it out in a large size format. Now I am not saying it was because I called them and asked if it was possible but……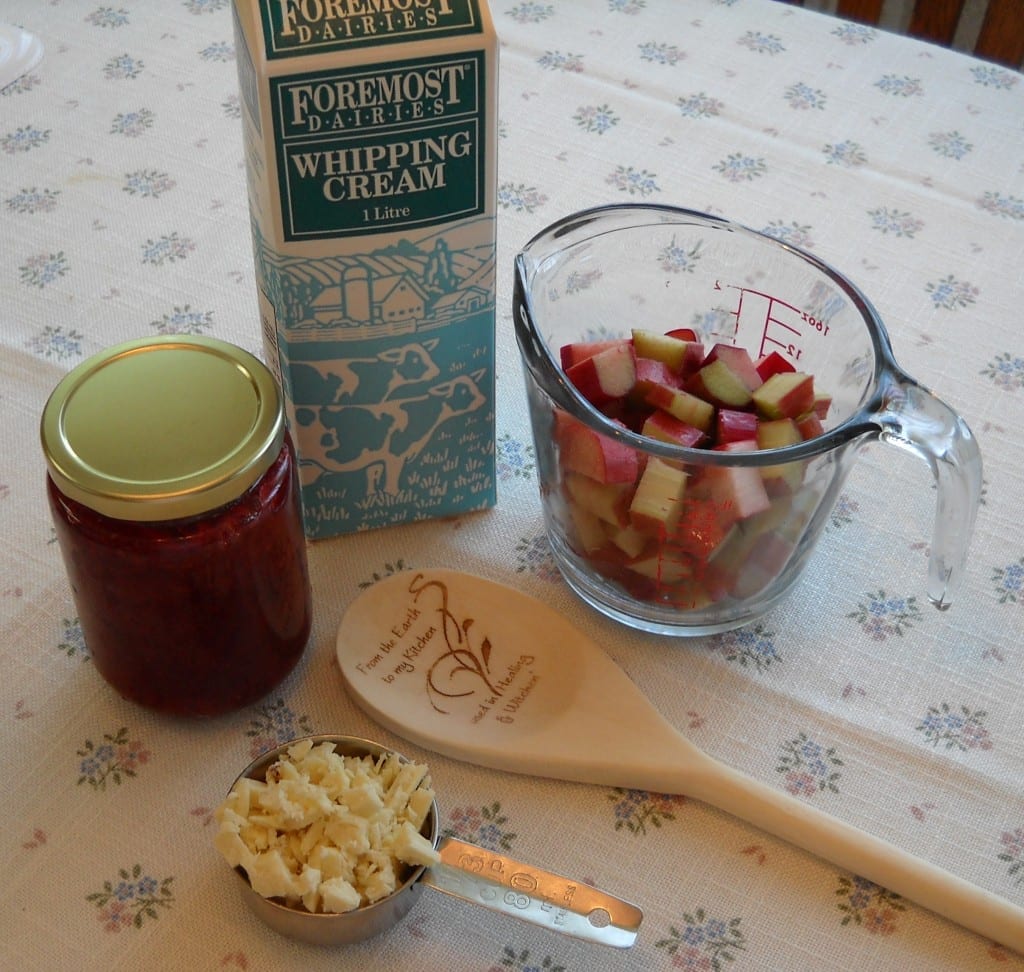 You will need:
1 cup stewed unsweetened rhubarb
1 cup whipping cream
1/2 cup greek yoghurt ( I used Honey flavoured and plain would work as well )
4 – 6 tsp. strawberry jam
1/3 cup chopped white chocolate ( optional )
Deep breath to shift focus and bring your attention into the kitchen. Rhubarb and strawberries are connected to protection, fidelity, love and luck while the dairy items are about grounded joy and inspiration. So all in all a great celebratory dessert for two or a yummy in your tummy for the whole family. This recipe will make enough for three servings. Breath again, welcome your kitchen spirits and begin.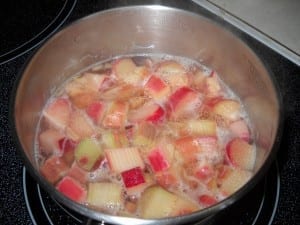 If the rhubarb is fresh, wash and chop. If you have a larger stock, run a knife down the middle first and then cut through the make smaller pieces. Put the chopped fruit in a small pan with a couple of tablespoons of water and simmer until the rhubarb is tender. The volume of liquid will increase as the rhubarb cooks.
Strain off the the liquid through a plastic sieve. A metal one can discolour the cooked fruit if it sits in the basket for long. Put fruit aside to cool.
Let me start by saying, " yes! You can use fresh strawberries instead". I chose the jam because the strawberries available right now in my area are transported in and do not have a lot of flavour. The strawberries in my homemade jam do have flavour and by using the jam there is no need for any extra sugar. I know that I have a jam packed full of strawberries and not a jelly like spread. Using the jam also means I do not end up with left over strawberries and no plan for their use.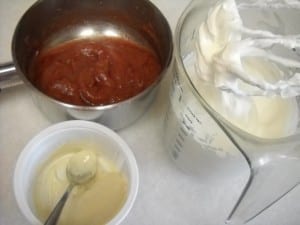 If you are going to use the white chocolate, melt and stir well. Personally I like my fool tart and would not use the chocolate but others around me feel very differently.
Whip the whipping cream until stiff peaks hold their shape and then whip in the yoghurt. Gently fold the rhubarb and jam in and taste. Add the chocolate if using and any additional jam you feel makes it perfect. My preference is two teaspoons per 1/2 cup of whipping cream but taste to get the tartness/sweetness you like best.
The source of this most English of summer desserts likely comes from the French word foule ( where is that alternative keyboard for the accent???), which means "to press". Sorry if you were thinking it was in some way connected to a court jester.
It is most common to mix all the ingredients together and spoon into bowls. If you are feeling artistic it is also possible to layer in part of the fruit between spoonfuls of the cream mixture. If you choose that option add the strawberry jam to the rhubarb first before combining half the fruit mixture into the cream/yoghurt mixture, leaving the other half to create the layers. Keep in the fridge until serving and no fighting over who gets to lick the bowl.
The garnish is sweet cicely. As mentioned on Wednesday it goes well with rhubarb. So if you have some around, try adding a touch of anise like flavour to the stewed rhubarb.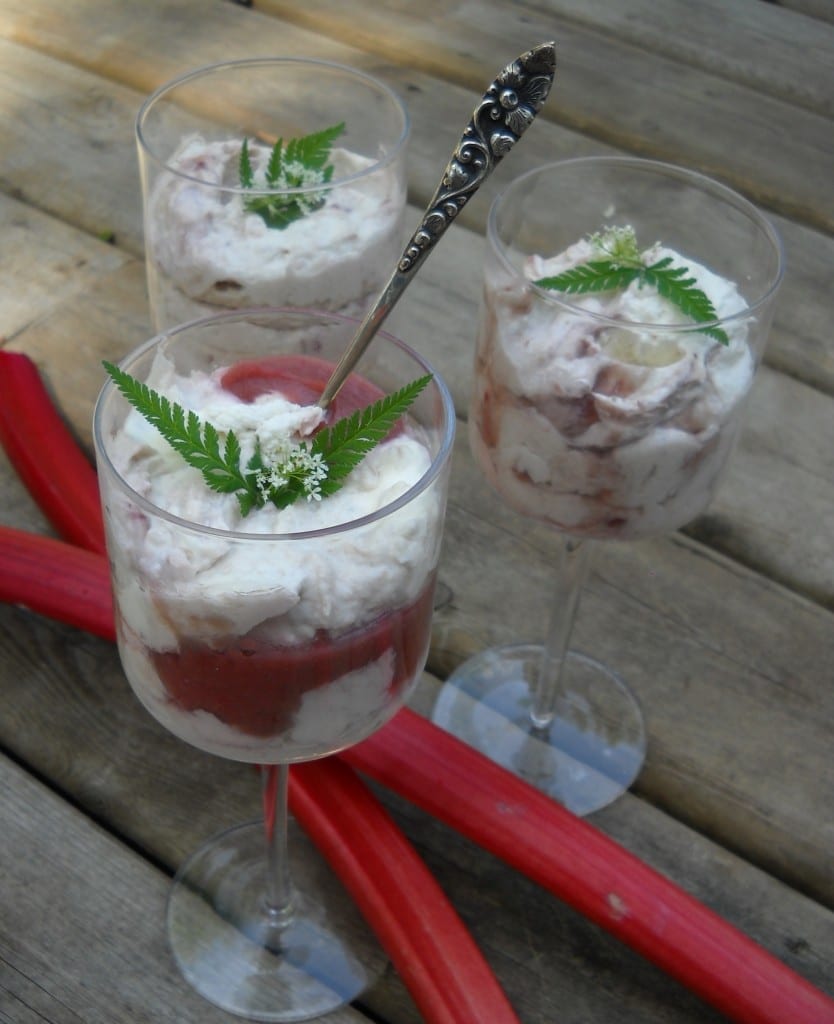 Rhubard Strawberry Fool with optional white chocolate from My Kitchen Wand