These days there can be very little difference between a muffin and a cupcake. Bran and Oatmeal has given way to Banana Chocolate Chip and Blueberry Coffeecake Crumble. This offering swings both ways. Served plain with butter and honey for breakfast or topped with a maple cream cheese frosting for a special fall occasion.
It uses precooked butternut squash but acorn or pumpkin substitution is allowed. Scott Cunningham and Cottage Witchery both write that squash has a connection to things non physical making it a great pre-ritual food. Raisins were said to aid in developing the conscious mind which I find interesting as they also have an association with dreams.
You will need:
1 cup butternut squash, roasted and cooled
1 1/2 cups all purpose flour
2 tsp. baking powder
1/4 tsp. salt
1/2 cup white sugar
1/4 tsp. salt
1 3/4 tsp to 2 1/4 tsp. spices ( I used 1 tsp. cinnamon, 1/2 tsp. allspice and nutmeg, 1/4 tsp. cloves ) substituting pumpkin pie spice or speculaas spice mix is also an option.
1/2 cup raisins (optional)
1/4 cup pecans (optional or substitute walnuts)
2 Tbsp. ginger in syrup, finely chopped (optional)
Create space in your life to begin. Put away the nigglies and take a deep breath. Welcome the compassionate spirits, ask for inspiration and hold gratitude in your heart for what can be created from the bounty of this last harvest.
Preheat oven to 400 degrees. Lightly grease a 12 cup muffin pan or line with paper cups. I used my silicone molds as you can see in the picture above.
I am going with the assumption that you have roasted or cooked squash leftovers and are not starting from scratch just for this recipe. If I am making an "ass out of you and me" then there are two options, both needing to happen before beginning this recipe so there is time for the squash to cool. If squash is just not your thing, try grated zucchini instead. 
The first option is to roast the squash in a 400 degree oven until soft and caramelizing can be seen. This will sweeten the squash. Start by cutting the squash open and scooping out the seeds. Cut into smaller pieces to shorten the baking time.  Place on a baking tray and roast until a fork or knife easily slides through the flesh.
Option two is to peel, dice and place in a medium sized pot with water. Bring to a boil and then simmer until soft. Drain. This version will have a little less flavour and lack the caramelization but will work for this recipe and is quicker to complete. Once you have cooked squash, precede.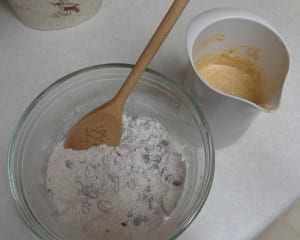 This is a simple two step recipe. Combine dry ingredients; combine wet ingredients with one addition (nuts if using); lightly mix.
In a little more detail…
Combine in a large bowl the dry ingredients, flour, baking powder, white sugar, salt and your choice of spices. Add the raisins and toss to lightly cover. This will prevent the raisins from falling to the bottom of the muffin.
I used my blending stick to mix the other ingredients together;  squash, milk, egg, butter, nuts and ginger. Mix/grind until smooth.
Pour the squash mixture into the dry ingredient mixture and gently stir just until moistened. DO NOT OVERMIX.
Spoon the batter into the prepared muffin tins.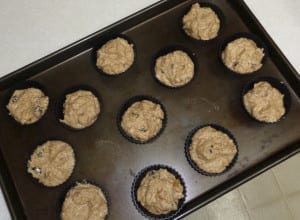 Bake 17-20 minutes in the preheated 375 degree oven. You can check for doneness by inserting a toothpick in the center of a muffin. They are baked when it comes out clean.
Cool on a wire rack if frosting.
If using for breakfast, serve warm with a little butter and/or honey.
The squash will keep these moist for days but it is best to store the ones not being eaten today in the fridge as the moistness can support mold.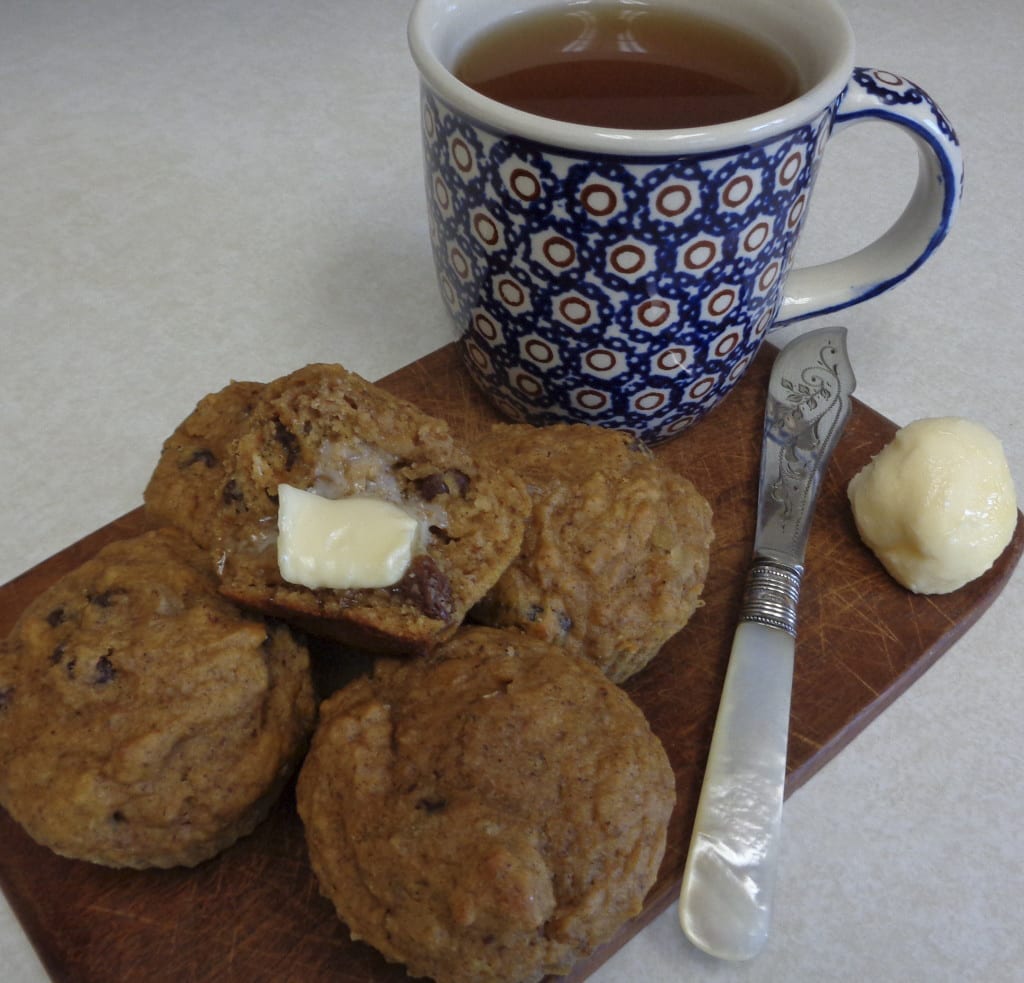 If the frosting option tickles your fancy, you will need:
4-ounce packages cream cheese, room temperature
2 Tbsp butter, room temperature
2 – 2 1/2 cups powdered sugar
2 Tbsp.  pure maple syrup
Cream the cheese and butter together. Add 1 Tbsp. maple syrup and then sift in the icing sugar and beat well.
If the cupcakes are being iced by hand the mixture can be softer than if they are being piped and the frosting needs to hold its shape.
Add the additional maple syrup as needed and beat well. Generally speaking, hand icing will require less icing than piping, you may need to increase the icing ingredients by 25% if piping all 12 cupcakes.
As we draw closer to Samhain, the last of the harvest festivals, it is good to know there are still tasty ingredients to gather from the garden and that having daily access to the local grocer for other ingredients is a wonderful blessing. So, as Jack-O-Lanterns get cut and bats get ready to fly, try this autumnal addition to the festivities.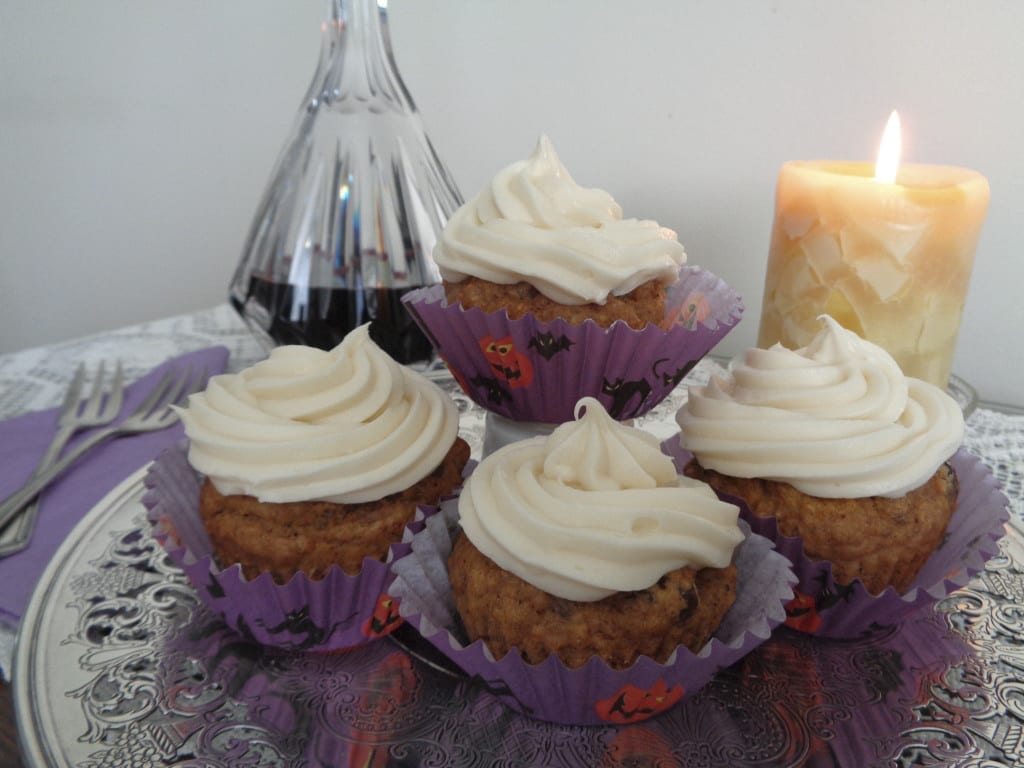 Roasted Butternut Cupcakes with Maple Syrup Cream Cheese Frosting from My Kitchen Wand