I know Halloween is around the corner and candy is available in not so mini mountains in every store but wouldn't it be nice to have something grown-up and truly decadent as opposed to straight sugar?
Aromatica, my favourite tea shop has a lovely Earl of Raspberry tea. It is an Earl Grey black tea with added raspberry and I used it the other day to whip up a batch of truffles. No tempering needed, great for your hands and ooooooh so yummy.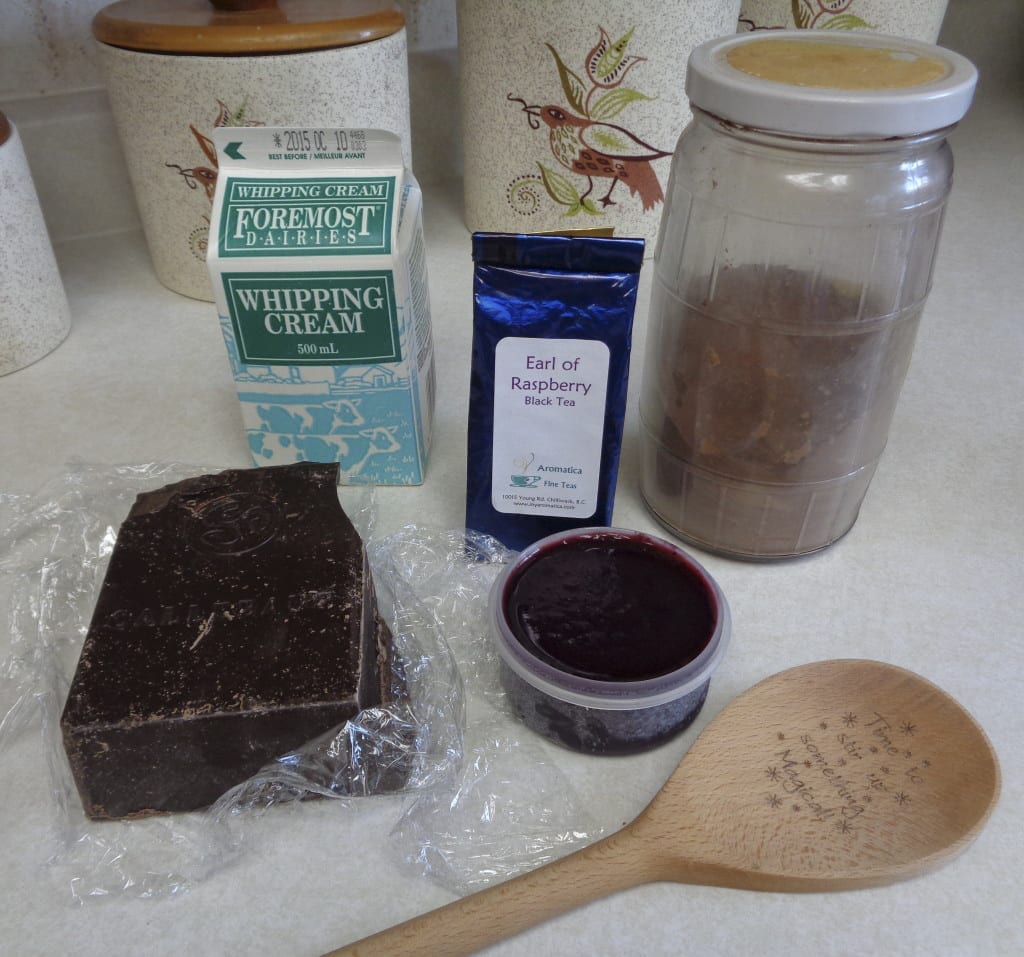 You will need:
2/3 cup whipping cream
1 1/2 tsp. proper loose leaf tea ( I used Earl of Raspberry )
1 Tbsp. berry puree ( optional )
1 1/2 cups good quality chocolate, shaved ( 1/2 lb or 200 grams )
cocoa for rolling
Wash your hands, letting the warm water carry your niggles away. Take a deep breath. Bring your focus into the kitchen and let go of the distractions of the day. Focus your intentions. Something connected to giving and receiving love would be highly appropriate when working with chocolate.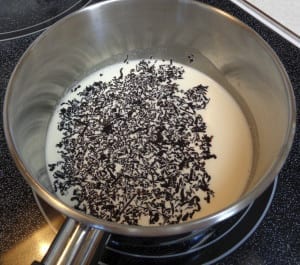 In a small pot add the whipping cream and the loose leaf tea.
Over a gentle heat steep the tea leaves for approximately 7 minutes. Do not boil the cream, just keep it to a slow simmer.
The cream will take on the colour of the tea and the volume will reduce by a couple of tablespoons.
Pour the steeped whipping cream through a sieve to remove the tea and add the puree.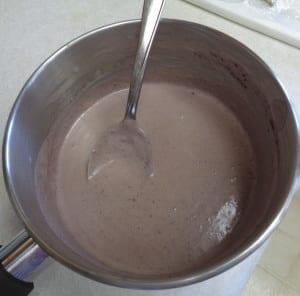 This summer I had a very small crop of Cascade berries that I used to make liqueur. Once the berries has steeped in vodka, I put them through a sieve and separated the seeds. That is what I used in these truffles.
It is possible to do something similar using just raspberries or blackberries, without the sitting in vodka for a few months part. They can be fresh or frozen depending on what is readily available.
Gently melt the chocolate over water or by short bursts of power in a microwave. Do not over cook with either choice as this will lead to a grainy experience when eating.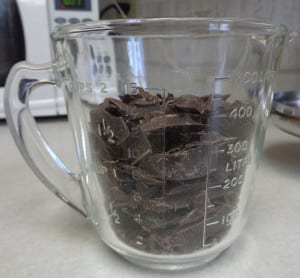 I used a good quality, cocoa butter included dark chocolate for this recipe. For my taste buds milk or white chocolate would be too sweet but it might be your first choice. It is all good. This is about finding your happy place not mine.
It really is 1 1/2 cups. The angle of the picture makes it look like more.
Stir the chocolate to ensure an even melt. As the chocolate starts to melt, the heat will help the parts that have not melted, melt. So take the melting chocolate off the heat and stir before adding any additional heat.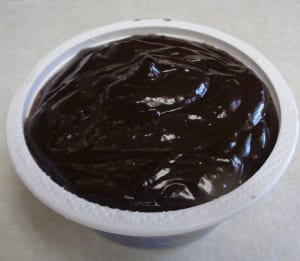 Once smooth, with the last hard bits melted, add the chocolate into the cream mixture and stir well to fully blend the ingredients together.
Transfer to a container and store in the fridge until firm. Overnight is good but at least a couple of hours.
Using a spoon, take a piece of truffle mixture just under the size of a walnut and with your hands, roll into a ball. Your hands will love the cocoa butter.
As the chocolate has not been tempered this mixture will begin to melt with the heat from your hands. The trick to this treat is to work quickly and wash your hands as needed. Finishing off with cold water to help cut down on heat transfer.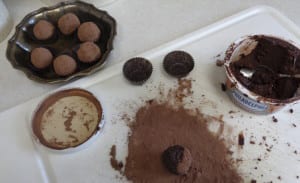 Ideally an extra pair of hands would be helpful. One to roll the balls themselves and one to roll the balls in cocoa. If you roll all the balls first and wait on the cocoa then the balls will have a chance to dry and will not pick up as much cocoa.
Once the ball is formed, the outside of the truffle will be moist and it will easily pick up the coating, when the ball is dropped into the cocoa.
Roll the ball around in the cocoa until fully covered and then pop into a small paper cup or on to a clean plate. Repeat until the truffle mixture is used up. Depending on the size of the truffles, you will get 13 – 16 chocolates.
So after the sugar highs have deflated and gone off to bed and you are recovered from your nippy walk through the neighbourhood, take 15 minutes for yourself. Put your feet up with a cup of something warm and a proper All Hallows treat just for you.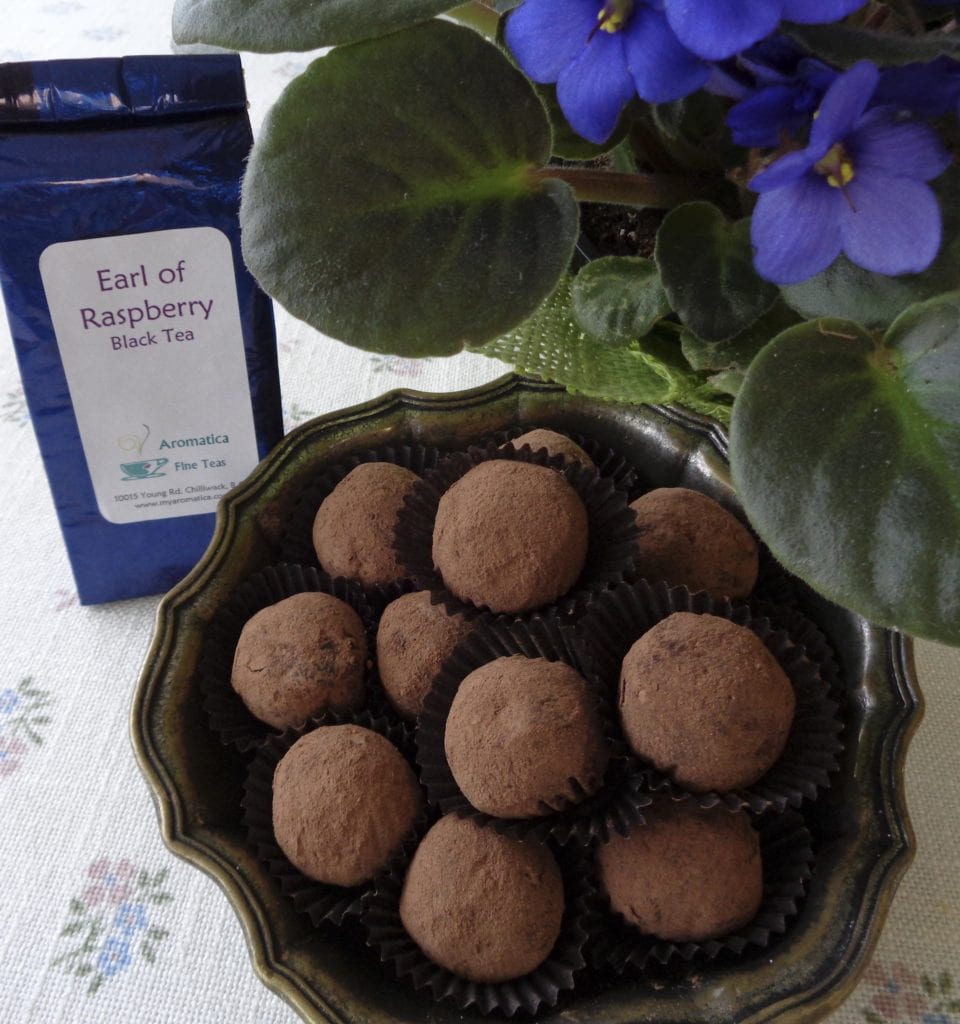 Earl of Raspberry Truffles from My Kitchen Wand.