As Christmas turned into New Years last year, I discovered the remains of several things in the fridge. One of them was eggnog and by then most people had had "more than enough thank you very much".
Not wanting to toss it down the sink, I put this bread pudding together and finished up leftover dinner buns as a bonus. Old bread works much better than fresh and letting the mixture sit to soak up all the liquid before putting it in the oven helps as well.
So before we are once again completely over the season, it is out with the milk and in with the eggnog! Eggnog comes prespiced but if you feel the need to add extra cinnamon or nutmeg, sprinkle it into the egg mixture.
You will need:
4 cups bread cubes ( I used six soft white dinner buns) fruity/nutty thingiess might be nice too.
1 1/4 cups egg nog
3 Tbsp. rum ( I used the real stuff but 1 1/2 tsp. extract is an alternative )
1/4 cup sugar
2 eggs
2 Tbsp. maple syrup and more to drizzle on top
1 cup golden raisins (optional)
Preheat the oven to 350 degrees F. and grease an oven proof dish well. It makes it much easier to clean up afterwards.
Cube the bread. Some people like to keep the crusts on. Others prefer just the soft inside parts. I got rid of the thicker edges and left about 25% on.
MIx together the eggnog, eggs, sugar, maple syrup and rum. Add the bread cubes and let sit for 20 – 30 minutes until all the liquid is absorbed.
Bake for 40 – 45 minutes and serve warm with an additional drizzle of maple syrup and a couple dots of butter.
I missed getting pictures along the way but did manage a shot before someone got a serving spoon into it.
This makes a warm and tasty treat for special occasion breakfast or brunch ( not that different from french toast ) and can be served with a little ice cream and smaller portions as a dessert. Try it as a warm up after a day outside in frosty winter weather.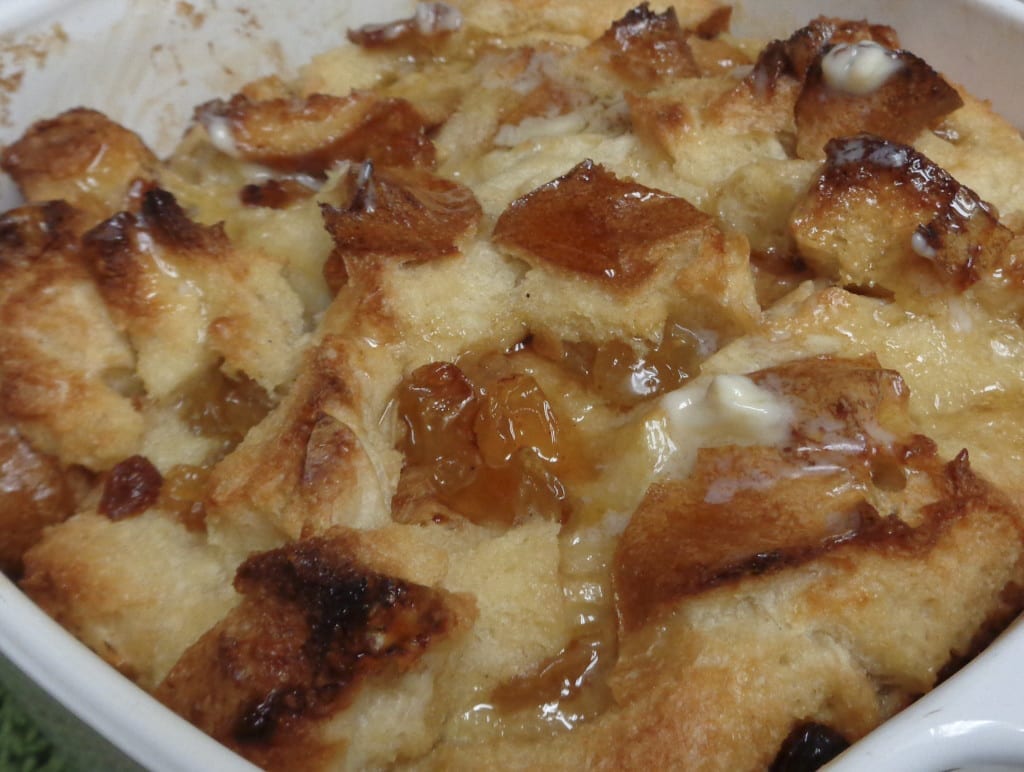 Rum & Eggnog Bread Pudding from My Kitchen Wand