S'mores and summer campfires are the stuff of memories. Sometimes though, time to get away or fire bans can make it a challenge for kids and adults alike. If you are feeling up to turning the oven on, there is a solution. S-mores a la Cookie!
There is no roasting of marshmallows but there can be toasting and helping with baking.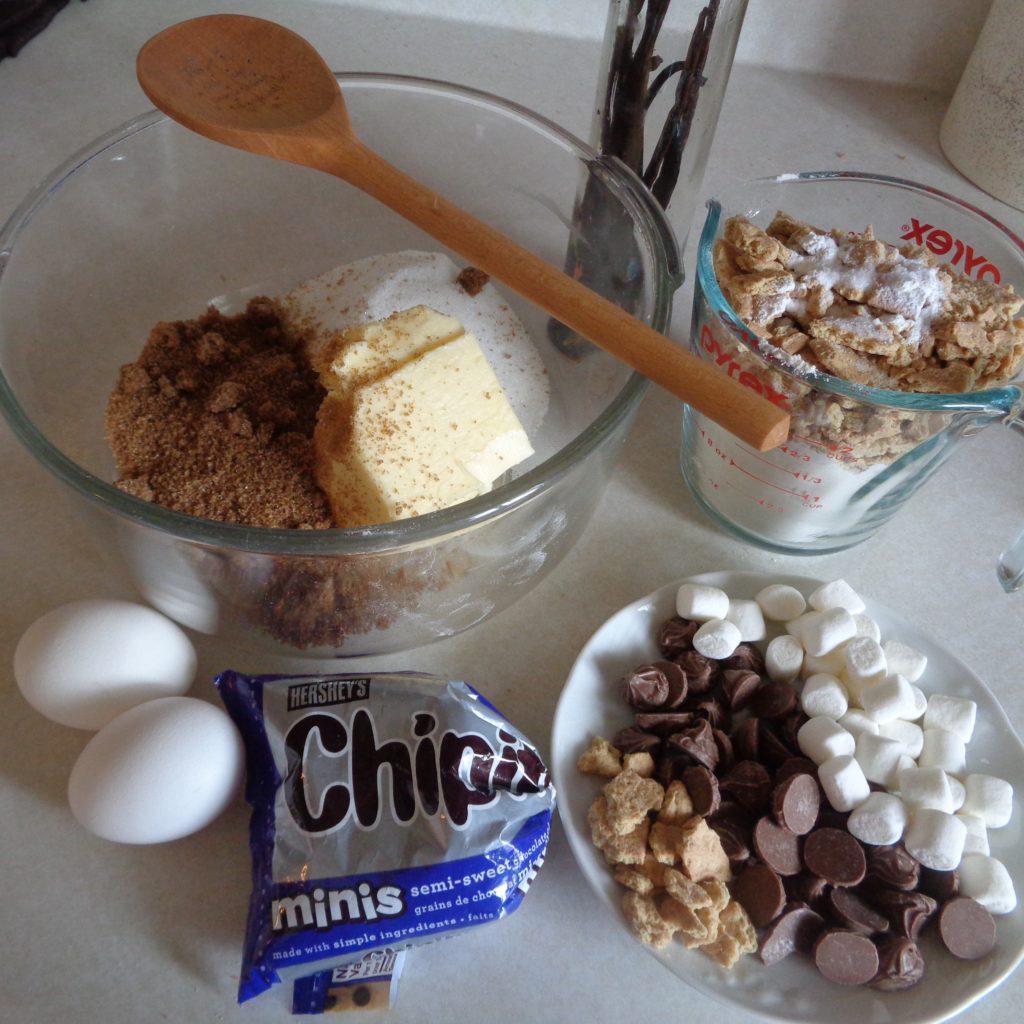 You will need:
1 ½ cup flour
1 ½ cup graham crackers, coarsely crushed with about 20 pieces put aside
1/2 tsp. baking powder
¼ tsp. salt
1 cup butter, room temperature
1/2 cup brown sugar
1/2 cup white sugar
1 tsp. vanilla
2 eggs
1 cup dark mini chocolate chips
mini marshmallows, 3 per cookie
milk chocolate kisses, 2-3 per cookie
extra graham crackers, optional
With gratitude for summer, time to enjoy it and the prosperity that brings the supplies to your kitchen, gather the equipment. Relax with a few deep breaths as you shift your attention to the project at hand. While washing your hands allow any little nigglies to drop away with the soapy water, down the sink and out into the deep ocean. Begin.
Preheat the oven to 350 degrees F.
Begin by putting the mini marshmallows, some of the graham cracker chunks and chocolate on a plate and setting it aside. These are the toppings that will go on part way through the baking. A more traditional chocolate choice is probably a Hershey's bar but since I was putting dark minis in the cookies batter and had leftover milk kisses in the pantry, I made a different choice.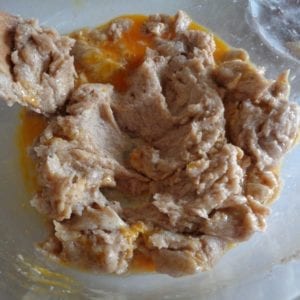 Cream the butter and sugars until well combined before adding eggs and vanilla extract. With the butter at room temperature, this is an easy recipe to mix by hand.
For those of you being very observant, yes, I am making half the recipe so the pictures are not 100% accurate.
It really does make a difference. Best to actually crush the crackers yourself so that it is not all powder.
Mix in the flour, crushed graham crackers, baking powder and salt. Stir until mostly combined before adding the chocolate chips.
Stir in chocolate chips and complete mixing.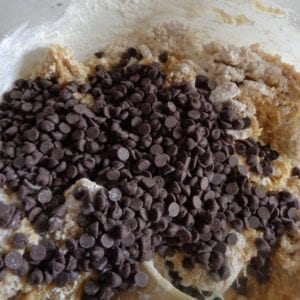 There are two ways to finish these cookies. One is to place cookies just under the size of a golf ball on an ungreased baking sheet and bake for eight minutes.
The second is to place a slightly larger ball on half a graham cracker and bake the cookies that way. I would suggest pressing down a little on the balls on crackers as that will help then bake a little quicker.
At eight minutes check and if almost baked, take the cookie sheet from the oven and quickly press marshmallows, graham cracker chunks and chocolate pieces into each cookie.
Return to oven and bake for an additional two to three minutes or until marshmallows are lightly brown.
This is again, a choice. I see pictures of S'mores cookies where the marshmallow are still white. The pictures have more contrast and look lovely but S'mores are all about gooey toasted marshmallows so getting them a little warm and melty makes sense to me.
Remove from oven, and once they won't burn any tongues, enjoy!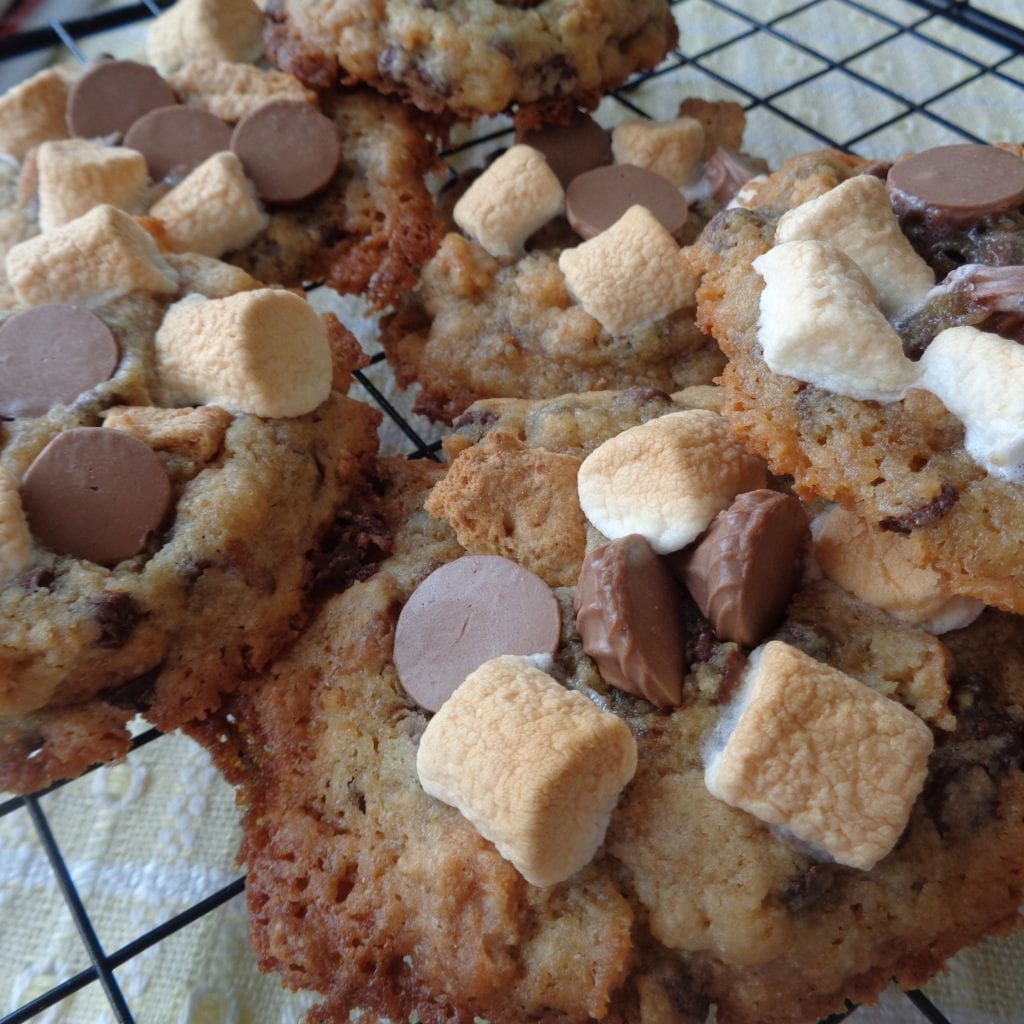 Option Two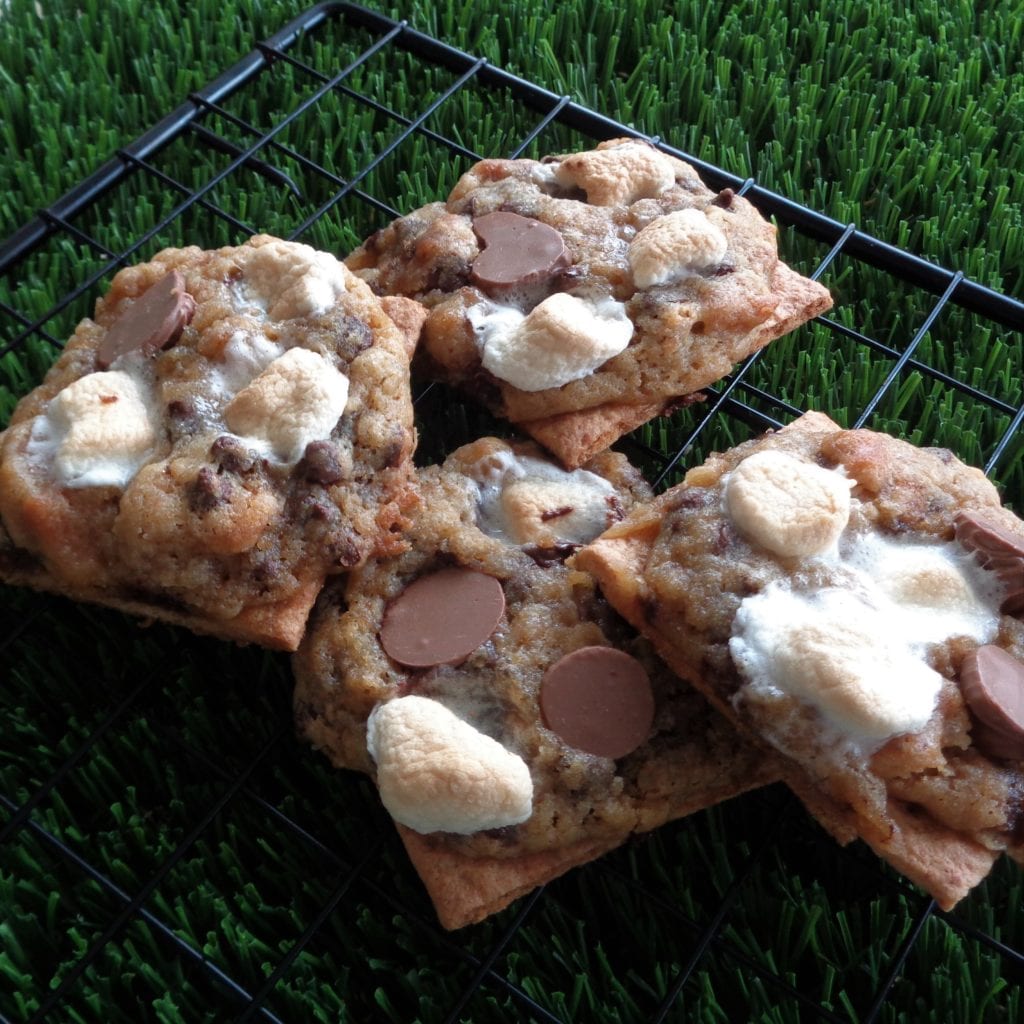 S'mores a la Cookie from My Kitchen Wand