Ah, the apple, symbol of almost everything. From the consequences of the temptation of Adam to the jealousies of Hera, Athena, and Aphrodite that sparked the Trojan War. From the Isle of Avalon that holds the Once and Future King while he rests to Iðunn, a Norse Goddess, who cares for the apples which give the Gods their immortality.  Love, fertility, lust, beauty, envy, obsession, deceit, temptation, treachery are so connected through the apple that in Latin, the words for apple (mālum) and for evil (malum) are almost identical.
Venus is often painted holding an apple with its five pointed star hidden inside. The same symbol that reflects as her planet travels the night sky.
This is harvest time for winter apples, the ones that can be put into cold storage and rediscovered as a sweet treat during the lean months of the year.
Bobbing for apples, another treat at the time of the year,  came to favour through the Roman invasion of Britain. The Roman soldiers brought apple trees with them to honour Pomona, the Goddess of fruit trees.The combining of Roman and Celtic traditions carried the practice of bobbing, dooking or ducking for apples on Hallowe'en or Snap Apple Night out into the world.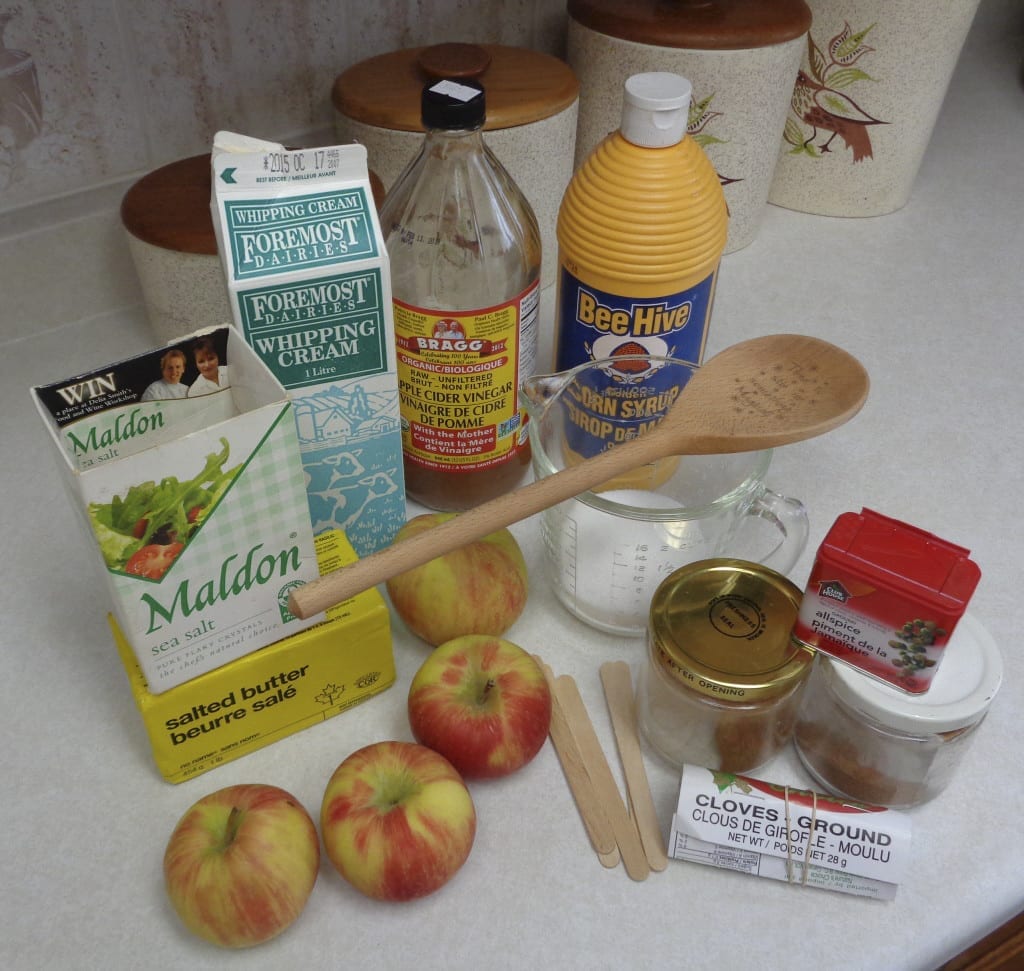 You will need:
1 cup apple cider vinegar
1/2 cup whipping cream in two portions
1/2 tsp ground cinnamon
1/8 tsp ground ginger
1 pinch each of ground cloves, ginger & allspice
or 3/4 tsp. Pumpkin Pie or Speculaas Spice
3/4 cup granulated sugar
3 Tbsp. light corn syrup
1 1/4 Tbsp. water or rum
1/4 cup butter
3-5 small apples
3-5 popsicle sticks
Optional Toppings:
sea salt (such as Maldon)
fresh ground pepper
dark chocolate
chopped nuts
sprinkles
croquant ( recipe below )
I usually feel a little sadness when I get to making caramel apples. The idea of a tray of home made caramel apples at the door for all the little trick or treaters belongs to a bygone era. The good news is that it is still possible to gather up all the kidlets in your life and stir up some magic in the kitchen in the days before All Hallows Eve. This is a spiced caramel and I would encourage you to combine spices in a way that works for you, either using the mixture mentioned above or a premixed combination like pumpkin pie or speculaas.
Start by getting everyone to wash their hands and put on aprons. Melted sugar is hot and added protection is helpful. "In my kitchen filled with Care, I welcome, Earth, Fire, Water, Air". Share some of the many myths and legends about apples, Snow White and the effects of jealousy or show the symbol hidden inside an apple when cut open around the equator. Discuss the seeds and the meaning of each point. You can even explain how each element comes into play in today's recipe. Get everyone to take a deep breath and let go of all other thoughts so that the focus is in the kitchen. Naturally if you are doing this on your own the same applies. Give yourself the time to come into the present moment. Begin.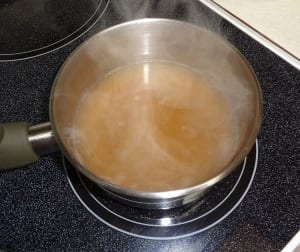 Add apple cider vinegar to a small to medium pot and heat until boiling. Reduce to a simmer.
You might want to turn the fan on if you have one. Some people are not into the intense aroma of vinegar.
Simmer until the vinegar has reduced in volume to 2 1/2 tbsp. As the volume decreases there is more likelihood of  the solids in the vinegar burning, so please keep an eye on what is going in during the second half. You should be okay the first 15 minutes. When you feel you are in the ball park, volume wise, test by turning the reduced vinegar into a measuring cup. If there is too much volume, return the vinegar to the pot and continue until the proper volume is reached. Allow the vinegar to cool in the pot then add your choice of spices and 2/3's of the half cup of whipping cream.
Grease a cookie sheet or pie plate for the caramel apples. There will most likely be left over caramel, so grease whatever container you would like to store the leftovers in while the vinegar is reducing and put the container aside.
Wash and dry apples. Choosing apples without any wax coating works for me. I also don't get the biggest ones in the bin because they are easier for small mouths and there will be soooo much else available. Push a popsicle stick (or small clean branch) into the core of the apple.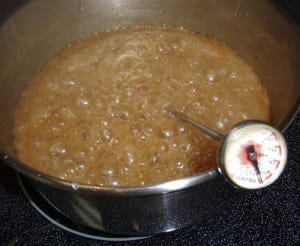 In a small to medium sized saucepan with a heavy bottom combine sugar, the remaining cream, corn syrup and water. Cook over medium-low heat, stirring constantly until sugar dissolves, then cook mixture, stirring occasionally, until mixture reaches 234 degrees on a candy thermometer.
Remove from heat and slowly whisk in cream mixture. Add butter and stir to melt. Return to medium-low heat and cook, stirring occasionally until mixture reaches 250 degrees on a candy thermometer.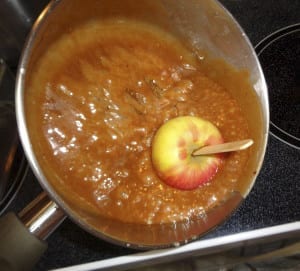 Using the handle, twist the apple around in the caramel until partially or fully covered (Your choice!) and place on the prepared pan. As the caramel cools it will get thicker. If you choose to keep the caramel hot and thinner over the heat while dipping all your apples, pay attention that the bottom is not burning. It can be a bit of a balancing act.
Some if the caramel may drip to the bottom creating a base on the apple. It can remain or be taken off. If removing do so before it cools too much & disrupts the remaining caramel.
When making caramel apples for children, this is the time when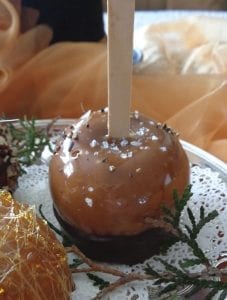 the sprinkles go on so that they will stick to the caramel. If you are dipping in chocolate, let the caramel cool and harden before dipping the next element.
Melt your chocolate over simmering water or in a microwave and temper if needed. If you are storing these in the fridge, it is possible to use chocolate with cocoa butter and not temper but please remember it will melt very quickly as it is being eaten. I find it just as easy to temper or to use chocolate flavoured chips with palm oil where no tempering is needed. Here is a link to more information about tempering.
When making caramel apples for adults like the salt & pepper one shown here with dark chocolate, sprinkle with Maldon salt & cracked pepper and allow to cool before dipping the bottom half in dark chocolate.
Another common finish is to roll the caramel apple while still warm in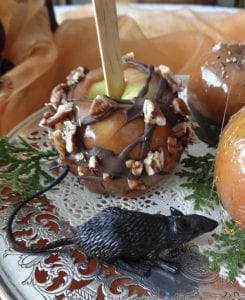 chopped nuts. Here extra chocolate was drizzled on the caramel apple and then the nuts were sprinkled on top.
Here is another way to finish off your caramel apples. Croquant is a mixture of sugar, water and corn syrup. Used as a final decoration on French cream puff wedding cakes, it is used here to create spider webbing around the caramel apple.
You will need:
1/2 cup sugar
2 1/2 Tbsp. Water
1 1/2 tsp. corn syrup
Combine in a small pot and bring to a boil. Do not stir, just cover and allow the sugar to dissolve. Once the sugar has dissolved, keep the lid off and boil for 5 minutes. I have an inexpensive whip that I cut the end off of so that I have a mixture of spikes to use for dripping but two forks held together back to back will work too.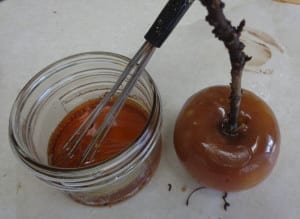 Over the years, this is what I have discovered. If you keep the golden sugar in the pot it will burn on you just from the heat of the pot. I now transfer the croquant into a wide mouth short canning jar that has been washed in hot water.
You will need to allow the sugar mixture a little cooling time to thicken, so gently stir, watching the sugar until strands form and the swirl the sugar mixture around the apple of back and forth, building up the cobweb around your apple(s). There will be leftovers that can be poured out on a greased slab and allowed to cool for other projects or washed away under hot water.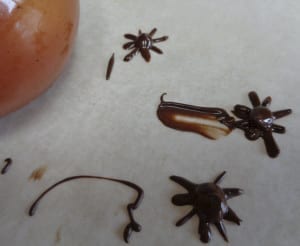 While the chocolate is workable get the kids to draw some spiders with the dark chocolate on wax paper. This can be done with a toothpick. Don't worry about extra blobs that drop. Wipe enough away that they will easily break when cool.
Top your spider web , once cool, with chocolate spiders.
Take small steps as you design your caramel apples. While the kids are younger, dipping and sprinkling is the way to go if they are in the kitchen with you. Up the design factor as they mature and always keep in mind this is family together not the candy making world championships. It is all good.
If the idea of a full apple is too much, consider cutting your apples into slices, place them decoratively on a place and drizzle with caramel, chocolate and nuts and serve as a finger food. Use a Honeycrisp apple and there will be plenty of time before the fresh apples turns brown. It is a simple way to bring the spirit of caramel apples onto the Hallowe'en table.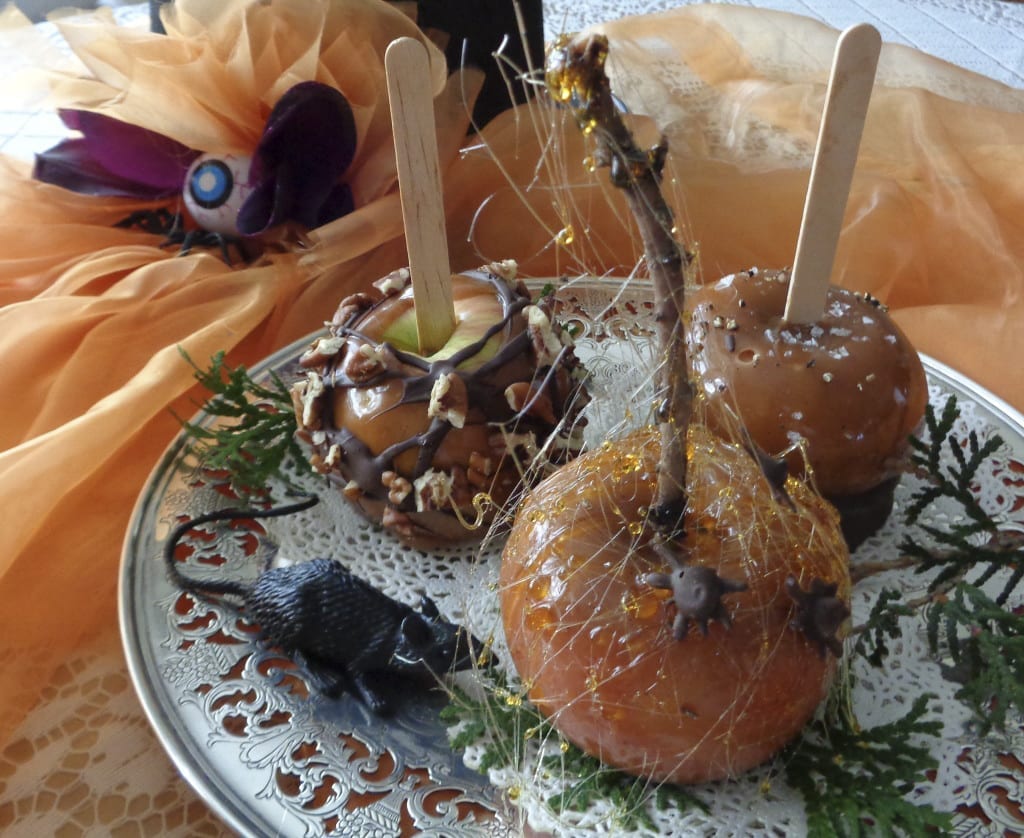 Spiced Apple Cider Vinegar Caramel Apples from My Kitchen Wand
Happy Hallowe'en. Blessed Samhain or Merry Snap Apple Day to you!