I was called a tease on Facebook today for only showing the picture and not the recipe. Below you will find complete instructions and thank you to everyone who participated in the experiment.
The dough needs three hours in the fridge so take that into consideration when choosing a start time.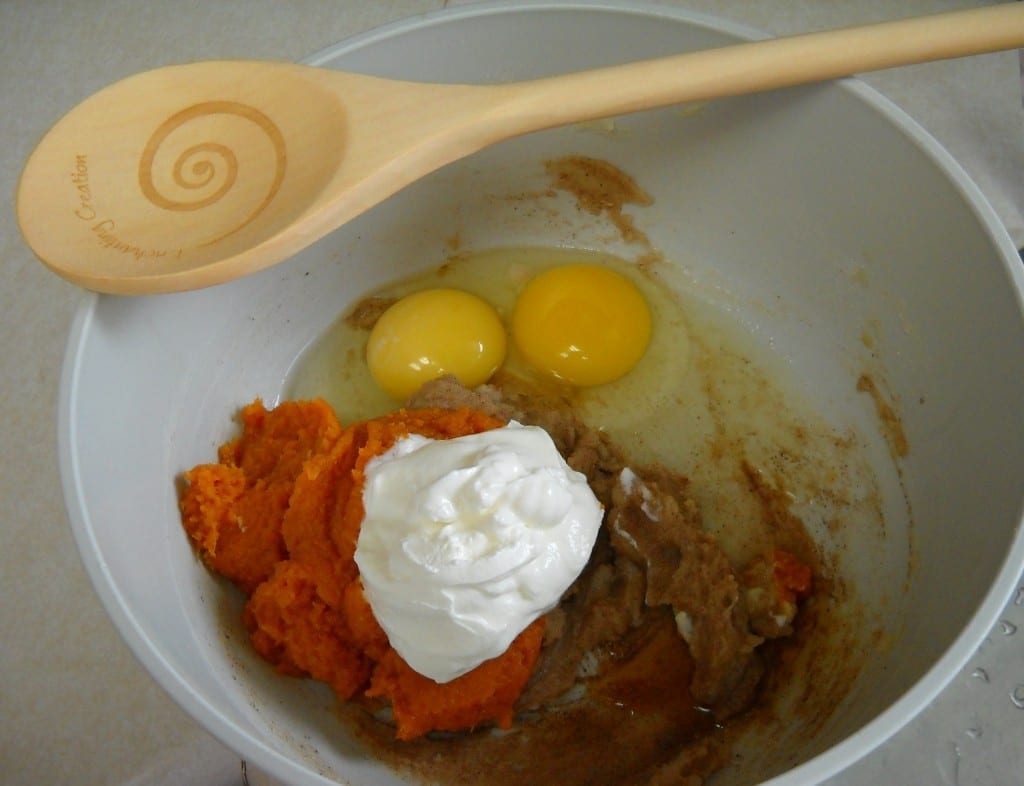 You will need:
2  Tbsp.  butter, softened
1/4  cup  sugar
1/4 cup honey
1/2  teaspoon  salt
1/2  teaspoon  ground cinnamon
1/4  teaspoon  ground ginger
1/8  teaspoon  ground nutmeg
1/8  teaspoon  ground cloves
1/2  cup  canned pumpkin
1/3  cup  sour cream
2 Tbsp. whipping cream
1  egg
1  egg yolk
1/2  teaspoon  vanilla
3 Tbsp. chopped pecans
2 Tbsp. chopped candied ginger in syrup
2  cups  all-purpose flour
1/4  teaspoon  baking soda
2  teaspoons  baking powder
Vegetable oil for deep-fat frying
Dusting:
1/2 cup sugar, 1 tsp. cinnamon and 1/4 tsp, nutmeg
Glaze:
3 Tbsp. cream cheese, 2 Tbsp. milk, 1-1 1/2 cups icing sugar
2 Tbsp. chopped maple syrup pecans ( or plain pecans if that is easier )
Yes, there is a long list of ingredients. I always feel bountiful when there is a long list and I have all the ingredients.
That said, you can choose to leave out the nuts or the ginger or make a simple glaze without the cream cheese if that is a better fit. You can make substitutions as well, a different nut choice or using pumpkin pie spice instead of the individual ones. Yoghurt or buttermilk work as well, just so long as there is something to work with the baking soda (If you choose to use regular milk add a 1/4 tsp vinegar as well). If you add something with more fluid than the sour cream, there might be a need to add an additional 1/4 cup of flour for balance and if all these suggestions make your head spin, ignore everything and move to the next paragraph.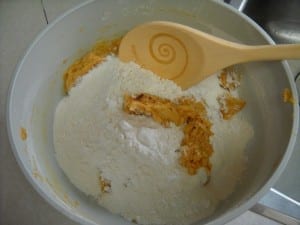 With a spoon soften the butter and add the honey, sugar, spices, pumpkin puree, sour cream, whipping cream, egg and egg yolk, chopped ginger and vanilla.
With either a hand mixer or wooden spoon mix together well.
Combine the dry ingredients and sift over pumpkin mixture, add pecans. With a wooden spoon, combine.
Cover and chill in fridge for 3 hours.
On a lightly floured surface, roll dough to a 1/2 inch thickness.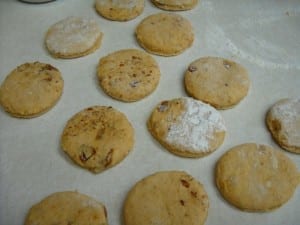 If you have a doughnut cutter, lovely.
I cut circles with a glass and then cut each circle in half to avoid having them be too wide and affect the cooking time.
Mix the sugar and spices in a bowl and set aside.
Mix the cream cheese, milk and icing sugar until smooth. Set aside.
Chop maple sugar pecans, set aside. Plain or roasted, unsalted pecans are fine too. I just happened to have these in the pantry.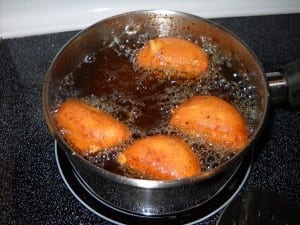 Heat fat to 365 degrees F and in small groups of 2 – 4 (depending on the size of the pot and the dough), fry doughnuts about 2-1/2 minutes or until golden, turning once.
Remove doughnuts from oil ( a metal slotted spoon works great ) and drain on paper towels.
Continue to repeat until all the doughnuts are finished.
Coat warm doughnuts in sugar, drizzle with cream cheese glaze and sprinkle with chopped maple pecans.
Serve warm or at room temperature. Either way these are best the day made so call family or friends to save you from a tummy ache. ( The recipe made 40 half moons ).