There are lots of cookies out there, decorated for Christmas that we know come from older traditions. This is a cookie design suggestion just for winter solstice.
In the Celtic calendar there are eight festivals that celebrate the turning of the seasons (wheel). They are the equinoxes, solstices and the days half way between, so an eight point design that recognized this measuring seemed like a good place to start. On Winter Solstice morning, the sun rises over the horizon and the days begin to slowly move first towards balance and then the longest day. That is a symbolic representation of that time, practically perfect for Cakes and Ale.
As winter solstice is a time of least light a dark dough seemed most appropriate. You can use the cookie recipe from the Mabon crone goddess post last fall as it has lots of cocoa and gives a dark cookie.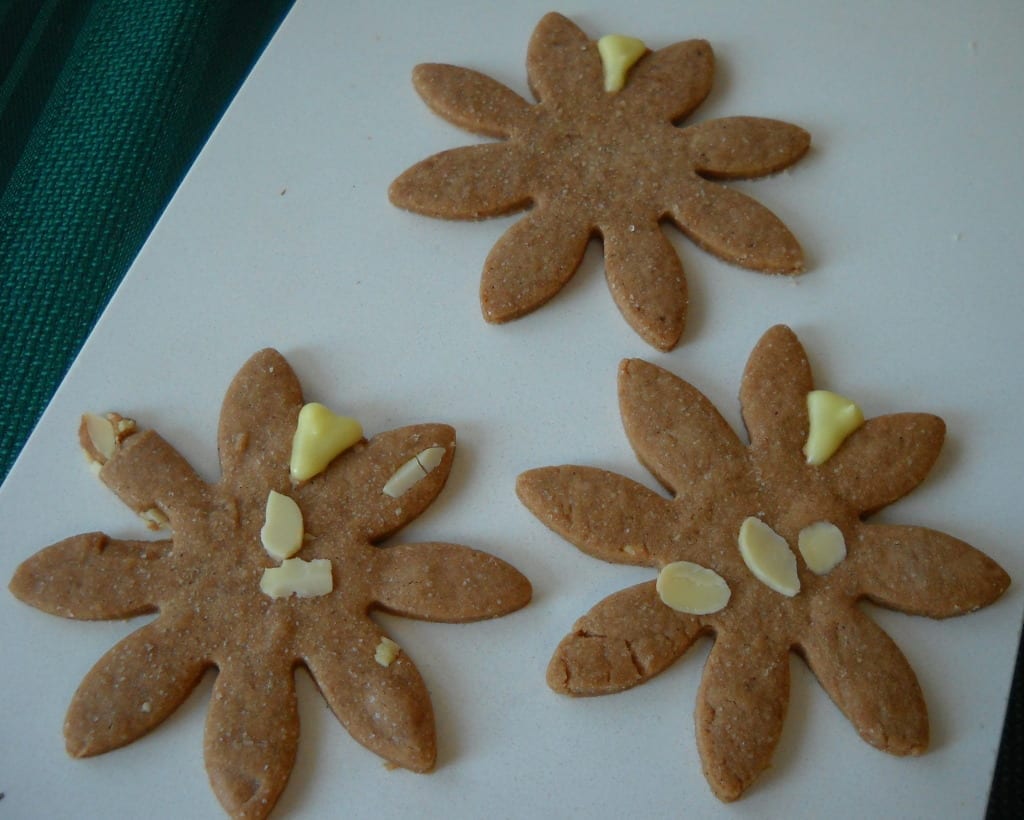 I decided to make a slightly different version and flavour with them with speculaas spice mix for two reasons. One, it contains pepper and a heat ingredient is something I wanted to add as this is about our relationship with the sun. Secondly, speculaas is a very traditional Yule cookie/flavouring in Europe this time of the year.
It contains, with some variations on the theme, 1 part white pepper, coriander and anise to 2 parts nutmeg and cloves to six parts cinnamon so if you don't happen to have it in your cupboard premixed you can mix up a quick batch.
This was the recipe I used but please feel free to use something else. This post is more about design than recipe.
You will need:
1 cup butter
1/3 cup white sugar
1 cup brown sugar
1 egg
1 Tbsp. speculaas spice mix
3 cups all purpose flour
3 Tbsp. cocoa
flaked almonds
Preheat oven to 350 degrees.
Gather your ingredients while setting the intention to let go of whatever is niggling at you and focus on the present moment. Relax your body, clear your mind, welcome the compassionate spirits and b..r..e..a..t..h.
Beat butter and sugars together until light and fluffy. Add egg and spice and mix well. Sift in flour and cocoa and mix.
Once everything comes together and you may need to get in the bowl with your hands to pull the dough together, wrap up and cool in the fridge for at least an hour.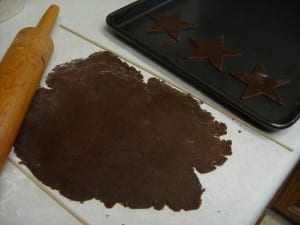 A quick tip for rolling out dough so that it all bakes to the same level of doneness at the same time is to place a dowling rod on either side of the cookie dough as you roll. This will guide the rolling pin to the same depth of dough across the entire batch and they will all bake in the same time frame. This visual example is from a previous post and shows the technique. The dough will be stiff as come out of the fridge but will become more flexible with work.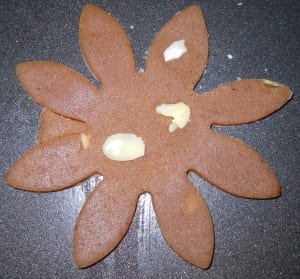 Now cut out your eight point starlike shapes, place them on the cookie tray and back fill one small section of dough into one space between the points. This will represent the raising sun on solstice morning. Just cut off a piece of the dough that was left from cutting away the cookie shape. It will fit perfectly and you can run a knife or your finger over the place where the two pieces of dough meet to help attach them back together.
You can also choose to add a few flaked almond pieces on top. I add them to the cookie and not the dough as they always get mixed back into the dough as the remains are rerolled and you end up using two to three time as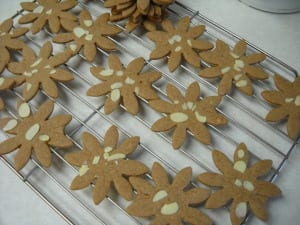 many nuts. (not that nuts in these cookies is a bad thing). The choice is yours.
Bake about 10 to 12 minutes depending on your oven and cool on a rack. They should be crisp, once cooled with a uniform colour and slightly darker bottoms.
Using a basic butter icing tinted a pale yellow, remember this is winter not summer solstice, ice the wedge of cookie dough that was added back to the cookie. There will most likely be indent lines to follow. Allow the icing to dry.  You will not need a lot of icing so if you can plan to hold back a 1/4 cup white icing from another recipe that would be easiest. If not:
1 cup icing sugar
1 Tbsp. butter
2 tsp. milk
mixed together, will give you more than enough.
An easy to pipe consistency can be reached by adjusting the milk. An extra drop or two can make the difference so add the liquid slowly and stir well. The very smallest amount of food colouring possible will do the job. Try dipping a toothpick into the coloring and dotting one side over the icing. A full drop will be too much in such a small amount of icing. If it feels like it is still too much take out a spoonful of the icing and stir the food colouring into the small amount first. Now that you can see it better, take a small portion of the yellow dyed icing and mix it into the larger bowl. Add more if needed.
I found using a wax paper/parchment triangle to make a piping bag worked best for control of the icing.
Store in an airtight container in a cool location.
Cookies and a hot cup of tea at "elevensies"? This coming Sunday morning or with your group of like minded friends, acknowledge the returning cycle of light/life with a tasty, not too sweet treat that honours the days celebration.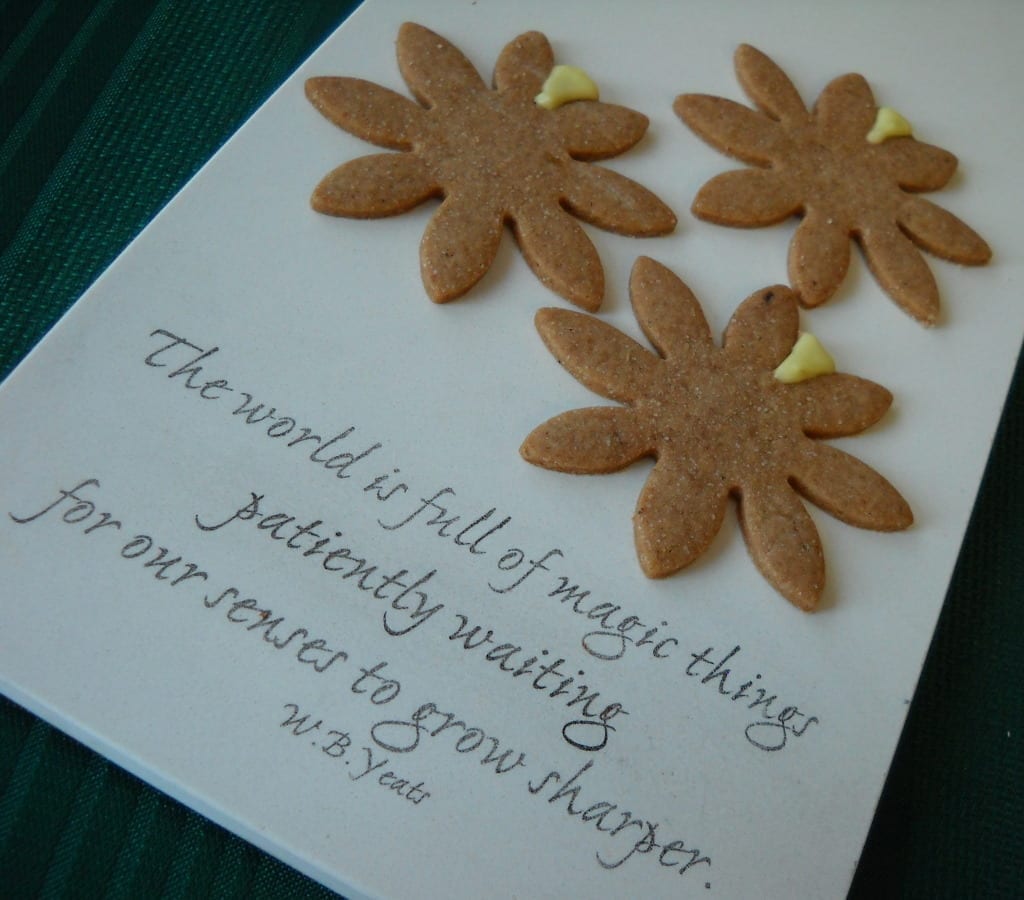 Sunrise on Winter Solstice Morning Cookies from My Kitchen Wand
.