This is a recipe that has been in my family for generations, so when I discovered that I had over ripe bananas, sour milk, extra dry raisins and left over icing from another little project, it seemed serendipitous and a good time for a reminder that, with a little luck, food items can often be reworked into something else.
Google your at risk ingredients and see what others have already created.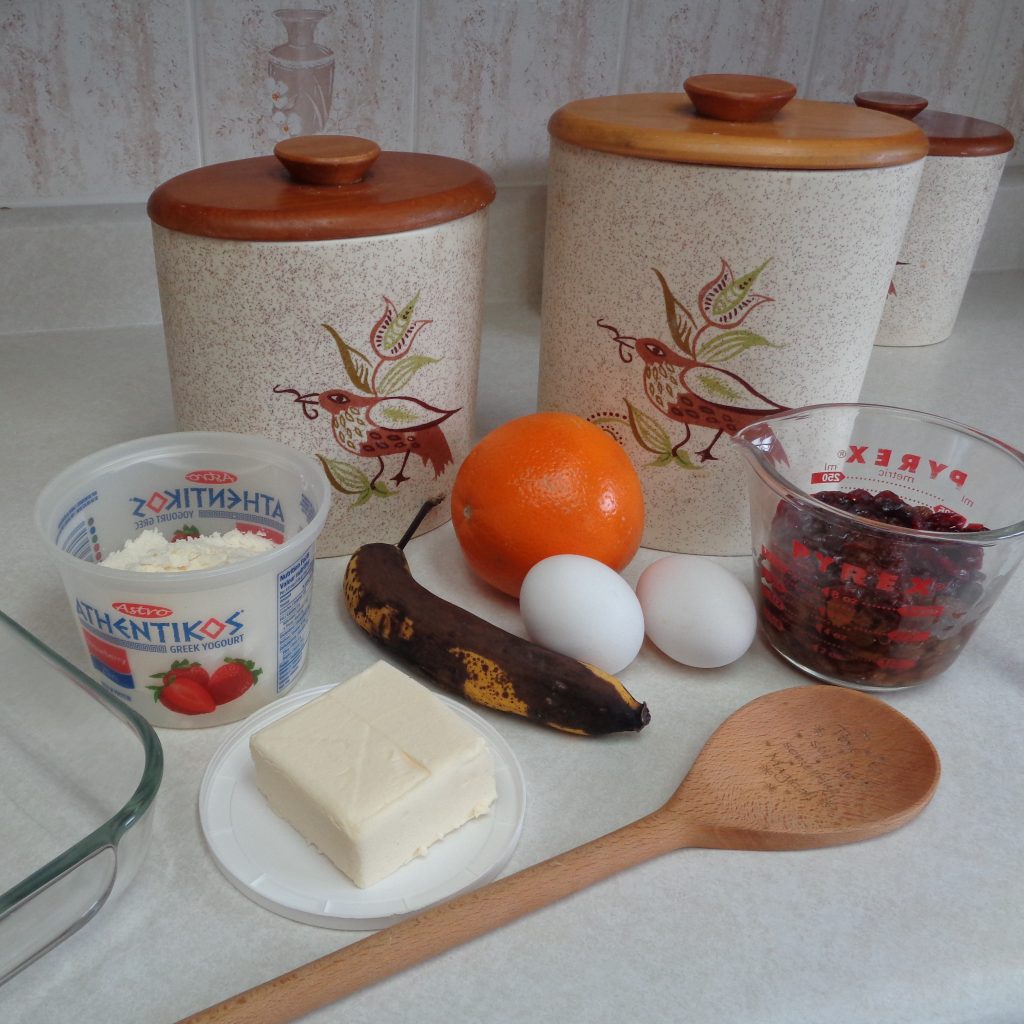 You will need:
3/4 cup sugar (the original recipe called for a cup)
1/2 cup butter (original recipe called for shortening but there is much I will do without to have butter on hand)
2 eggs
1/2 cup sour milk (no sour milk, 1/2 tsp. vinegar into regular milk and let sit for 10 minutes)
2 cups flour
1/4 tsp. salt
3/4 tsp. baking soda
1/2 tsp. baking powder
1 orange, zest and juice (I have been known to put the entire orange, pith and all through a blender)
1 cup raisins (cleaned out dried up ones from past classes by adding 1/4 cup hot water and letting sit overnight)
1 banana, mashed
Over the past weeks as we make our way through the pandemic, I have listened to several discussions about the value of appreciation and gratitude. Especially at this time and always. May you be able to relax, shift focus and find that place in the present moment before you begin.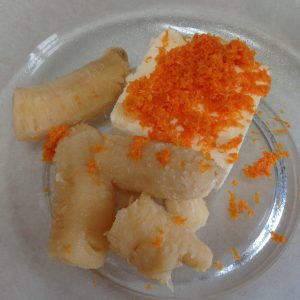 Preheat oven to 350 degrees F. and grease a 9 x 12 form.
Flouring the bottom for easier release is an option although I admit I didn't think about it while putting the cake together. It is more of a snacking style cake so cutting it into squares and then taking the pieces out of the pan works just fine.
Place the butter, banana and orange zest in a bowl and beat to soften and mix.
Add in the sugar and combine well before adding the eggs and continuing to mix together.
Add in the orange juice and stir well.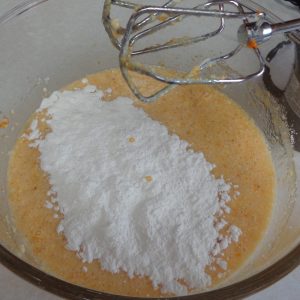 Sift the flour with the salt, baking soda and baking powder.
Sprinkle one third of the flour over the wet ingredients and either stir in or mix on low with a hand mixer.
Add half the milk. Stir gently before adding another 1/3 of the dry ingredients and combining.
Add the last half of the milk. Combine and then add the last of the dry ingredients.
Do not fully mix in the last of the flour before adding the raisins and giving a final couple of folds.
The raisins I was using were wet so there was no point to tossing them in flour before adding them.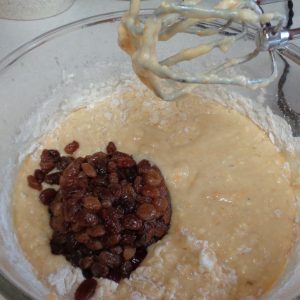 If you are using dry raisins then a couple of tablespoons of flour mixed into the raisins will help them not fall to the bottom of the cake.
This cake will only be about an inch and a half high once baked so it won't make a big difference.
On a side note dried cranberries will work too but they had not been created when this recipe was put together.
Transfer the batter to the pan. It will be liquid enough to self level with very little help.
Bake for about 45 minutes, testing the center and checking the edges that should be coming away from the sides just a bit at about 40 minutes.
Remove from the oven when baked and allow to cool.
I iced this cake because the icing was taking up room in the fridge and that was how I originally got to know the recipe. In truth a sprinkle of icing sugar over the top will work just as well and use fewer resources.
I should also fess up since you can see this in the photo below. I didn't just juice the orange, I took the sections out and after squeezing them, popped the smaller fruit pieces into the cake as well.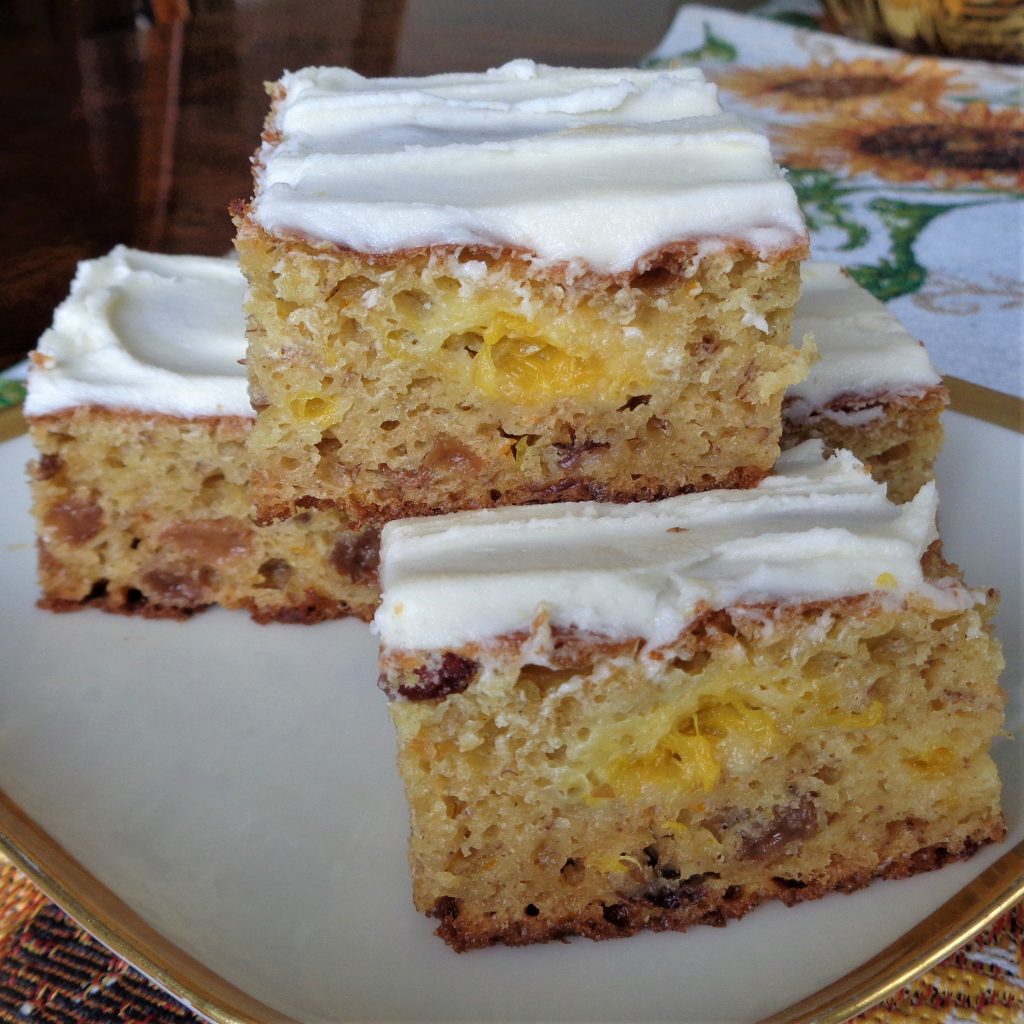 Three Fruit Cake from My Kitchen Wand