Have you ever added pumpkin puree to spaghetti sauce? Sacrilegious might be too soft a word for purists but I am going to suggest a leap of faith.
Not only are there a list of benefits to getting more pumpkin in your diet, adding that container of puree sitting in the back corner of the fridge can smooth out the flavours of your sauce and deal with the extra liquid from the fresh tomatoes by absorbing it and returning you a creamier finished product. It can also hide extra healthy vegetables from unsuspecting tummies.
This batch made three, 3 1/2 cup containers to tuck away until needed. So if Thanksgiving will/has left you with leftovers, this is just one way to resolve the issue.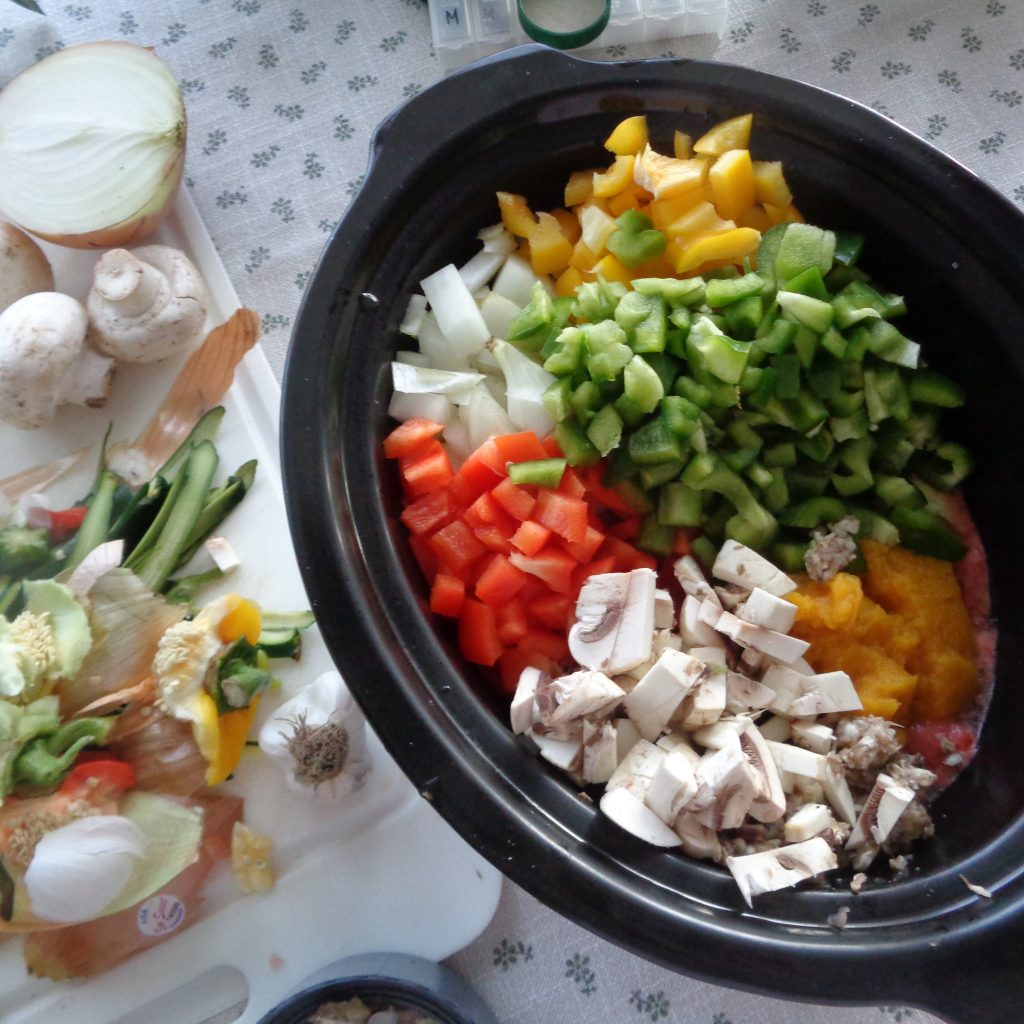 You will need:
10 roma tomatoes
2- 4 peeled garlic cloves
1/2 large sweet onion
3 small zucchini
6 – 10 mushrooms
3 sweet bell peppers, 1 red yellow & green
1 1/2 cups pumpkin puree
3 Tbsp. dried oregano leaves, crumbled
salt
pepper
hot sauce
1 small tin tomato paste
Gratitude for all the good things in your kitchen is a great place to begin. It may be extra work using up the leftovers but the results, just like home made turkey stock, can be delish! Close your eyes, take a deep breath, lower your shoulders as you breath out and relax. Appreciate the choices and bounty available to you. Begin.
Wash and halve the tomatoes. Roma tomatoes give more flesh and less liquid but if you have a similar variety you love, who am I to say no? Place in a blender with the peeled garlic. Pulse until no large pieces remain and transfer to a crock pot set to low.
Wash, chop or dice the mushrooms, onion and peppers. Wash, peel and quarter the zucchini lengthwise before slicing. Transfer all the vegetables to the crock pot and add in the pumpkin puree, oregano leaves, salt and pepper.
Stir. Place the lid on top and return every hour or so to mix again and check on the progress. This version took about five hours.
The amounts and options mentioned above are simply a guideline. They are what I used but if mushrooms are not a favourite or green peppers are more cost effective than the red and yellow ones, that is okay too. Your version may be a little different and that is just fine.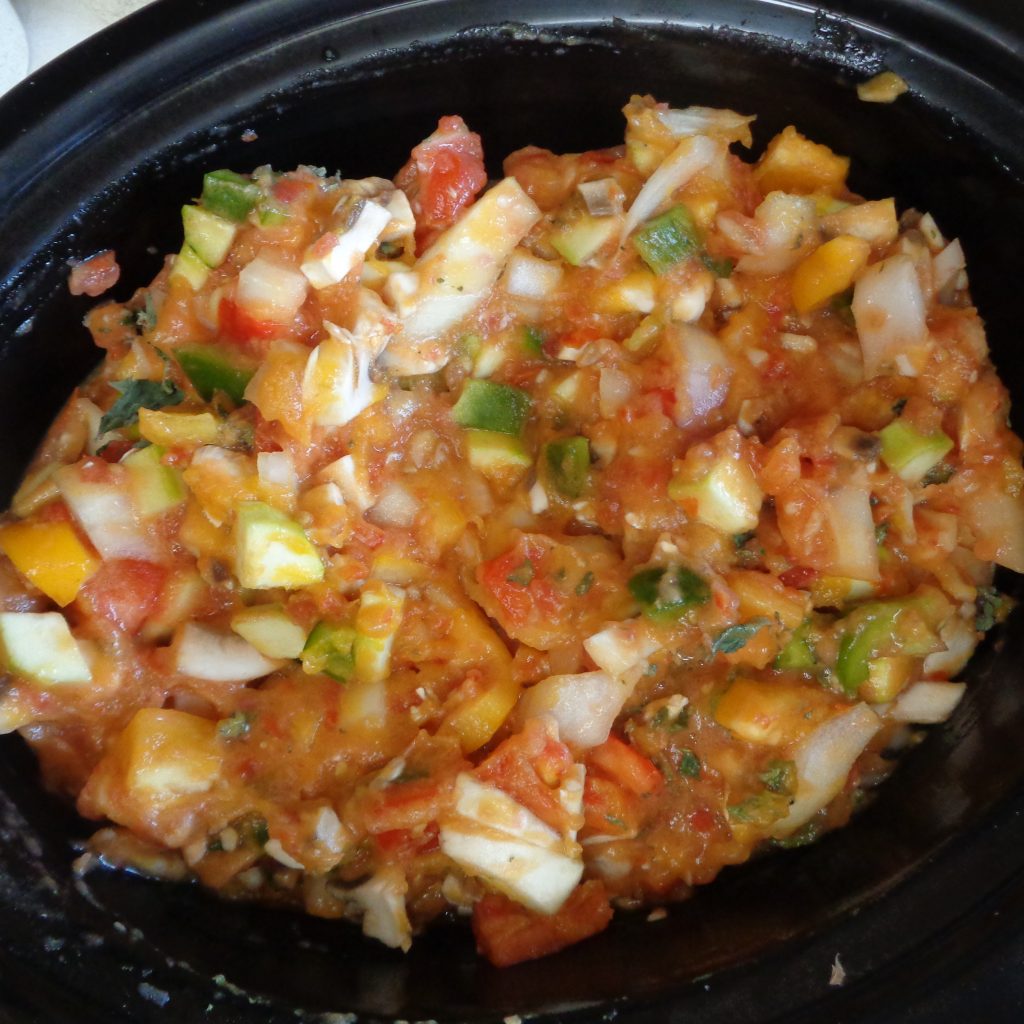 Once the bubbling is consistent and the vegetables seem cooked, stir in the tomato paste and cook for another 10 minutes before removing some of the sauce to a small bowl and allowing it to cool.
Taste. Add more salt, pepper, oregano, and/or hot pepper sauce to taste. Repeat as needed to meet your families wishes.
I prefer that the vegetables still have a little chew to them as it makes for a great layer in a vegetable lasagna. An immersion blender can give you a smoother version.
Pasta sauce is always an option as is a hearty soup with a few extra tweaks of stock and possibly a tin of cannellini beans. Chili powder and some ground meat and you are heading towards chili and no one will ever know you finished up the pumpkin in the process…unless you tell them.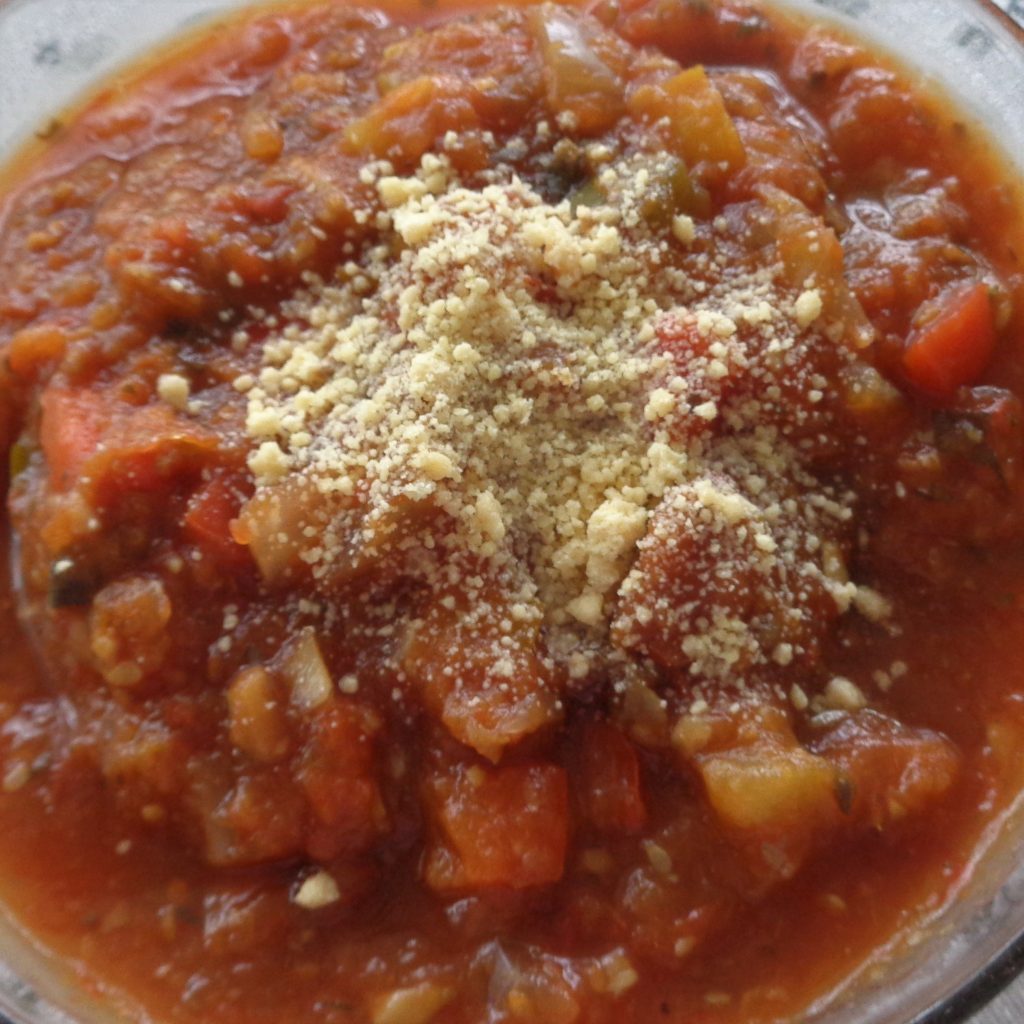 Tomato Veggie Sauce with Pumpkin from My Kitchen Wand