I usually think of birthdays as a time when the birthday person should feel special and receive, as much as possible, what they would like. I have pictures of my grandfather in Indonesia, in the early 1900 hundreds, sitting on the "birthday chair", decorated with fronds and flowers and although not all cultures chose to celebrate the anniversary of a birth, making a little extra effort at these times is a nice way for add to a feeling of being cared about.
So when the request for milk chocolate cupcakes came my way and I knew that whiskey was a flavour that would also go over well, I put my thinking cap on and got busy.
I have waited a few weeks to post this as it is really hot here and baking isn't high on many peoples idea of fun things to be doing but also because the decorating might inspire some Mabon or Ostara ideas and equinox is only weeks away.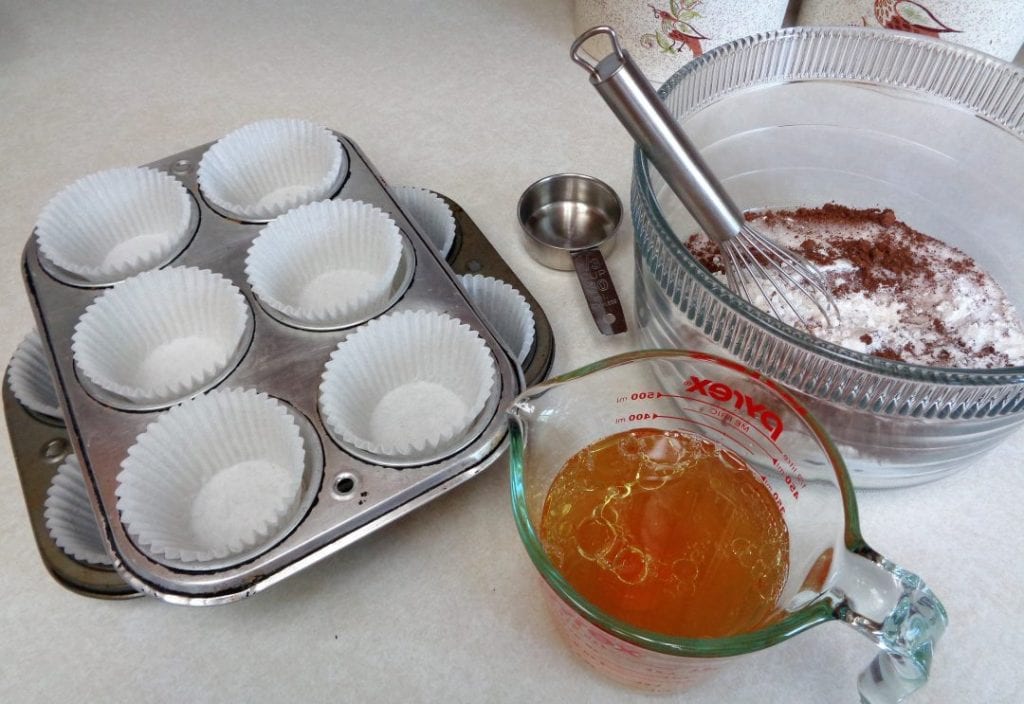 You will need:
one recipe of chocolate wacky cake turned into cupcakes
one recipe of vanilla cupcakes or your favourite alternative turned into cupcakes with 1/4 cup whiskey subbed for another liquid, below
1 package of Aero mini balls
one recipe of vanilla whiskey icing, below
1 – 2 Tbsp. cocoa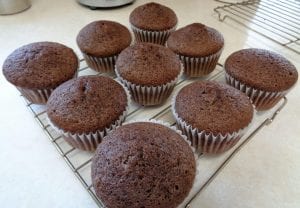 The first batch of cupcakes were chocolate. I used cupcake holders to make life easier. If you perfer crunchy edges as I do, leave them off and grease the muffin pans.
Measuring in the batter, instead of just pouring will give you more even looking finished products, helpful when putting the display together.
Cool on a wire rack and do not ice while still warm as that will soften or melt the icing.
As I remember it I got 11 cupcakes from the wacky cake recipe. The second batch of cupcakes were vanilla whiskey. I am good to go with a wacky cake when it is chocolate but I have tried several versions of vanilla and still prefer butter in the mix.
You will need:
1 1/3 cup flour
1 cup sugar
2 tsp. baking powder
1/2 tsp. salt
3/4 cup milk
1 egg
1 1/2 Tbsp. oil
2 tsp. vanilla extract
1/4 cup hot water
1/4 cup whiskey
6 Tbsp. butter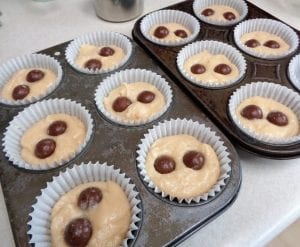 Sift together all the dry ingredients and put aside. Cream the butter, oil, vanilla and sugar together.  Combine the dry and wet ingredients and then add the water and whiskey. Mix well.
I added two aero balls to the top each cupcake just before baking.
Again, measure the batter into the cupcake cups.
I used extra large cups as this was a birthday party for adults.
These baked up a little flatter at 18 minutes in a 350 degree oven, making icing a little easier.
Once everything was cool move on to icing with real whiskey and vanilla extract.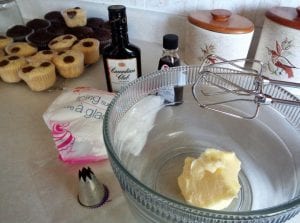 You will need:
1/2 cup butter
1 lb. icing/confectioners sugar
a pinch of salt
1 1/2 tsp. vanilla
3 – 5 Tbsp. whiskey
I don't really consume very much alcohol but I do use it in cooking and since the birthday girl likes whiskey, it just seemed the right choice.
Cream the butter until light and fluffy. Sift in the icing sugar and then add the vanilla. Finally add the whiskey and mix until smooth and creamy.
Here are some things to consider when it comes to the amount of whiskey to add.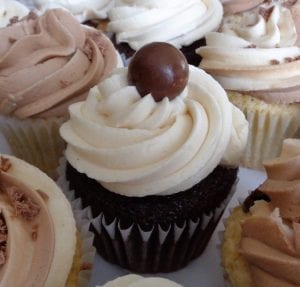 My intention is to do the fancy swirl tops that are popular right now.
I find them just too much icing on a cupcake personally but in order to get the swirls to stay put in hot weather, the icing will need to be stiff, which also means more sugar.
If your choice is to use a knife, cutting the amount of icing down by at least half and spreading it by hand then a little extra whiskey will make life easier and prevent pulling.
My recommendation is to begin with half the whiskey and watch what is happening in your environment. Hot days will have an affect on the icing as will warm hands while piping.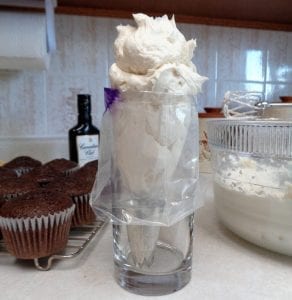 When you are happy with the consistancy transfer the icing to a piping back with a large jagged tip.
An easy way to do that is to turn down the bag over a glass so both hands are free to work.
Pull up the clean edges over the filled bag and twist to close the top.
Start piping on the outside of the cupcake, spiraling inwards and finishing in the center.
Top with an aero ball to finish of the first option. Done!
Take half of the remaining icing and add the cocoa, turning it a light brown colour. A little added liquid will soften the now stiffer icing.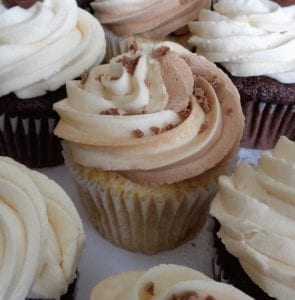 If you would like something darker go for an extra tablespoon cocoa. I was working with a milk chocolate request.
Putting the icing in the bag gets a little tricker here.
Start with a clean bag and tip. Place over the glass and add a narrow rubber spatula or something else flat and thin down the center of the bag.
Fill with the two colours of icing, one on each side. Having already piped the first cupcakes, you will have an idea of how much is needed to finish this batch. When doing two colours, it is always better to have enough icing in the bag to do all the cupcakes at the same time.
When full, take out the utensil in the center. You may need to press down with your fingers on each side to keep the icing in place. Wash hands and roll up the edges. Twist.
Do not begin piping on a cupcake. Use a saucer.  The icing at the very tip will probably be only one colour so pushing out the first inch and being able to see both colours before starting on the cupcakes themselves is a better choice. Apply even pressure from the top to make sure that both colours are coming through the tip in equal measure. Pipe holding the bag vertical and the cupcake stationary.
Top with milk chocolate shavings in the folds of the icing.  Complete!
Store in a cool location until transporting and serving. Easy to eat and no plates and forks to wash.
Grown up cupcakes for a lovely birthday celebration in the back garden.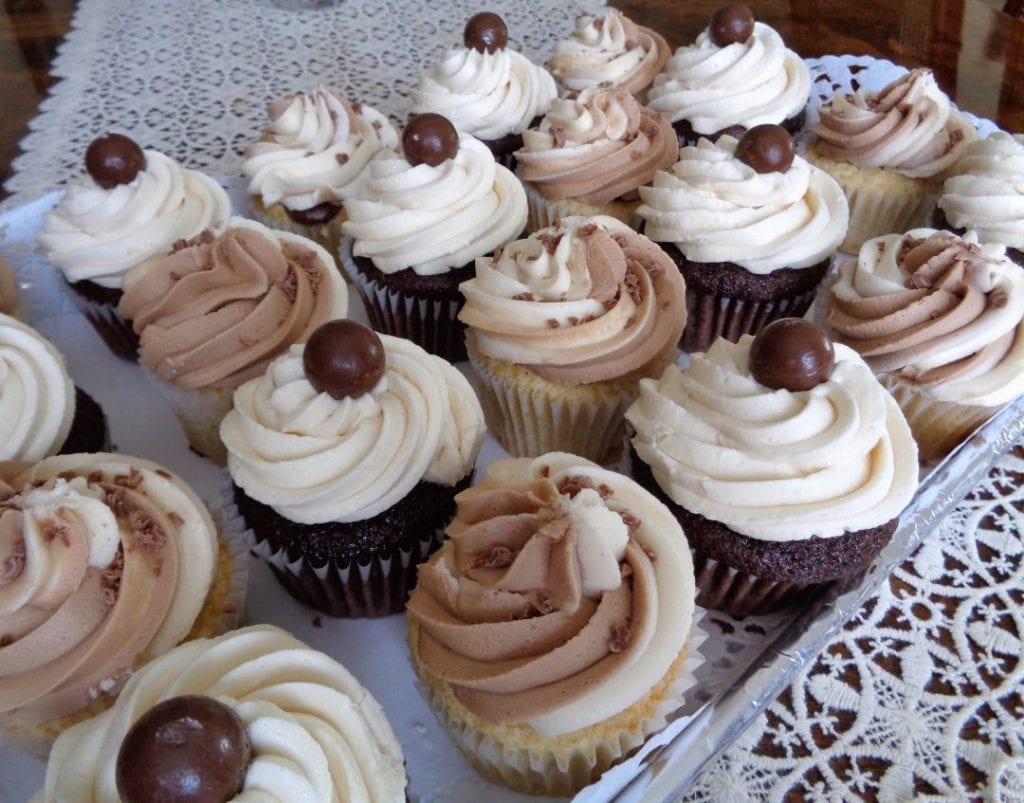 Vanilla Whiskey Chocolate Cupcakes from My Kitchen Wand