Sometimes you choose based on flavour, sometimes it is the time of the year or what is on hand. This is one of those recipes. Imbolc is a couple of weeks away. Honey Lune Hivery posted a list of five Imbolc herbs that are "in your pantry". Basil, Bay, Heather, Rosemary and Chamomile were on her list. Heather is not something I have in my pantry but I do have it blooming in the front yard. The list got me thinking about what kind of dish might include all five. In the end I settled on four although I did seriously consider dropping in a bag of chamomile tea while the soup simmered.
My choice of vegetables was based solely on what was in the house, a decision totally in line with the time of year. If there are sweet potatoes or turnips or butternut squash or any other vegetable that needs using up in your fridge, please use them instead. This would traditionally be a time of year for using what was available and making it last as long as possible.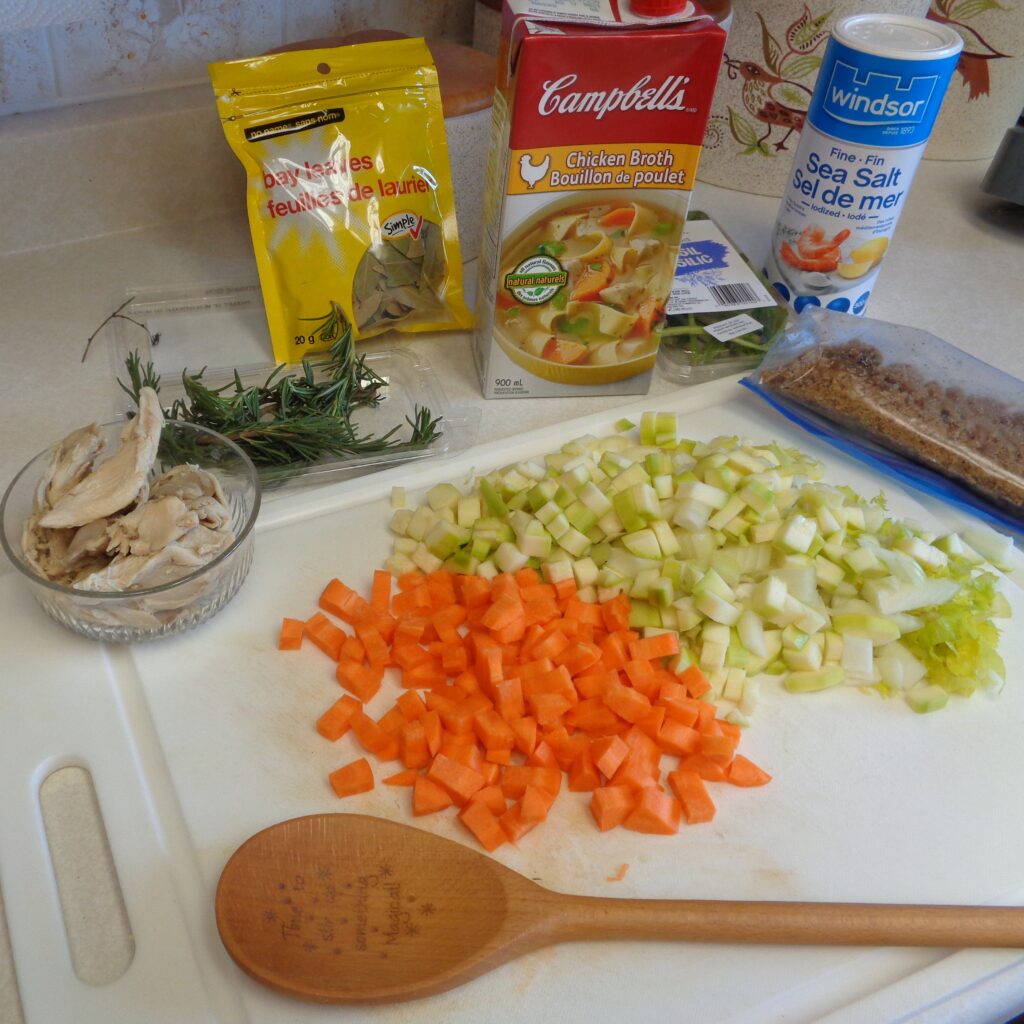 You will need:
3/4 cup cooked chicken
3 1/2 – 4 cups chicken stock
1/2 onion
1 small zucchini
1 carrot
4 stalks celery
1/4 cup frozen corn
3 bay leaves
3 inch sprig of rosemary
1 cup stuffing
1 egg
2 – 3 Tbsp. flour
2 Tbsp. parsley
4 -5 leaves of basil
salt & pepper to taste
sprigs of organic heather
One of the themes of Imbolc is purification, the clearing away of what is no longer helpful so that there is room for something new. One of the traditions of Hogmanay, Scotland's New Year's celebration, is redding the house, the cleaning and clearing of the past year so that those energies are not brought forward into the new cycle. Imbolc customs also include cleaning and you will see in the story below that many of the herbs in this recipe connect to these themes of healing and release. As you prepare to begin, inhale compassion and exhale pain. Inhale love and exhale fear. Inhale willingness and release stubbornness. Come into the present moment. Begin.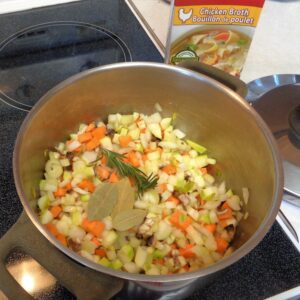 Wash, peel and chop all the vegetables.
It is best to have about three cups collectively with a mix of colours.
Transfer to a large pot and add the rosemary and bay leaves.
Pour in the chicken stock.
Place over a medium heat and bring the soon to be soup to a simmer.
Turn down to low and continue simmering until all the vegetables are soft. Chop the cooked chicken into bite sized pieces and add to the pot.
Taste, then add salt and pepper as you like.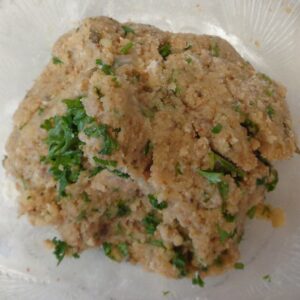 Chicken dumplings is the plan for the soup but again if using noodles or rice or barley makes more sense to you by all means do so. The purpose here is to use the herbs in a way that can be enjoyed by all, not to follow this exactly if the ingredients become as issue.
The post for the dumplings is here.
In short though, mix 1 cup of leftover stuffing with 1 egg, 1/4 flour and 2 Tbsp, parsley.
Mix the four ingredients together and form small balls. Drop the balls into the bubbling soup.
They will disappear and that is okay. As they cook they will rise to the top again.
That is the cue to add the frozen corn. It will only take a few minutes to warm up. Remove the bay leaves and rosemary stem (the needles will be floating in the soup).
When ready to serve garnish with chopped basil and heather flowers. Serve hot.
Here is what Marissa wrote about her herbal choices for Imbolc:
Basil has many uses, from displacing negative energies to attracting love. It is associated with the sun and the element of fire, therefore making it an ideal herb to use for Imbolc. Use it in spells associated with the sun. Basil also can be used in purification rituals, cleansing and removing energies, another side to the Imbolc festival.
Also associated with the sun and fire element, Bay Leafs can be used as offerings to the sun.  They bring good luck and prosperity, so with Imbolc being a time of rebirth, Bay Leafs offer good fortune with the upcoming year. Write down your wish for the upcoming year on a bay leaf and burn it to make the wish come true. Bay Leafs are another herb good for healing and purification rituals. Burn the leaf and use the smoke to cleanse yourself and your possessions.
Heather connects to the feminine energies of the goddess, and invokes fertility and healing. It is a good herb for rejuvenation and cleansing spells. Since Heather is uncommon to find, typically sold at speciality shops, opt for Heather herbal tea for your magic spells and rituals.
Another herb connecting with the sun and fire, Rosemary is good for sun rituals as well as purification spells. It wards off negativity and encourages happiness and good fortune within the home. Add to a bath for cleansing, or bake into a bread for a solar offering.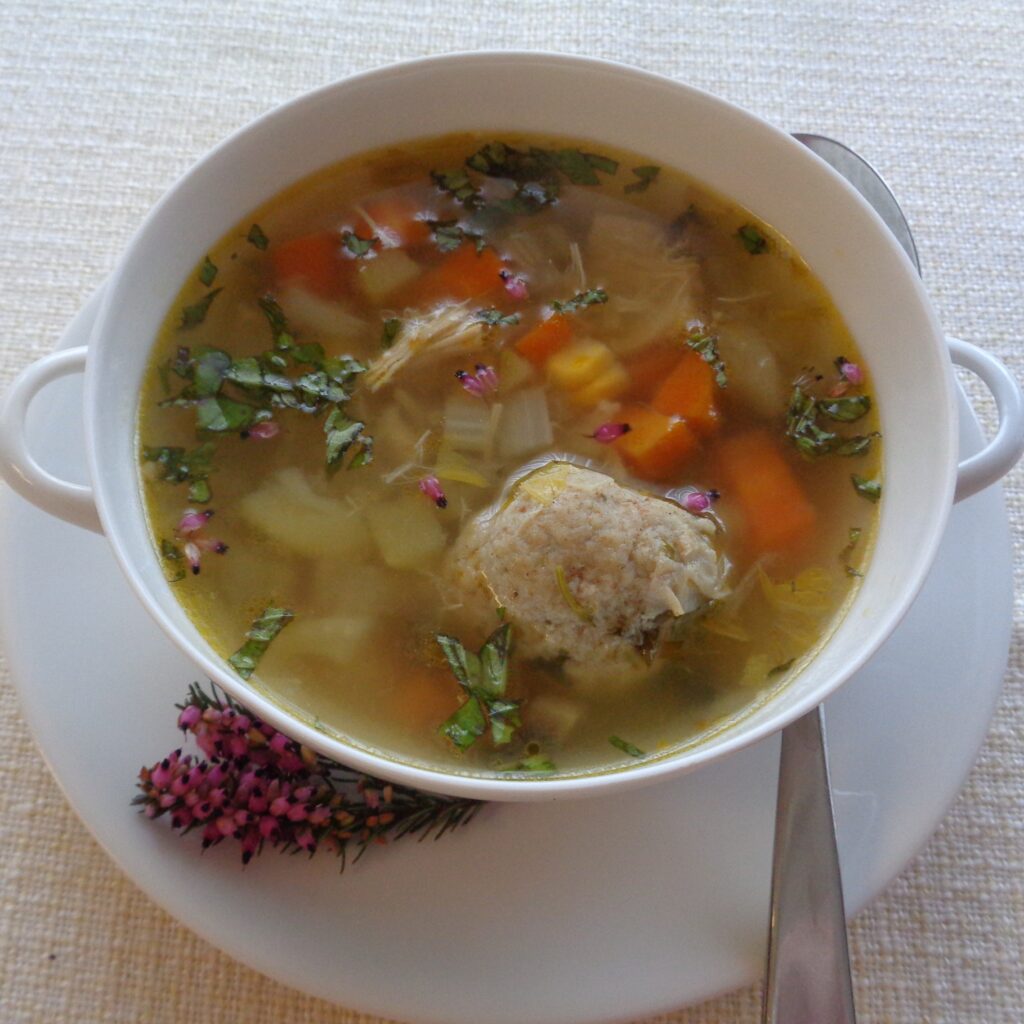 Chicken Soup with Imbolc Herbs from My Kitchen Wand