Fairies is a broad category for a range of magical creatures. Hobgoblins and brownies are more connected to homes while sprites and pixies are happiest outside and trolls, under ground. They range from wrinkled old men, the height of ones thumb to enticing women who have relationships with Gods. Legends say that under The Tor in Glastonbury, England is an entrance to the Fairy Kingdom, another layer to the legends of Somerset. The warning though is not to eat anything offered in the Grand Hall or the world you know will not exist when you return. ( What happens if you offer food to the fairies is not mentioned. )
Fairies changed again when Walt Disney included them in movies such as Sleeping Beauty and decided on Tinker Bell as a company mascot.
The image and character of fairies also varies from country to country but underneath it all is a connection the elements of the earth and the subtle energies of growing things.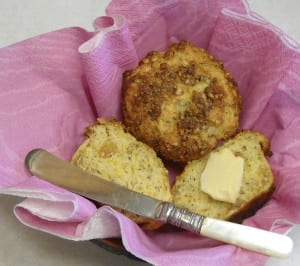 A few days ago I posted a recipe for Dandelion Muffins with Thyme, Raisins and Hazelnuts and that is what I used for the basis of this cake. You can find the complete recipe here http://mykitchenwand.com/dandelion-muffins-with-thyme-raisins-and-hazelnuts/
Half the recipe is more than enough and the rest of the batter can go into a few muffins that hopefully keep fingers away from the cake.
I greased and floured a four inch spring form pan and once the cake was baked and cooled, cut it into three layers horizontally. I would suggest using a knife with a serrated edge. Additionally, if your cake has a rounded top, gently slice off the rounded section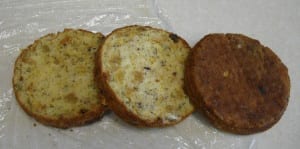 so that the cake will remain flat when put together.
Please feel free to choose another baking form if you have something similar. I wanted to be able to build height by having more than two layers but use what makes sense to you. The whole idea was to finish with a tiny cake so stay small in your choices.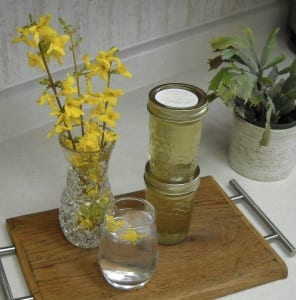 Earlier this spring I also posted a recipe for forsythia syrup. http://mykitchenwand.com/forsythia-syrup/
DO NOT worry if forsythias are no longer in bloom or you didn't make the syrup. In the long run it is better to be in the moment.
The frosting for this cake is whipped cream with a half package of gelatin. I put the gelatin in 1/4 cup of the forsythia syrup but you might choose to put it in rose or orange blossom water, easily available in a local middle eastern shop. Alternately, a little later in the season, lavender water is an option. My point is to use what is blooming in your part of the world and if there is nothing easily available then a little lemon juice in the water will work too. Just tell your guests, the fairies brought you a special present to use from far away, unless of course you live where lemons grow.
For the frosting you will need:
1/4 cup of any of the liquids mentioned above ( because I used the forsythia syrup, I did not add any more sugar)
3 Tbsp. sugar
1 cup whipping cream
Place the gelatin in a bowl with the liquid and heat, stirring until the gelatin is dissolved.
Beat the whipping cream until soft peaks begin to form and then slowly drizzle the gelatin mixture into the whipped cream. Do not go to fast or the heat from the mixture will melt the whipped cream. Once stiff peaks occur, stop whipping and put the finished cream in the fridge, covered.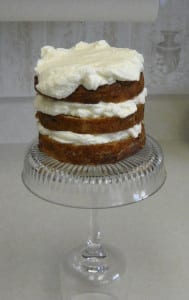 When you are ready to put the pieces together, start with cake, a layer of filling, a second layer of cake and filling and then a third. Spread the filling in each layer evenly to keep the finished cake level.
Place some of the frosting on top and work you way down and around the outsides, fully covering the cake and smoothing out the frosting.
Once the cake is fully covered, I placed the little remaining  frosting in an icing bag with a serrated tip and decorated the cake. It does not matter what kind of pattern you create. Simple or elaborate, much will be determined by how much frosting is left.
To finish off the decorating I coated some fresh violets with an egg white wash and dipped them in sugar before placing them on the cake to dry. If violets are not handy, try small pansies or use any other edible flower in your garden as long as they are pesticide free.
The whipped cream will stay firmer at room temperature with the gelatin and with little ones around you never know if keeping to the schedule is possible. Store your finished cake in the fridge and take out about 30 minutes before you intend to serve tea.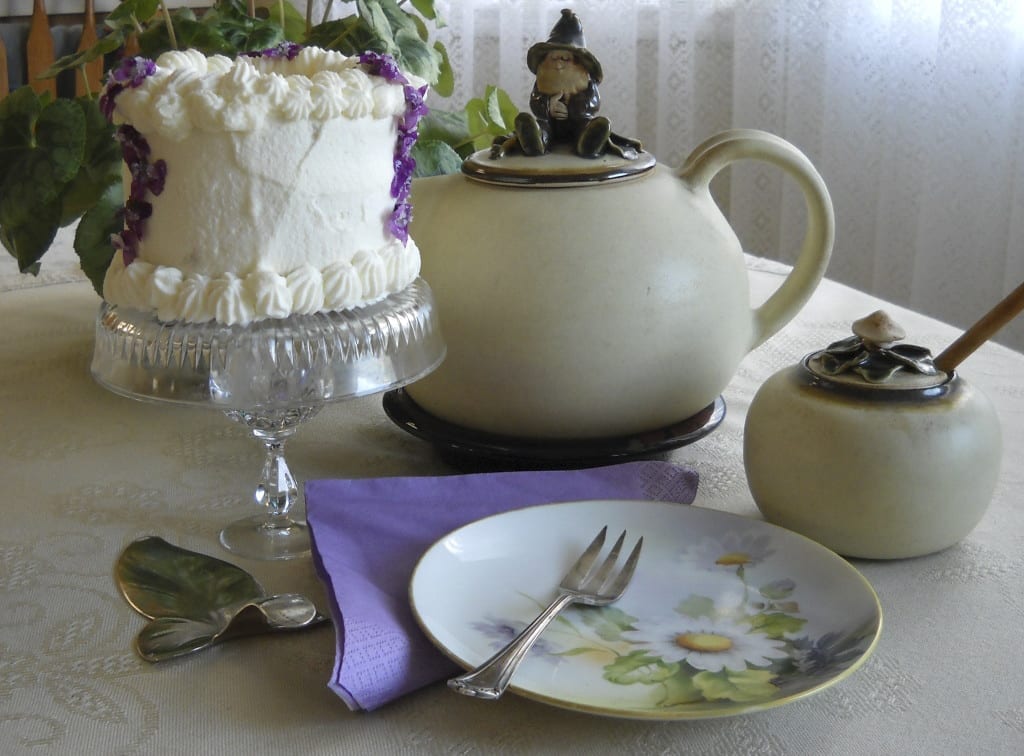 Dandelion Cake with Forsythia Frosting and Sugared Violets from My Kitchen Wand
So there you have it! Sandwiches, tarts and cake for tiny fingers.
Start with a walk around the garden and share your stories and plant knowledge. Maybe a little wildcrafting game?
If you have herbs for tea from last years harvest share the qualities of each as you mix them together or check with your local tea store for a little bit of something special and finish up with dandelion wishes for a fancy afternoon, connecting with the fairies.
If you missed the three previous Fairy Flower Tea posts here are the links
A Kitchen Brownie Kitchen Wand is being released tomorrow so if you would like something special to put is gift bags for your guests, we have just the thing!