In conversation with Karen and Kim from Aromatica Fine Teas a while ago we chatted about how different a tea can taste when steeped in unboiled water. Heating the water allows for alternate components to be released so expect some surprises when using the sun or your fridge to steep these summer coolers.
Any tea or tisane can be used in a sun tea. Simply wrap the loose tea in a piece of cheese cloth for easy removal later. Tea bags work as well but know that bags generally do not hold the highest quality materials.
In this case fresh lemon balm did the trick but bee balm, peppermint, rosemary, basil, or lemongrass and combinations thereof will work as well. Try adding a touch of cilantro or ginger for a bit of kick or lavender for a floral note along with your choice of sweetener.
Don't have a herb garden? Many of these herbs are available at farmers markets over the summer months at reasonable prices.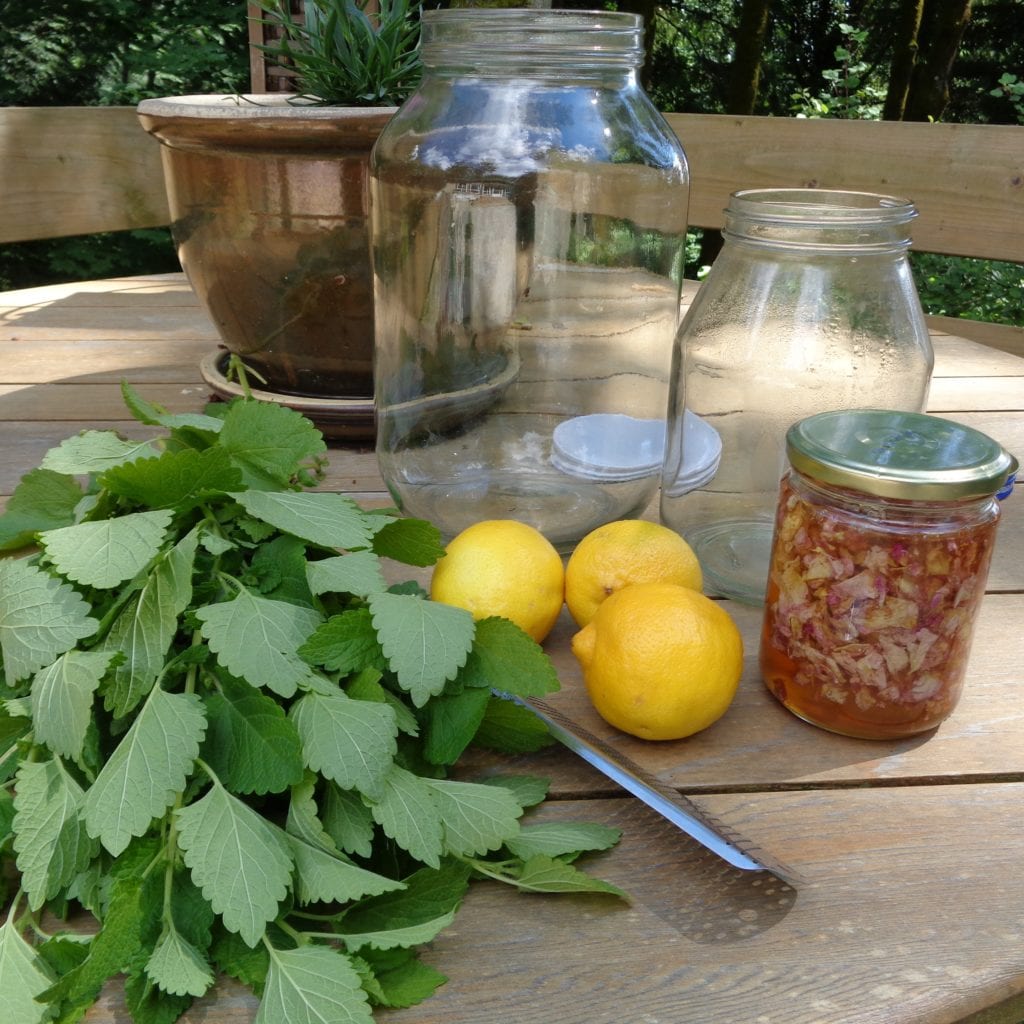 You will need:
Lemon Balm
lemons
honey, agave, sugar, maple syrup (your choice)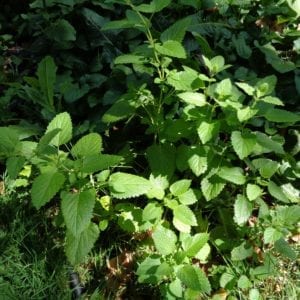 Allow a few minutes after cutting the lemon balm in a place where bugs can move back into nature. Sort through the leaves looking for critters and damaged pieces. Remove and/or rinse herbs.
In a clear clean jar fill 2/3's full with fresh herbs.
Add 1/4 cup honey or your sweetener of choice and fresh water. Stir to help the honey dissolve.
If you are wondering about the pinky bits in the jar of honey in the picture above, I used some of my rose petal infused honey for this batch. The recipe is here.
Top with 2 lemons washed and sliced and add enough water to cover.
Place the jar in the sun and let sit for at least six hours, moving as needed.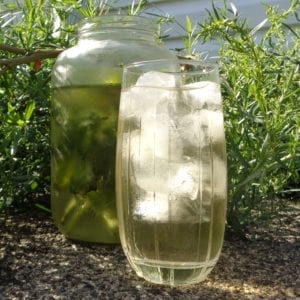 It is also possible to place the jar in the fridge but the steeping will take a little longer, at least eight hours or overnight.
I make straight peppermint water a week ago and it needed two days in the fridge to get to full flavour.
Worth it though because having beverages in this hot weather that hydrate with no/little added sugar is a blessing. Additionally the more water being consumed generally means less appetite especially when combined with warm weather.
All those micronutrients from fresh herbs don't hurt either and turning the flavoured water into ice cubes for other beverages is another option.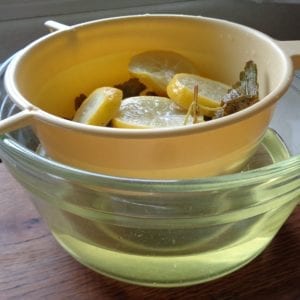 Drain the water through a sieve and separate out the herbs, fruit and any add-ins. Taste and adjust sweetness to suit your preferences.
It is fun to play with combinations of teas, sliced fruits and fresh herbs or change up the choices of sweeteners.
Store in a jar in the fridge to cool down a little more before serving. This will keep, in the fridge 2 – 3 days.
On a side note, when days are hot the idea of extra cold beverages or drinks over ice can sound wonderful but it can also shock the over heated systems of some people.
The coldness can stimulate the vagus nerve which works controlling the rate at which a heart beats. Too much cold brings on a lower heart rate. Other reactions that can occur are nausea and stomach pain.
When someone is feeling the effects of the sun, better to begin with a drink that is not extra cold.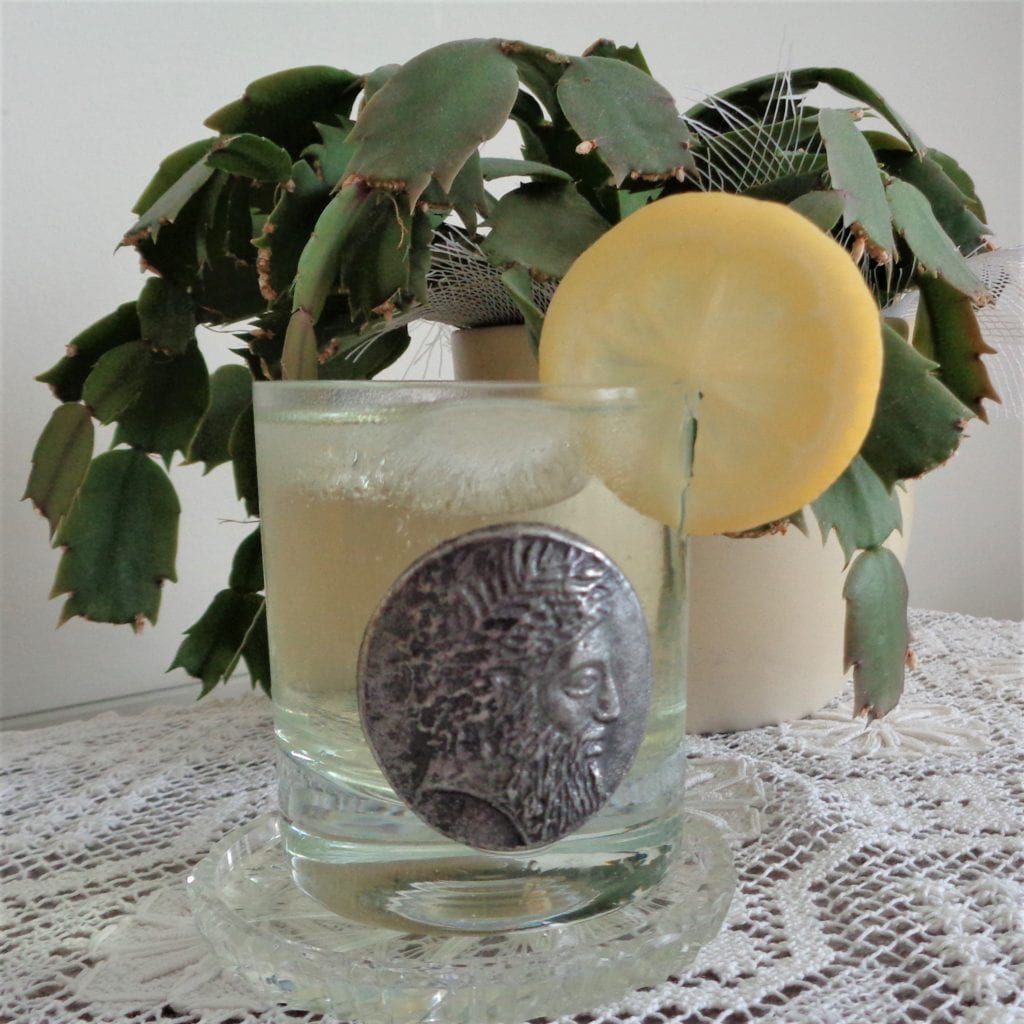 Herb Water and Lemon Balm Sun Tea from My Kitchen Wand