Lemon Curd is by far the most well known variety of this heavenly filling. Christmas dinner was never complete for my father without a cold from the fridge spoonful of lemon curd inside a freshly warmed tart shell.
Before Seville orange season comes to an end, I wanted to share a different option with a little added "water of life", otherwise known as whiskey.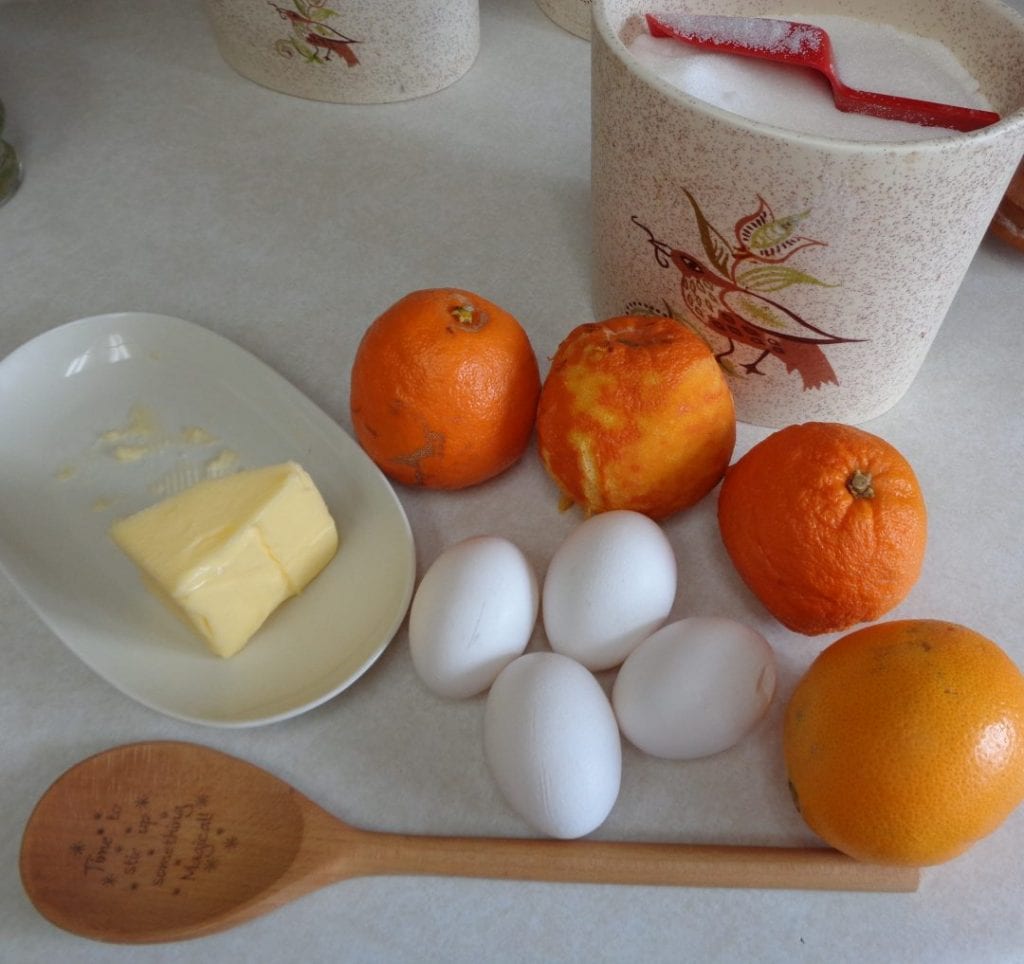 You will need:
7/8 cup/200ml Seville orange juice
zest of one navel orange (more below)
1/2 cup/125gr. butter
1 3/4 cups sugar
2 eggs
2 extra yolks
2 – 4 Tbsp. whiskey
While washing your hands in warm soothing water, let anything stopping you from being present, dribble off your fingertips. Breath in deeply and hold for a moment before releasing your breath, letting your shoulders drop and breathing as fully out as possible. The more air expelled, the larger amount can be taken back in on the next breath. When you feel ready invite the compassionate spirits to join you and begin.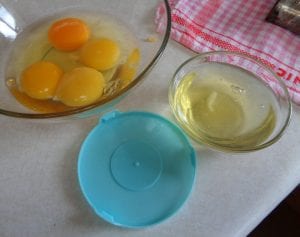 Into a bowl, crack two eggs and then separate two additional eggs.
The yolks go into the bowl with the two original eggs and the two extra whites go can be stored for another adventure, marshmallows perhaps?
The eggs here came from two different boxes and you can see that the chickens had been fed different food that affected the colour of the yolks.
Put a small pot filled with a little water over medium heat and top with the double boiler accessory, if you have one. The second option is a glass bowl. I will tell you from the start that glass will not transfer heat as effectively as metal and so the thickening of the curd will take longer. That is not a problem, just a heads up.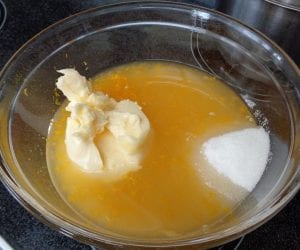 Too much water in the pot and the bottom of your container will be touching the water, not a good thing. Too little and the pot will run dry, also not so good so try to leave about an inch of space between the bottom of the bowl/container and the top of the water.
Into the bowl place the butter, sugar juice and finely zested rind.
Seville oranges have a lot of pips and making sure none get into the bowl is helpful. Do not worry if some do as in the end there is an option to put the entire mixture through a sieve.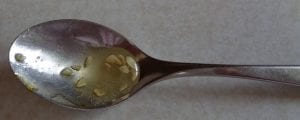 The juice of an orange does not have the intense flavour of the juice of a lemon. Adding a little rind will help perk up the final product.
Seville oranges are known for their bitter skin so in this case I opted for a navel orange. If you like the taste of full on Seville marmalade you may enjoy trying a 50/50 mix of zest or using just Seville orange rind.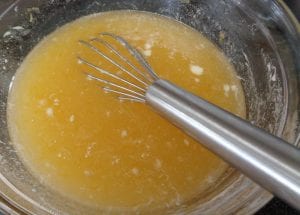 Over the heat, the butter will melt and the sugar will dissolve. Stir regularly until everything is well combined but not too hot as you don't want to cook the eggs when added.
For years I added the eggs with everything else and stirred away. I always found little cooked bits of egg white so ended up putting the finished product through a sieve to get is nice and smooth.
Now, I beat the eggs together first and while stirring slowly pour them through a sieve as in the picture below. I find the smaller amounts of egg going into the warm mix get mixed in more quickly and I don't have lumps as long as I keep mixing.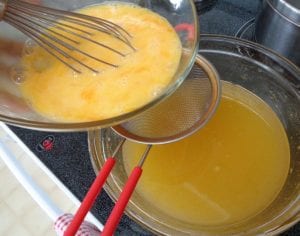 I rest the sieve on the bowl and then I have one hand for pouring and the other for whisking.
As the eggs cook the mixture will thicken. This is when stirring becomes very important. You don't want the mixture sitting at the bottom of the bowl to burn.
Be aware of your water levels and make sure you have more of a simmer than a boil.
Remember that with ingredients in a glass bowl, it will take longer for the mixture to thicken.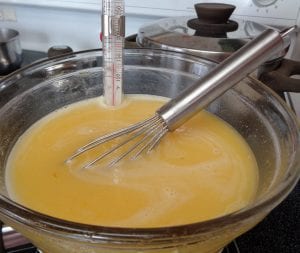 Can you see I missed a pip?
Keep stirring until the curd is thicken.
That happens generally about 170 degrees F. but if you do not have a thermometer, you will be able to see that the mixture change.
Adding the whiskey is going to thin the mixture down again so err on the side of a little thicker.
If you feel that your mixture is lumpy then it is possible to pour the hot curd through a sieve and catch what does not belong.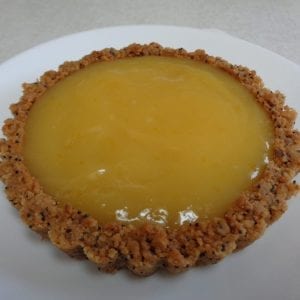 Stir in the whisky. Start with 2 tablespoons and taste before adding more.
Bottle or cool and store in the fridge for up to two weeks and use as needed.
I made a meringue tart with some of the curd and will share that recipe when the Valentine's rush is over.
It can also be used as a cake filling or topping, whipped into icing or used on scones or toast.
Try it as a layer in a parfait or sandwich cookie, top pancakes or waffles or even cheesecake. Add it to ice cream, either as an ingredient when making or drizzled on top as a sauce.
It also works well combined with whipping cream or Mascarpone as a layer between puff pastry and fresh fruit in a sweet summer "pizza".
It is valuable to know that although they all use the same basic ingredients, there are variations in curd making recipes.  My Nana's lemon curd uses two more eggs which made for a thicker finished product, others add more or less sugar. So if you are looking for a change in texture or taste, experiment.
Whatever your choice, enjoy the process!
The curd is the jar in the top right corner. My Grandfather's Seville Orange Marmalade is in the top center position and Brandied Lemon with Almonds is the top left coming February 15th.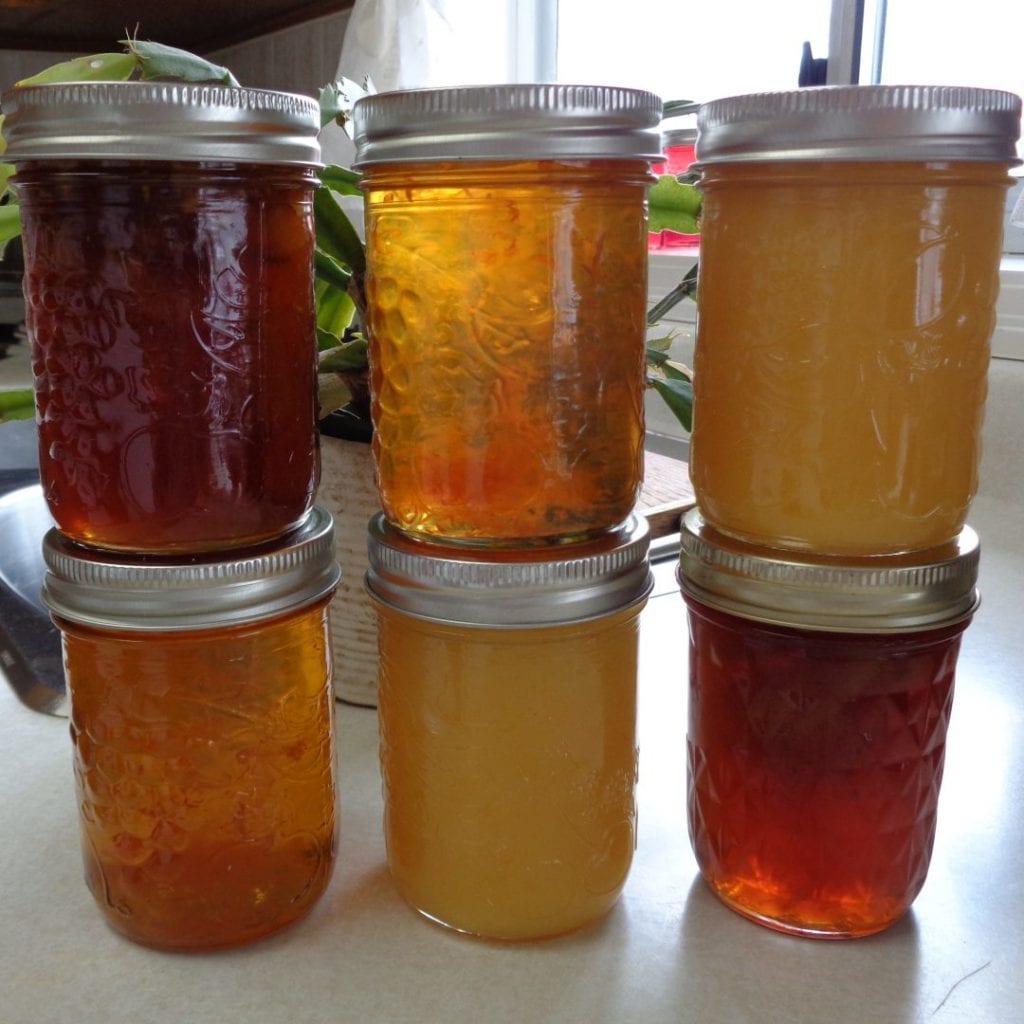 Seville Orange Whiskey Curd from My Kitchen Wand